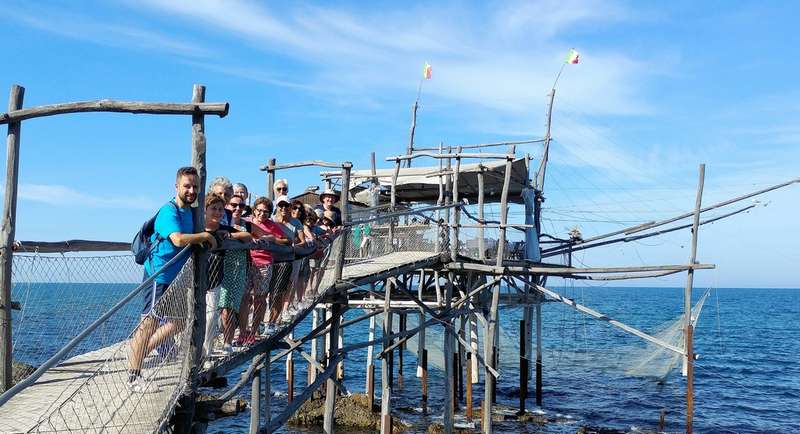 Note: this is an update of the 2019 article. Here below you can download our Abruzzo calendar for 2023, where you can find some common sayings in Abruzzo dialect and a selection of pictures of Abruzzo landscapes and traditional food.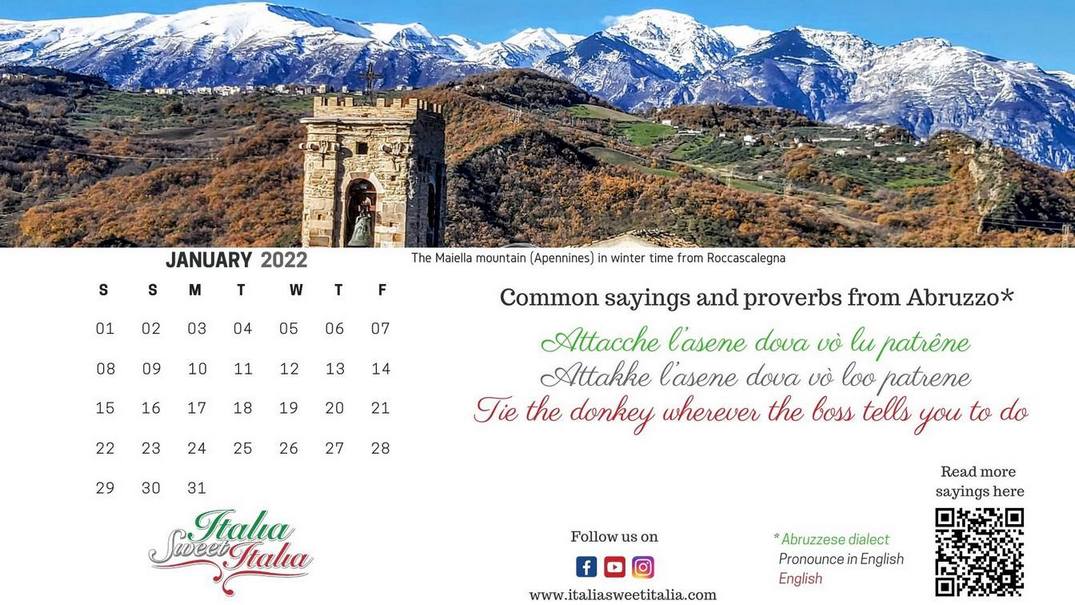 Over the years, one of the most common questions we have received is what is the best time to visit Abruzzo and our answer might always sound a little biased: anytime.
Our region is a truly year-round destination, with temperatures averaging between 54 and 61 degrees F, with the hottest temperature around 75 degrees F in the summer.
Considered the greenest region on the European continent, Abruzzo has 75% of the flora and fauna species in Europe, and three National Parks. You will find the Apennine ski slopes on the west side and the blue waters of the Adriatic Sea on the east coast (according to the Telegraph, Vasto is one of the best beach holidays in Italy), some of them only 20 miles away, making it possible to spend the morning skiing and the afternoon at the beach.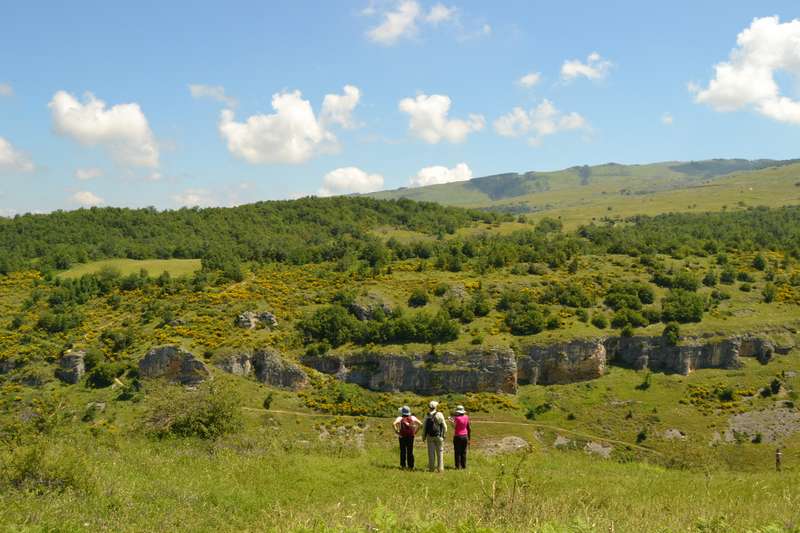 All of this enriched by
ancient villages
,
amazing castles
,
parks
,
lakes
,
rivers
…and
great food
!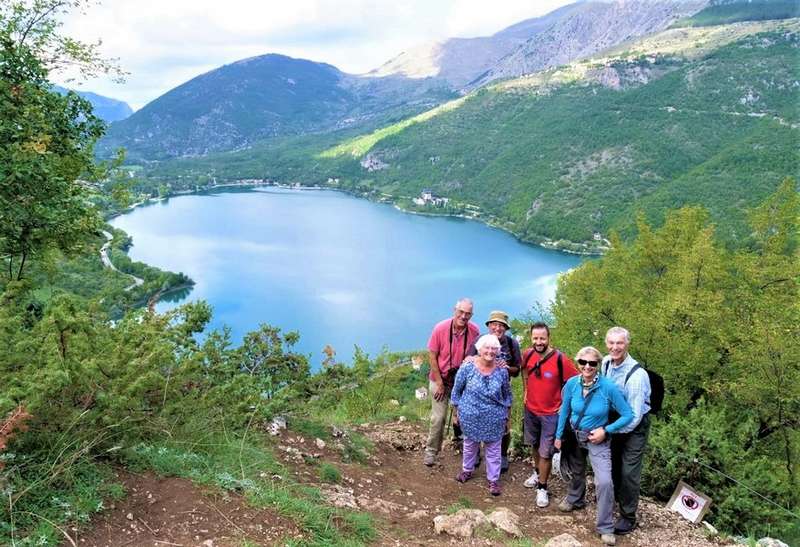 Since it's not a "seasonal" destination, you can definitely travel during low seasons when it's less crowded and accommodations are less expensive, but still able to let you live its unique atmosphere.
This has become even more relevant since 2019, officially labeled as the 
National Year of Slow Tourism
, based on a plan that would enable visitors to "explore areas less known to the public yet rich in history and culture".
Abruzzo is off-the-beaten-tracks but easily accessible in a couple of hours by road or rail from Rome: in a few words, it is a region that is waiting to be discovered. Over here, life hasn't changed so much during the years and we can make sure you experience it authentically.
If we haven't convinced you yet, let's see the top reasons why we believe you would enjoy to live the Abruzzese life anytime during the year.
CONTENT INDEX: – January – February – March and April – May – June – July – August – September – October – November – December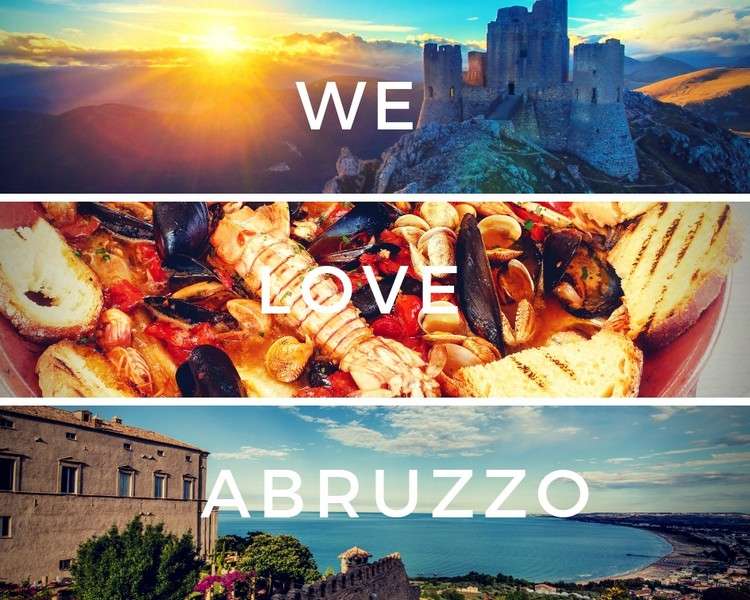 JANUARY on the snow, overlooking the Adriatic coast
The official winter season kick off is December (and it lasts until April), but January is usually the month dedicated to hiking, walking through incredible sceneries, and activities like skiing and snowshoeing.
Passolanciano–Majelletta
, one of our
12 must-see places
in the region, is a ski resort that offers a unique scenery at almost 2000 meters above sea level, overlooking the Adriatic coast. Have you have experienced anything like that?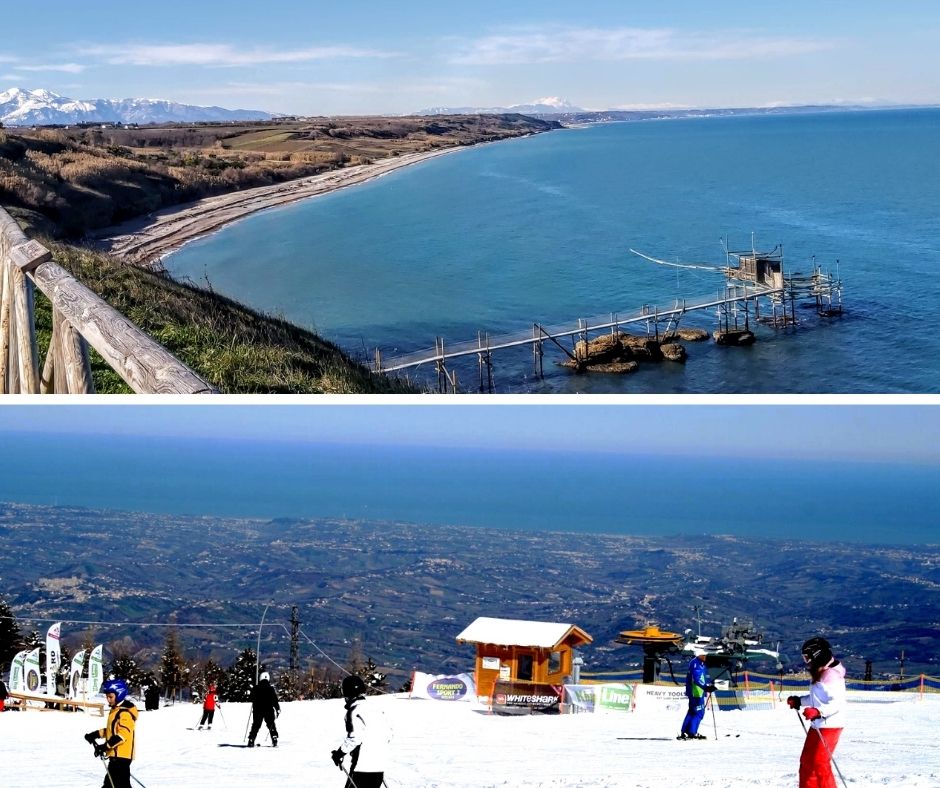 Travelling in January could let you find yourself surrounded by people on two occasions:
January 5th
, the
Epiphany Eve
, has a
strong tradition in Vasto
. Friends get together and walk across the town playing and singing traditional street music, making visits to stores and restaurants to ask for a "reward", which is usually a local product such as cheese, sausages, or a glass of wine.
January 17th
is Saint Anthony Abbot's day, celebrated with bonfires (in Italian
falò
), in many parts of Italy.
Fara Filiorum Petri
in Abruzzo is well known throughout the country for its celebrations on January 16th when "
le Farchie
" – a type of bonfire made from tall and thin reeds – is burnt at dusk accompanied by folk songs and traditional music. Another interesting event of the month is "
Il Presepe Vivente
" that takes place in
Rivisondoli
. It's
one of the oldest and biggest living scenes
in Italy.
FEBRUARY, the art of salami making and Carnival parades
One of the fun things we promote in February is
salami making
. You might know that Abruzzo has a
very diverse gastronomic heritage
that includes one the best saffron in the world, truffles, extra-virgin olive oil, fish soups, Pecorino cheese, "arrosticini" (unique to Abruzzo sheep skewers), many kinds of wines, and ventricina salami. If you are interested in learning some of the secrets of our Cuisine, the
Cultural, Culinary & Salami Making Experience in Abruzzo
 tour is the perfect occasion to develop your cooking skills, expand your knowledge about wines, taste some great food and discover the region.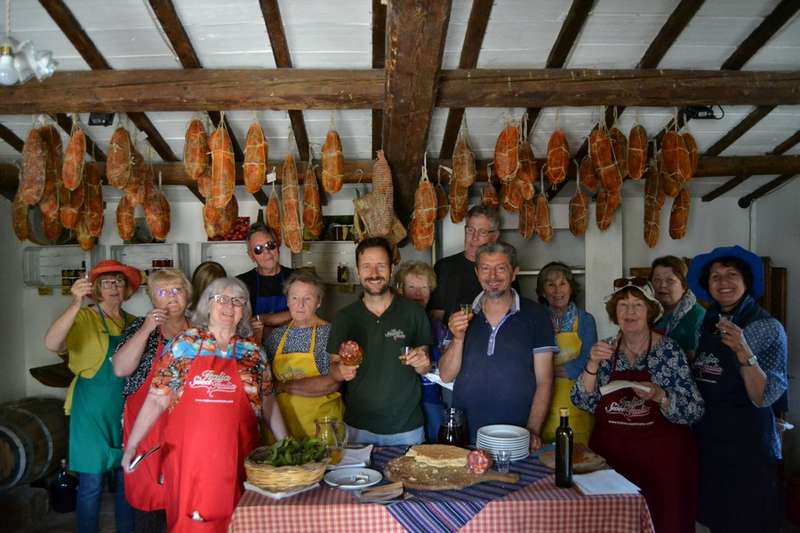 February is also the month of Carnival. Some of the best events to attend are the "
Carnevale d'Abruzzo
", a well known parade that takes place in
Francavilla
, and the "
Schiavi d'Abruzzo
" in
Schiavi
, where the young boys of the town get dressed up with amusing costumes and the "Cimiero", a curious headgear made from colorful paper flowers and ribbons, and walk around the streets singing, dancing and playing music with an accordion.
MARCH – APRIL, the magic of Easter
March and April – depending on the days when the festivity falls – is definitely worth a visit during the Holy Week. The special mix of traditions and foods specifically prepared to celebrate
Easter
, makes it one of most touching periods of the year.
Local rites and events
spread all over Abruzzo. One of the most famous is called
Madonna che scappa in piazza
(Running Madonna): it is
the most famous Easter event of the region
with more than 10,000 people getting together every year. And you can be one of them if you join the
Abruzzo Easter Experience tour
! Generally speaking, spring is a great season to travel to Italy and that is why in April we go beyond our boundaries and
take our guests to Puglia and Basilicata
as well, on a 10-days-tour made to discover three of the most stunning Italian regions.
MAY, walking through trails and ancient festivals
Abruzzo is considered
the green lung of Europe
due to its three National Parks, one Regional Park and several natural reserves. May is one of the best months to explore its nature: you can enjoy spectacular blossoms pretty much everywhere and hiking/walking trails are the ideal activity for those who love the great outdoors. Our
Cultural, Culinary & Walking Experience in Abruzzo and
Cultural, Culinary & E-Cycling Experience in Abruzzo
 tours will guide you through the amazing Abruzzo mountains and the fascinating Trabocchi coast, where you can enjoy a special lunch right above the sea.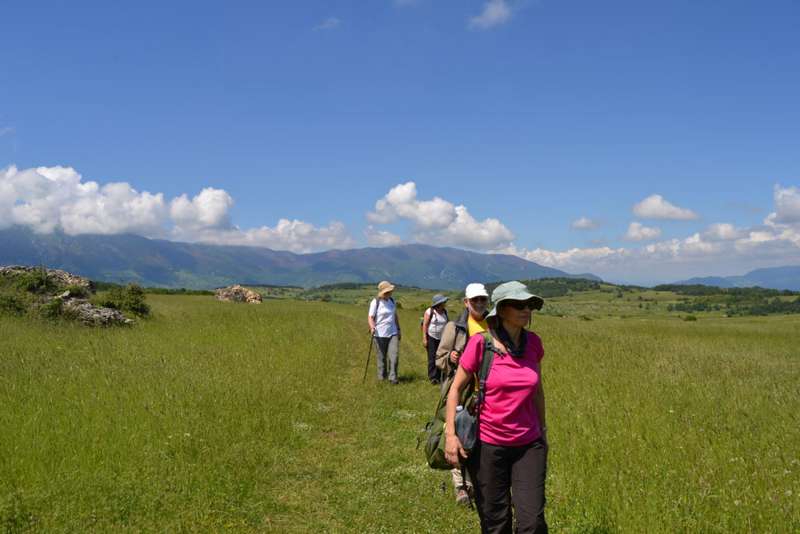 If you are interested in witnessing a local event, you should come over at the beginning of the month. On
May 1st
Cocullo
, a small town located in the Province of L'Aquila, celebrates its patron saint's holiday with the so called "
Festa dei Serpari
", in which the patron saint's statue is transported in procession covered by many snakes, later released in the surrounding woods. Also every year,
Bucchianico
, a small hillside village in the province of Chieti, makes a dive in the Middle Ages; the whole village can be found in the streets in order to renew the ancient festival of the "
Banderesi
" (those who follow their commander under his flag). It is one of the biggest traditions of Abruzzo and the Centre-South of Italy.
JUNE, let the high season begin
June officially launches the high season. Temperatures get higher, just as much as our desire of
gelato
! You can taste great ice-creams anywhere, and also learn its recipe
with us
!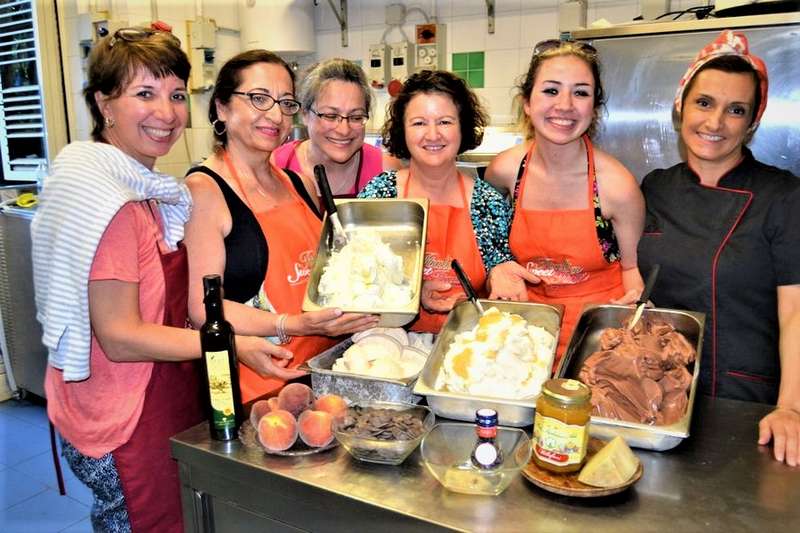 One of the main event of the month is called "
Infiorata corpus domini
". It is organized by many towns, and one of the most important ones is hosted by
Roccascalegna
(
remember the medieval village
lying on the spur of the mountain?). The main streets and its square get decorated with sacred images made of flowers.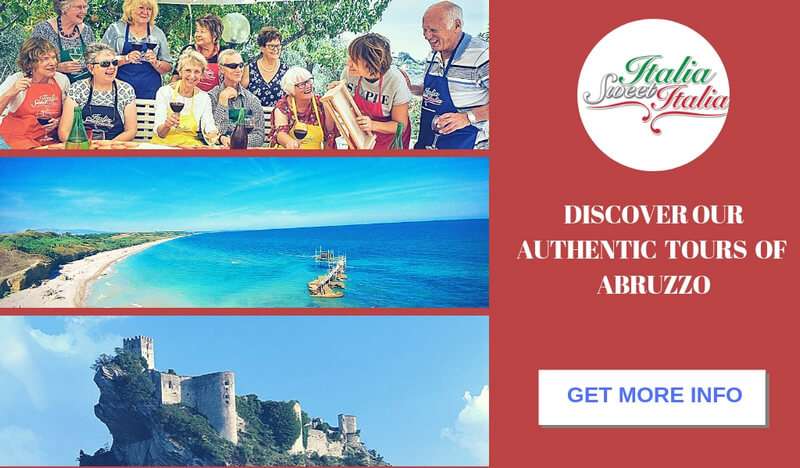 JULY, the month of passata
July is the month of
passata
. The homemade tomato sauce making is a special tradition of the Italian culture and cuisine. Families get together to prepare it in great quantities so they make sure they don't run off during the whole year. If you join our
Cultural, Culinary & Tomato Passata Sauce Making Experience in Abruzzo
tour
you could try with your own hands! As for the events, we should definitely mention the "
Siren Festival
", an alternative music festival held across four days in Vasto, and the "
Giostra Cavalleresca di Sulmona
", an historical re-enactment that takes place every year in Sulmona during the last weekend of July.
AUGUST, let's move to the beach
August in Italy means holidays, relax, and beaches! If you don't want to see crowded sand dunes you should visit the coastlines before or after it, as almost everybody will be laying under the sun. It could be a good time to visit the
Tremiti islands
, the only archipelago on the Adriatic coast, and join of the "thousands" local festivals, called sagre, that celebrate great varieties of foods and wines.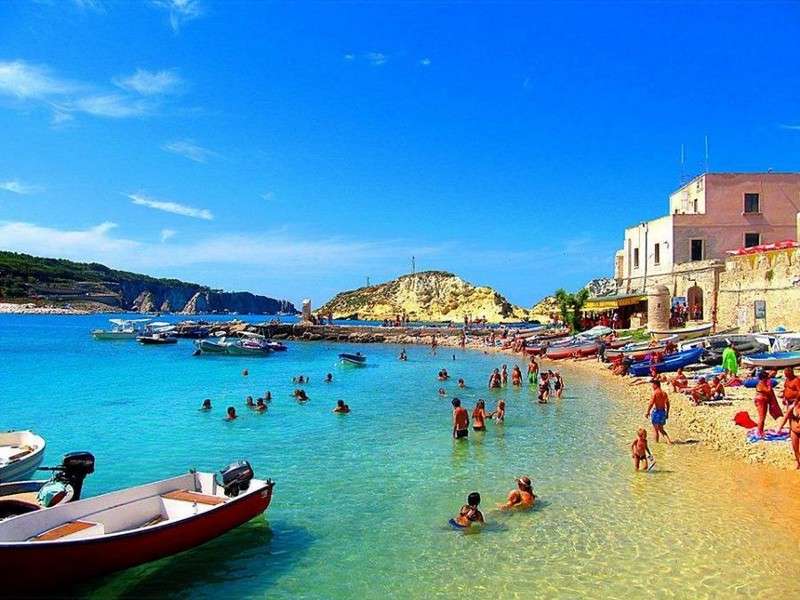 SEPTEMBER means wine making (and tasting)
Autumn offers fabulous opportunities to discover Abruzzo
for several reasons. 
September, in particular, is dedicated to
grape harvest
(
vendemmia
, in Italian). Joining a local winery to help picking grapes and transforming them to wine is a great experience we offer during our
Cultural, Patron
Saint
Celebrations & Grape Harvest Experience in Abruzzo tour.
On
September 29th
, Vasto celebrates its patron saint (
San Michele
), during a long weekend of religious events, food, music and local markets.

OCTOBER, looking for truffle and mushrooms
After the wines come
truffle
and
mushrooms
! Abruzzo is one of the leading suppliers of Italian truffles, and people go for them almost all year round.
This tour
gives you the chance to take part to a truffle-hunting session with an experienced truffle hunter and dogs, and to learn how to make the best risotto with truffle! Mushroom picking should always be done together with a local guide. An important event of the season is called "
Rassegna dei Cuochi
" during the second weekend of October since forty years. It takes place in
Villa Santa Maria
, a little town with a strong tradition of great chefs (
cuochi
means chefs in Italian) and a famous Hotel Institute, also known as the "
School of Chefs
".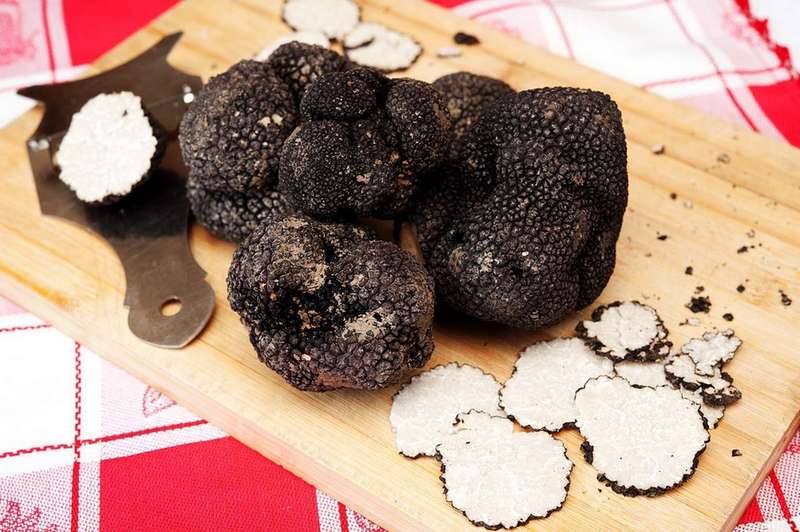 NOVEMBER, time to make the oil
Have you ever transformed olives into extra virgin olive oil?
This tour
will let you learn all about
olive harvesting
and pick olives with locals among the grows. These activities are accompanied by many Olio nuovo and Vino novello (new olive oil and wine) food festivals. One of the most important is called "
Borgo rurale
" and takes place in
Treglio
usually during the second weekend of November.

DECEMBER, between Christmas celebrations, local rites and food
Christmas
is taken very seriously everywhere in the region (and in Italy as well), and this means celebrations, local rites and foods! The main activities of this period consist in going through Christmas markets and living nativity scenes, skiing and snowshoeing, and – of course – eating almost all day long during the holidays!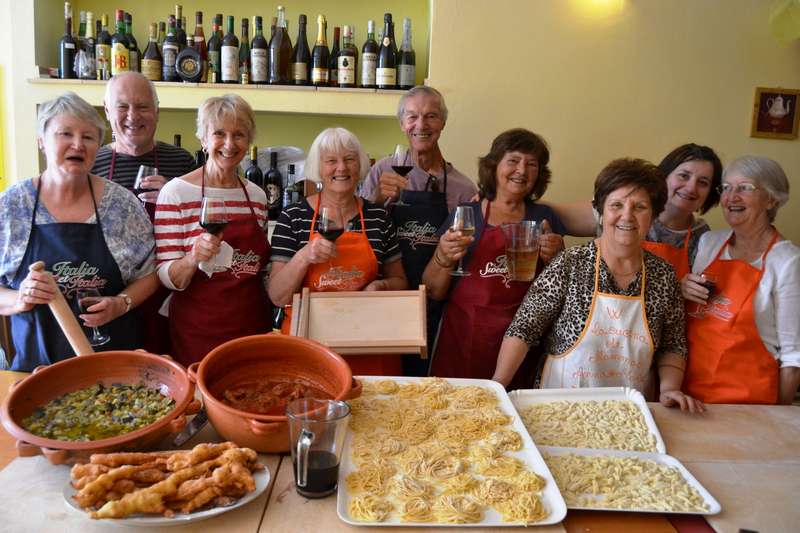 If you truly want to feel the Christmas spirit,
this tour
is the right chance to learn how to make traditional dishes and to create your own Christmas gift with a local artist. Did I manage to convince you? If so (but also if you need extra motivations, I have tons of them!),
contact me
 to start organizing your once-in-a-lifetime trip! And if you're not quite ready to make an inquiry, 
sign up for our free email course
to learn everything you need to know about planning a tour of Abruzzo.