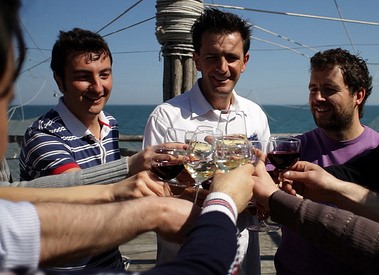 We are a group of tourism experts from Abruzzo Italy that came together to form the tour operator Italia Sweet Italia. We are based in Vasto, Chieti and love our region Abruzzo and Italy. We want you to love Abruzzo too through helping you to discover the wealth of fantastic and fun vacation experiences that Italy's rocky heart has to offer.
Mission
Our aim is to create sustainable experience tours of Abruzzo Italy for those seeking a unique and different kind of vacation in Italy. One which promotes a knowledge and understanding of 'the other Italy' without a tourist trap in sight. Our Italian breaks offer an insight into the Italian lifestyle, our  arts, culture, food and traditions. We offer authentic experiences which you can tailor to suit your own personal taste.
Vision
We believe our customers are not just tourists, they are travellers, explorers and friends. Rather than  traditional vacations and breaks they prefer to travel and get to know a region and its people by authentic experiences. Our partners are carefully selected, they are passionate about Abruzzo and other regions, their traditions and folklore and who display a love for their jobs and activities. With their guidance you will be able to discover the secrets of a farmer, a shepherd, a fisherman, an artist, an housewife, a winemaker, an artisan and so on.
Italia Sweet Italia is a fully licensed Tour Operator based in Italy, covered by insurance policy no. 4378340 with Europe Assistance Italia S.p.A. to cover civil responsibility (National Travel Guarantee Fund – Fondo di Garanzia Viaggi S.r.l., click here to read what it is) and created in 2011.
Cod. Fis./Reg. Imprese/VAT: IT02557170699 Registered Trading Address Italia Sweet Italia Holidays  di Lucci Fabrizio | Corso Mazzini, 371/A – 66054 Vasto (CH) – Italy