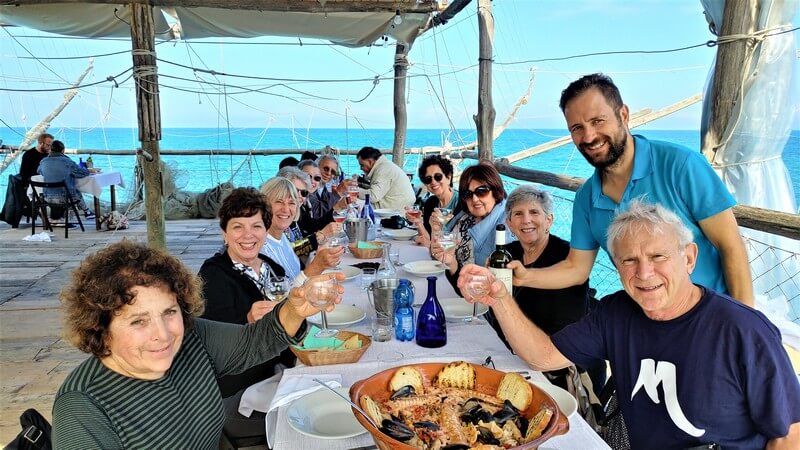 We are a specialist Italian tour operator based in Europe's greenest region: Abruzzo. Our aim is to promote sustainable tourism within this stunning region of Central Italy and to introduce, in a friendly way, people from all over the world to  the delights of Abruzzo's by organising short activity-based tours for small groups.
The principal all-inclusive tours we offer are cookery, painting, pottery, ancestry and Italian language holidays.
Press Kit
In this section you can find more info about us and download useful photos and documents.
Italia Sweet Italia – Press review
Below is our proud list containing our blog, magazine and newspaper articles that have featured Italia Sweet Italia:
24 Jun 2023 The Telegraph – 10 secret escapes on the Italian coast Read more >
13 Oct 2022  The Orange County Register – Travel: In Italy, experiencing all that Abruzzo has to offer Read more >
4 Aug 2022  Italy Magazine – Dive into Italian Language Learning in this Still-Untouched Region of Italy Read more >
8 Jul  2021 Vagabond Reiselyst – Italias skjulte perle (Italy's hidden gem) Read more >
7 Jul  2021 4 Hotel di Bruno Barbieri Reality Show – Vasto and Abruzzo on national TV  Read more >
9 Jun 2021 Italy Magazine – Making Up for Lost Time: Authentic Italy with No Crowds in Abruzzo, Puglia, and Matera Read more >
21 Aug 2020 Carolinas AAA– Feast With Family in Abruzzo, Italy Read more >
31 Jan 2020 Italy Magazine – Looking for that Slow Travel Paradise This Year? 5 Reasons to Consider Abruzzo Read more >
17 May 2019 Italy Magazine – 'Back to Your Italian Roots': A Dream Trip Comes True Read more >
10 July 2018   The Wall Street Journal  – Where to Feast on Italy's Freshest Seafood? These Historic Piers Read more >
February 2017   Andiamo – Colorado's Italian Community Newspaper – Under the Abruzzo Moon. The Joys of Finding Family in Italy's "Green Region" Read more >
27 Jan 2017   Italy Magazine – Sharing Memorable Experiences on a Multigenerational Trip to Italy's Abruzzo Read more >
8 Dec 2015   Woman's weekly – Handmade holidays Read more >
8 Aug 2015   BBC 1 – Escape to the Continent Season 2 Episode 19 | Abruzzo Read more >
18 May 2015   Eat Like a Girl – Dispatches from Abruzzo, Italy: Cooking with the Grandmothers of Abruzzo and Where to Eat Read more >
4 Apr 2014   Italy Magazine – La Costa dei Trabocchi: Discovering Abruzzo's Fishing Tradition  Read more >
13 Dec 2013  Abruzzo servito – Ricette abruzzesi dall'America per vincere un viaggio sulla costa adriatica: il concorso di Italia Sweet Italia  Read more >
29 Nov 2013  Speciale Qui Touring "Italia, sulle strade del gusto", bimestrale del Touring Club Italiano – novembre 2013 –  Adriatico a sorpresa  Read more >
13 Nov 2013  Dream Life Of Mine  – Vasto & The Heart of the Vastese   Read more >
7  Nov 2013  Walla  –  Magic of Southern Italy: fish dishes   Read more >
24 Oct 2013  Walla  –  The perfect homemade pasta   Read more >
24 Oct 2013  Walla  –  Abruzzo, Italy: a hidden gem for nature lovers and fine dining   Read more >
5 Aug 2013  Domenica Cooks  –  Abruzzo love   Read more >
30 Jul 2013  Majella Home Cooking  –  Making Celli Ripieni in Vasto  Read more >
23 Jun 2013  Dream Life Of Mine  –  Trabocco, Trabocchi & Pesca di Mare Read more >
15 Jun 2013  Love Abruzzo  –  Truffle hunting (and eating) in Abruzzo – a great outdoor experience  Read more >
14 Jun 2013  Ciao Chow Linda  –  Truffle Hunting In Abruzzo  Read more >
7 Jun 2013  Ciao Chow Linda  –  Lunch On A Trabocco  Read more >
24 Jan 2013  Zona Locale  –  Fabrizio: "Così faccio vivere Vasto a inglesi e americani"   Read more >
28 May 2012  Primonumero – Pasta, scescille, cozze ripiene: dall'America per imparare le ricette della "nonna" Read more & watch the video >
29 Apr 2012  Life in Abruzzo – Fun with Fish: an Italian Fish Cookery Course Aboard a Trabocco   Read more >
14 Mar 2012  Vasto Domani – Alla scoperta delle origini abruzzesi con Italia Sweet Italia   Read more >
17 Aug 2011  Italy Chronicles  –  Abruzzo Wine and the Excellent Fontefico Titinge Riserva   Read more >
28 Jun 2011  Italy Chronicles  –  Create Your Own Holiday in Green Abruzzo, Italy   Read more >
21 Jun 2011  Italy Chronicles  –  Last Minute Deal – Culture & Painting Holiday, Abruzzo, Italy   Read more >
18 Jun 2011  Italy Chronicles  –  Experience Italy with Italia Sweet Italia   Read more >
Press Releases
11 Dec 2013 Italia Sweet Italia: Christmas special: curate Abruzzo's culinary heritage & win Italian cookery tour  Read more >
25 Mar 2013 Italia Sweet Italia: A unique corner of Italy  Read more >
05 Feb 2013 Italia Sweet Italia: Destination Abruzzo Italy  Read more >
31 Jan 2013  Italia Sweet Italia: Free Bubbly & 10% off when you Come Cook with Mamma in Italy
Most popular posts on our blog Explore Abruzzo
07 Feb 2018 What to see in Abruzzo, a list of the 12 best places Read more >
22 May 2018 Do you speak abruzzese? Read more >
Italia Sweet Italia Number 1 on tripadvisor in Abruzzo
Special Comments and Photobooks by our Customers
June 2012   Jessica from USA – A Taste of Abruzzo Culinary Vacation. A book of recipes and the sights of Abruzzo, Italy  Read more >
September 2012  A group from USA – Abruzzo Culinary Vacation. Special thanks  Read more >
All press related enquiries should be directed to Fabrizio Lucci: +39 349 8630483