BE AN ITALIA SWEET ITALIA AMBASSADOR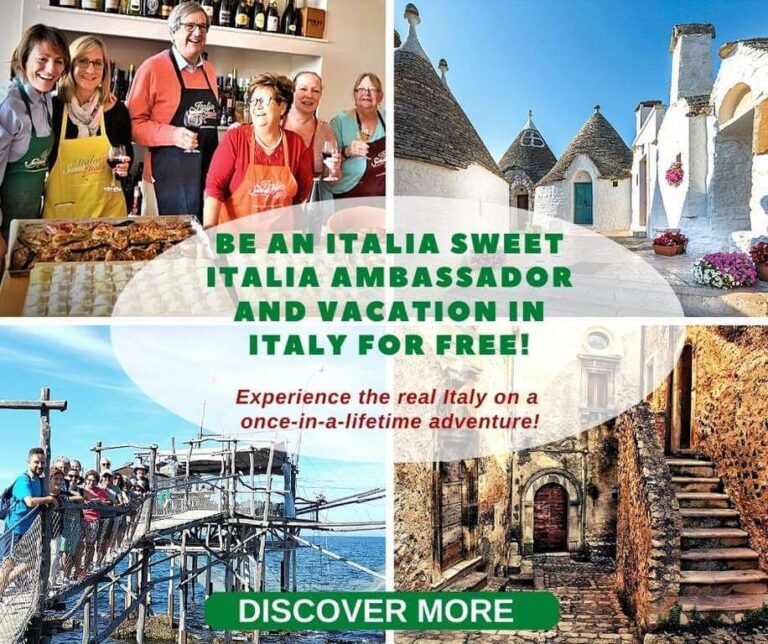 BE AN ITALIA SWEET ITALIA AMBASSADOR AND VACATION IN ITALY FOR FREE!
Ciao dear amica o amico (friend),
after two tough years, you no doubt are yearning to travel again with family and friends. Why not spend your next vacation away from the hustle and bustle of the touristy hot spots and visit beautiful, laid-back Abruzzo and Puglia, Italy? Enjoy delicious food. Learn about Italian arts and culture. Visit quaint villages, medieval castles and cathedrals, wineries, and olive groves. Share an aperitivo or gelato with friends on the piazza. Walk on the beach and breathe the fresh, clean breeze blowing in from the deep blue Adriatic. Hike a trail that winds around a sparkling, heart-shaped lake. Meet friendly locals at the market, and make new friends. Perhaps learn to paint, make pizza, or milk a cow: it's up to you!  If this sounds like your dream vacation, we warmly invite you to become an Italia Sweet Italia Ambassador and to experience the real Italy on a once-in-a-lifetime adventure–at no cost to you!
TO BE AN ITALIA SWEET ITALIA AMBASSADOR YOU MUST:
Be passionate about travel 
Love Italy and its culture, food, traditions, and people
Be a responsible and sustainable traveler (click 

here

 to read our philosophy)
Like to share these passions with your family and friends
All you have to do is organize a group of friends or family to accompany you on one of our 

pre-arranged tours

 or 

tailor-made

 trips
Don't worry! You don't have to be a marketing expert. Fabrizio (founder and tour guide of Italia Sweet Italia) has developed an easy Promotional Plan to guide and support you
Once you become an Italia Sweet Italia Ambassador, Fabrizio will set up a video call to give you all the details
HOW TO BECOME AN ITALIA SWEET ITALIA AMBASSADOR
Complete the form below clicking on the green button
Fabrizio will contact you to organize a video call to give a human touch to our conversation and to personally (virtually) meet (or see again for past travelers) to get to know each other better
If we mutually decide we could be happy working together and can create a win-win-win collaboration (for you, for Italia Sweet Italia, and for those who will join you on our authentic tours), Italia Sweet Italia will be honored to nominate you as Ambassador!
Founder & Tour Guide of Italia Sweet Italia
Only 100% authentic experiences
Deep connections with the people who live here
We have a passion for our culture and our communities
Read the glowing reviews from our  guests on Tripadvisor
We know how to make you feel right at home
We keep our groups small so we can  take care of every detail
We promote the local culture as a sign of responsible travel
We are focused on preserving our way of life
We involve small, family-run and passion-driven businesses
ABOUT ITALIA SWEET ITALIA
Fabrizio is the founder and tour guide of Italia Sweet Italia, an incoming and licensed tour operator that specializes in organizing experiential vacations in Abruzzo, Italy. Our aim is to promote sustainable tourism in Abruzzo and to introduce visitors from around the globe to the delights of our region so they can experience its traditions, arts, food, folklore, and of course, its people.
Are you eager to immerse yourself in the Italian culture and traditions, and to really get to know the food, region, and people of Italy? If so, your host and local guide, Fabrizio, together with his family and friends, has put together some amazing adventures that combine delicious food, rewarding experiences, beautiful scenery, and friendly locals to show you the best of the region's off-the-beaten-track secrets.
WATCH THIS VIDEO TO MEET FABRIZIO AND DISCOVER THE WORLD OF ITALIA SWEET ITALIA