Charming Hotels & B&Bs in the Historic Centre, by the Sea, by the mountains or a simple farmhouse
A select choice of Vasto and Abruzzo hotels, B&Bs and agriturismi (farmhouses) are offered by Italia Sweet Italia to our guests whilst on vacation in this unique part of central Italy. What they all have in common is that they are family run, provide a high standard of service, are meticulously clean and are equipped with modern conveniences and free wi-fi.
Cultural and culinary tours in the calendar  (accommodation in the Historic Centre of Vasto)
All the indicated prices are based on the standard accommodation Hotel dei 7 (there is no single-room supplement for 7-day tours).
Hotel dei 7***, recently renovated, is the perfect setting for your stay in Vasto. In their practical and elegant ambiance you can relax with all the modern comforts and in absolute tranquility nearby the Villa Comunale (Municipal Park) and Belvedere San Michele, one of the most fascinating viewpoints of the town. Most of the rooms have also a small kitchen and an amazing view of the Adriatic Sea and Vasto bay. It is 5 minutes walking from Piazza Rossetti, Vasto main square.
Upgraded charming boutique accommodations
With an extra price you could sleep in boutique residences located in the heart of Vasto (each has beautiful en-suite rooms,  free WiFi, TV, minibar, safe, hairdryer, air conditioning, and more):
Residenza Amblingh, an 18th-century mansion with 5 bedrooms, located on the Amblingh promenade overlooking the Adriatic Sea, 2 minutes walking from Vasto main square.
Palazzo Florio, a new Boutique Residence situated in the heart of Vasto's historic city center.  It features five uniquely beautiful rooms with a design inspired by the building's Liberty style facade.  
B&B Villa Belvedere, a charming villa in one of the most beautiful areas in Vasto city center, with an amazing view over the whole gulf and 2 minutes walking from Hotel dei 7. The  rooms all have a private panoramic terrace. In addition, the Bed & Breakfast has a private garden for the exclusive use of guests.
La Dimora di Histon, a fascinating and small B&B (with just 2 bedrooms) set in the 15th century Castello Caldoresco in the main square of Vasto
C'è posto per te, a charming and beautiful B&B with 4 bedrooms, 2 minutes walking from Vasto main square
Location
All these accommodations are in the historic centre of Vasto in a 2-10 minutes walking distance from one to the other and the Hotel dei 7. Have a look to the full map.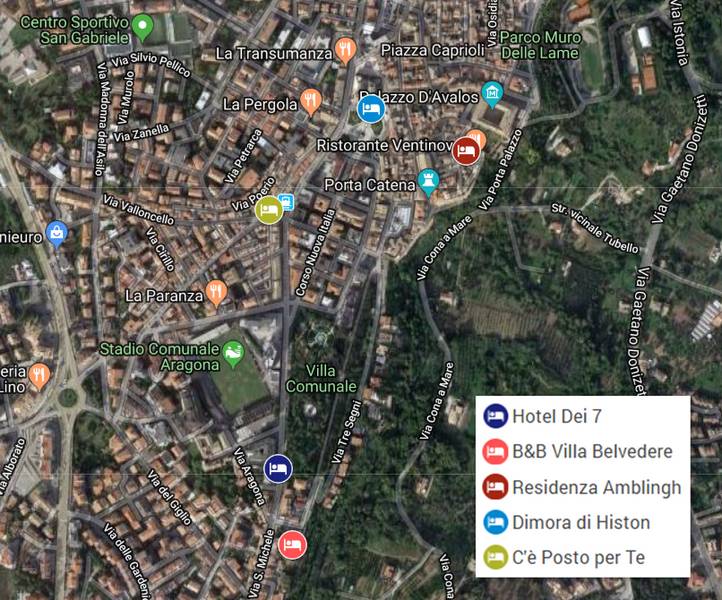 Tailor-made holidays Accommodation
For your tailor-made vacations you can choose between many accommodations in Vasto or other towns and villages all over Abruzzo and Molise such us Sulmona, Santo Stefano di Sessanio, Termoli, Caramanico Terme, Civitella del Tronto and so on.
All are charming but offer a different vista tailored according to your own preferences, we know some of guests prefer to be in the heart of the historic centre whilst they are on holiday in Italy. They like to be in the company of C15th palazzos or castles, watching the evening passeggiata as they sip their aperitivo as it winds around the street. Others prefer a room with sea view something entirely different from the hustle and bustle back home or to  get back to nature and stay on a traditional farmhouse, an agriturismo to make the most of their home-made products and the peace and quiet that Abruzzo is famous for.