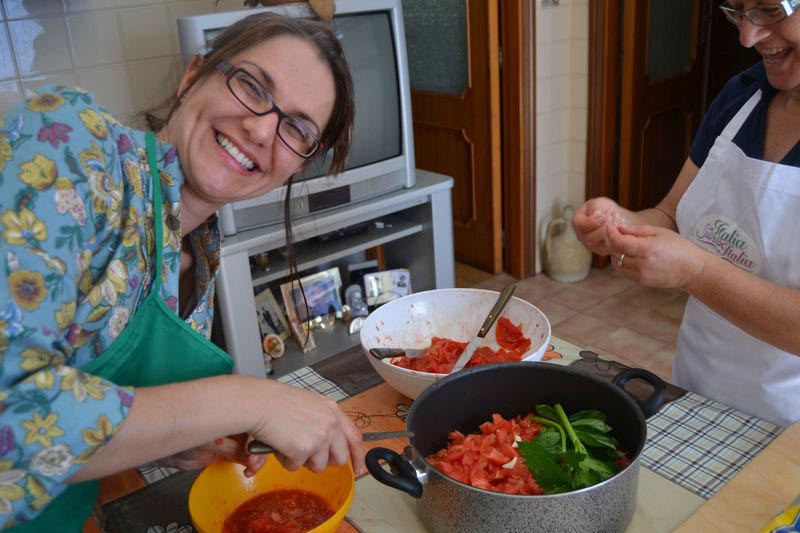 There are as many claims to the perfect Italian tomato sauce recipe to dress pasta with as there are families in Italy. Walk around any small village in Italy at 12.30pm and each open window you pass gently diffuses glorious & subtle shades of pomodori perfection and perhaps the most popular sauce in the whole world. This rich appreciation of the humble tomato has been further explored globally, for example the number of Italian Americans who have taken Italy's divine aromatic red sauce and called it '
gravy
', something always confusing to Italians like myself when we think of that being the brown stuff Brits pour onto roast beef.  Add to the mix other second generation Italians around the world who have adapted and tweaked the recipes of their Nonna and Mamma recipes to suit their 'local' heirloom tomatoes. Italia Sweet Italia's two tips to share on making a perfect Italian tomato pasta sauce are:
Tip 1
If you are making sauce with fresh tomatoes only use ripe ones that are bursting with flavour, these are rich in
umami
, the elusive 5
th
taste that gives quality tomato sauce its moreish, wow-I-am-in-heaven quality.   We recommend San Marzano or Mezzo Tempo varieties to buy or grow; if you are in Italy speak to your greengrocer who will recommend local heritage types too for cooking the perfect Italian tomato sauce to dress your pasta.  Umami is a quality that can also be gleaned through smell; if you're in the supermarket smell your tomatoes' perfume – no perfume no buy!   If in doubt consider buying cherry tomatoes, we have found these consistently to have the required flavour when we've been abroad. Tomatoes that are in the shops over the winter and which aren't rich in umami will simply result in a disappointing and insipid tomato sauce.  Across the cold seasons and especially in the depths of winter look out for  jars or cans of pezzetti; these are raw tomatoes that have been cut into pieces not the cooked and drowned in water chopped tomato variety!  Reserve the use of passata to making meat, ragu like sauces or the base for pizza.
Tip two
Invest in your pasta! There is nothing worse than great tomato sauce let down by soggy mushy pasta; we do recommend Abruzzo's biggest export that is available around the world and in most supermarkets, de Cecco.  Our personal favourite is served with spaghetti or chitarra.
The Perfect Italian Pasta Tomato Sauce
Author:
Prep time:
Cook time:
Total time:
Our 3 favourite variations on Italian Tomato Sauce for pasta by Mamma Anna Maria, Rosa and Concetta
Ingredients
Mamma Anna Maria Tomato Sauce
400 g San Marzano or Mezzo Tempo Tomatoes
1 Garlic Clove
1 sliced Green Pepper
Extra Virgin Olive Oil
Salt
Basil Leaves[br]
Cousin Rosa
The same as above but add a whole stalk of celery when reducing the sauce that is removed on serving[br][url attid="3685″ href="http://www.italiasweetitalia.com/wp-content/uploads/2013/08/liberal-glugs-olive-oil.jpg"][img src="http://www.italiasweetitalia.com/wp-content/uploads/2013/08/liberal-glugs-olive-oil.jpg" alt="Liberal glugs of olive oil" title="Liberal glugs of olive oil" width="800″ height="533″ class="alignright size-full wp-image-3685″][/url][br]
Mamma Concetta
400 g Cherry Tomatoes
Instructions
Make a cross in the bottom of each tomato and then cover with boiling hot water for 5 minutes and peel. Cut the tomatoes in half remove the seeds and cube.
Saute the garlic in a liberal and generous amount of tasty extra virgin olive oil (never scrimp on this step, think generous Italian Mamma) add the rest of the ingredients and cook for approximately 30 minutes.
If you are using pezzetti in the winter check for acidity and sprinkle a little sugar over your sauce according to taste.[br][br]
Mamma Concetta Cherry Tomato Pasta Sauce
Chop the tomatoes in half, leaving the skin and seeds.
Saute the garlic clove, when it is golden add the tomatoes, after 5 minutes add your torn basil. Cover and simmer slowly for 25 minutes. They will break down themselves, but if you feel that this is too lumpy for you squish them against the side of the pan, if you require more liquid add half a glass of water.[br]
To Serve the 3 Sauces
[url attid="3747″ href="http://www.italiasweetitalia.com/wp-content/uploads/2013/08/chitarra_con_pomodori_freschi_edited-1.jpg"][img src="http://www.italiasweetitalia.com/wp-content/uploads/2013/08/chitarra_con_pomodori_freschi_edited-1.jpg" alt="" title="chitarra_con_pomodori_freschi_edited-1″ width="400″ height="252″ class="alignright size-full wp-image-3747″][/url]Mix either sauce with your ideal cooked and drained pasta, ideally spaghetti for around 1-2 minutes.[br][br]
Remove the garlic, pepper and celery stalk and serve with fresh basil leaves, chili pepper and Parmesan.
Why not
join us on a our special Cooking, Wine & Tomato passata sauce making tour
to learn how to conserve tomatoes like a real Italian as these English ladies did this summer?