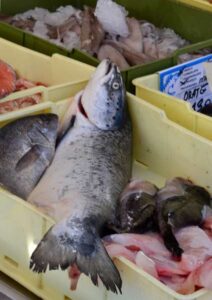 Arh the challenge of fish, how to clean it, how to cook it… Despite the delicious dishes that can be produced with our fishy friends so many people are put off and afraid to experiment cooking fish if it doesn't resemble a fillet or finger.
1. Cook with the Bones
In Abruzzo Italy one of the biggest tips that can be passed on is don't worry about the bones till after you've cooked the fish.
Go to many a fish stall at market and as they clean their spanking fresh fish they'll tell you that by filleting you remove the full flavour of the fish, you'll probably hear hearty no nonsense mutterings of filleting creates insipid nouvelle cuisine!  One of the most popular ways to eat fish in this region of central Italy is to roast fish whole the same as a joint of meat and the result that the fish in affect fillets itself as you gently flake away the flesh  from the bone.  The same reasoning applies to our most famous fish dish Brodetto Vastese, a one pot wonder soupy stew whose powerful flavour comes from the fish used being cooked on the bone.
2. Partner with Extra Virgin Olive  Oil
Use the very best  extra virgin olive oil when cooking your fish and be generous.  Fish is healthily un-fatty which is why it is so recommended by dieticians and so many people love to eat it, but for that reason it can dry out quickly when cooking.  Our advice is adopt the stance of a forever giving Italian Nonna (Grandmother) and pour liberally if you want succulent goodliness.
3. Listen to Experts to Become An Expert
Don't be afraid of talking to your local fishmonger about what fish is in season, and following his advice rather than trying to put a round peg in a square hole by using an out of season fish because your cook book dictates, that means experimenting.
Experimenting can of course mean bravely jumping in which does require confidence and that can mean taking a fish cookery course which our friend Helene recently did with us on a trabocco.  These are Abruzzo's famous fishing platforms that sit close to the shore which you can walk onto, perfect for those that get seasick.  The fish dishes she learnt and did try back at home were good enough not just for her family to eat but also for our recipes to be published in American Food Roots.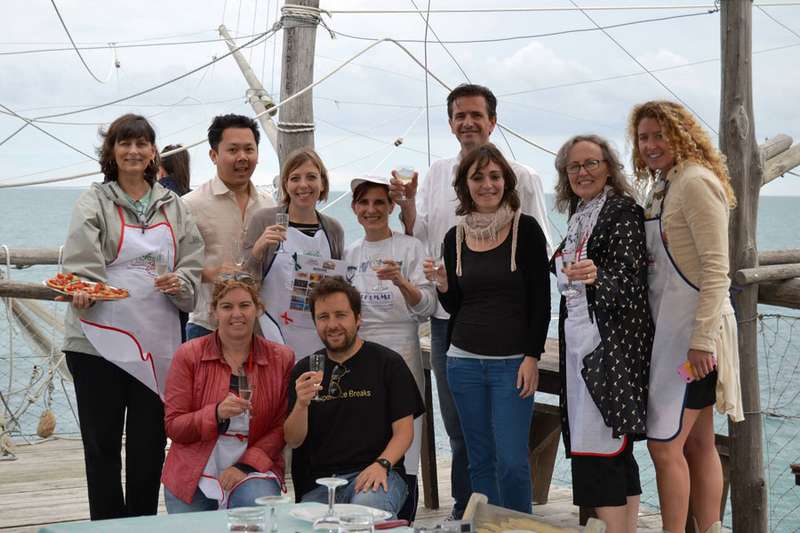 Dear Fabrizio,
I am sending you this article from American Food Roots that I wrote after being inspired to bring to my kitchen in the USA some things I had learned from Italia Sweet Italia's wonderful fish cooking lessons on a trabocco. I hope that you will share it with your guests as inspiration that they, too, can bring Abruzzo culture and cooking traditions home with them.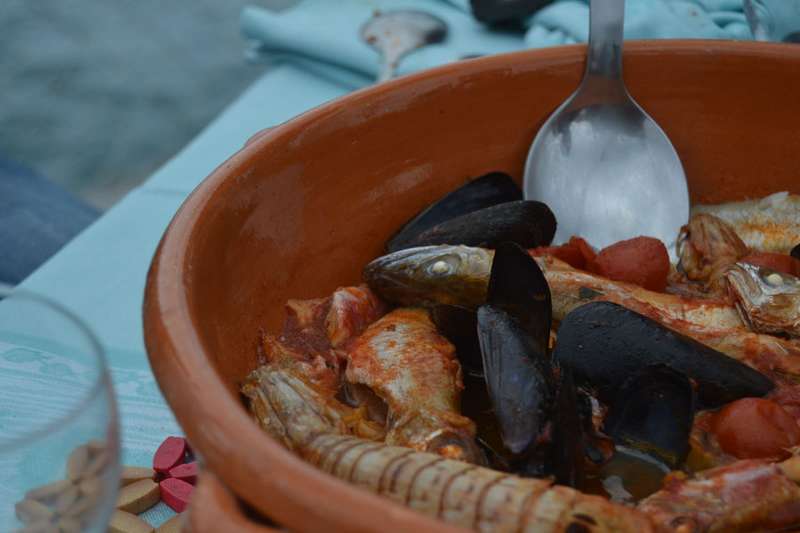 Click here for more details on Italia Sweet Italia's Italian cookery and fish cooking courses.