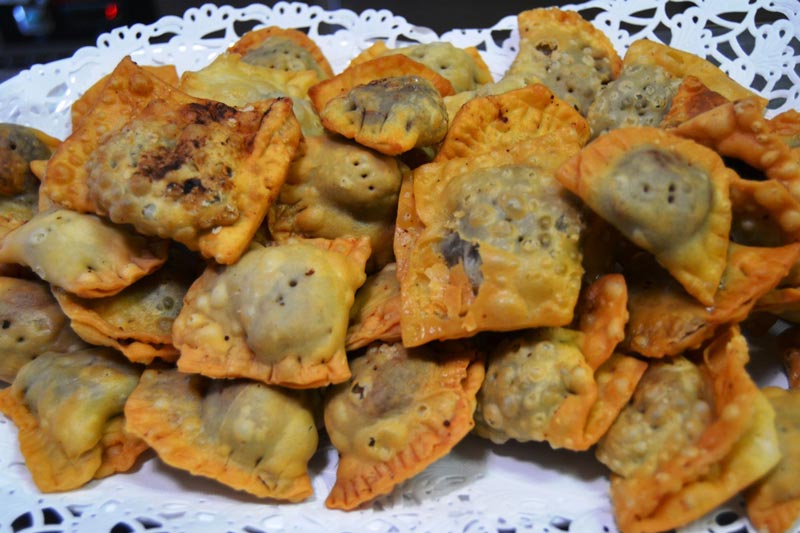 INTRODUCTION AND CURIOSITIES
In Abruzzo it isn't Christmas without Caggionetti. There are many versions according to the area and your tastes. In this version caggionetti are filled with chickpeas, bitter cacao, sugar, honey, mosto cotto (cooked wine), walnuts, almonds, peel of orange and ground cinnamon
INGREDIENTS
Filling
1 kg of chickpeas
100 g of bitter cocoa
2 tablespoons of sugar
250 g of honey
1 cup of mosto cotto (cooked wine: 1 lt of Montepulciano d'Abruzzo wine and 600 gr of sugar boiled up to the caramelization)
300 g of walnuts
300 g of almonds
peel of 1 orange
1 teaspoon of ground cinnamon
Dough
Fine wheat flour – cake flour (1 kg)
1 egg
1 glass of extra-virgin olive oil  (200 ml, 6.7628 ounces, 0,84 cups)
1 glass of white wine (200 ml, 6.7628 ounces, 0,84 cups)
2 tablespoons of sugar
vegetable oil (about 2 liters)
INSTRUCTIONS
 Filling
Boil and mush the chickpeas.
Dissolve the honey in a saucepan with sugar and mosto cotto, add cacao, mix and add the spices and the chickpeas, and finally the ground nuts and almonds.
Mix well, remove from heat and let cool.
Dough
Make a fountain with the flour
Add all the ingredients (for the dough) to the center
Stir with a fork slowly incorporating the flour until a dough forms
Roll the dough into a thin sheet
Cut into squares
Put a half tablespoon of filling in the center
Close as a book
Squeeze the edges
Fry in hot vegetable oil
At Italia Sweet Italia, we believe that the oldest and most authentic Italian recipes are best learnt from those with a direct connection to the origins and traditions involved.
Discover authentic recipes passed down over the years from mothers to daughters.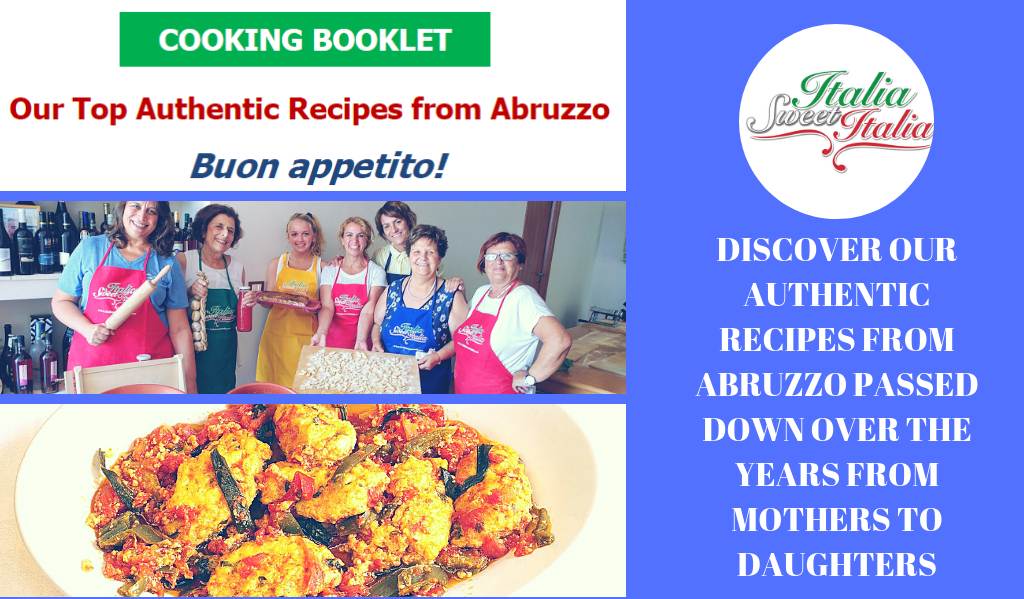 Check out our website to discover our Cultural, Culinary and Active Tours in Abruzzo. You'll learn how to cook real traditional Italian plates in the friendly and relaxing Abruzzo. And if you're not quite ready to make an enquiry, sign up to our free email course to learn everything you need to know about planning a tour of Abruzzo.