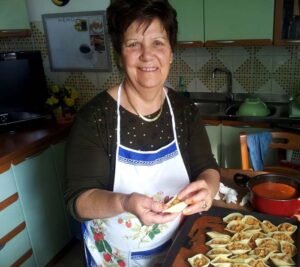 Baked pasta dishes are the ultimate luxury feast to enjoy when the snow is swirling or a biting wind is whistling outside and you have no intention of stepping outdoors.
Although I love lasagna there is a wealth of other baked pasta dishes to experiment with especially stuffing the larger pasta shapes that from experience all but Italians shy away from. I adore conchiglie (seashells, pronounced as  kohn/KEE/lyeh) as they remind me of warmer Spring days when I can get outdoors and walk along the shore in Vasto or up to Punta Aderci.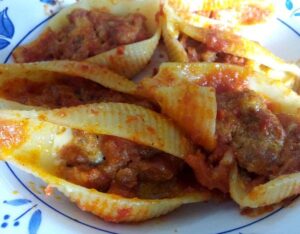 Baked Conchiglie stuffed with Cheese, Sausage & Truffle Recipe
Sugo/Sauce
½-lt Passata
250 ml Béchamel Sauce
4 links of Salsiccia Rossa Abruzzese
Extra Virgin Olive Oil
1 Medium Onion
Pinch of Salt
Stuffing
400 g Conchiglioni Pasta
½ kg Salsiccia Rossa Abruzzese
200 g Parmesan or Pecorino
3 Medium Eggs
Black or White Truffle Cream according to taste
*If you can't get a high meat content sausage that contains sweet pepper, chili and fennel, substitute cooking chorizo as a last resort
Method
For the Sugo
Finely chop the onion and  brown gently  in the olive oil.
Roughly chop the sausage and add to the oil.
After the sausage has browned for 5-10 minutes add the passata and salt.
Cook on a low heat slowly for an hour.
Add the Béchamel Sauce and mix thoroughly.
For the Stuffing
Take the skin off the sausages and crumble between fingers and add a pinch of salt.
Fry the sausage in the oil for 5-10 minutes until browned, take off the heat and allow to cool.
In a bowl mix together the sausage mixture with the eggs, cheese and truffle.
For the Pasta
Cook the conchiglioni in plenty of salted boiling water following the packet instructions and drain well.
Fill all the conchiglioni with the stuffing.
In a  baking dish put half the sauce and arrange the stuffed pasta on top.
Bake the pasta for 10 minutes in a pre-heated oven  of 180C.
Buon Appetito
Mamma Anna Maria
You'll learn how to cook real traditional Italian plates in the friendly and relaxing Abruzzo.