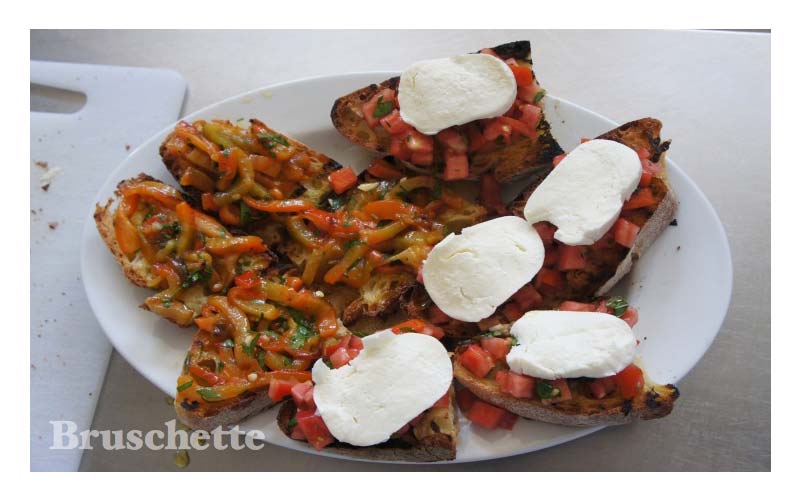 Bruschetta is a fresh, simple and delicious Italian appetizer that can be prepared in few minutes and enjoyed any time of the year.
The basic bruschetta is a toasted slice of Italian bread, rubbed down with slices of raw garlic and drizzled with olive oil. Simple and delicious!
But today we want to give you suggestions for three more creative and colorful bruschette!
Preparation time: 10'   Cooking time: 5'  Portions: 4
INGREDIENTS
12 slices of Italian bread
2 tomatoes
2 mozzarella
250 gr stracchino cheese (a soft creamy cheese)
1 white sausage
1 sweet pepper
Oregano
Parsley
1 garlic clove
Extra – virgin olive oil
basil
salt & pepper
Bruschetta with tomato and mozzarella
Place the slices of bread in a preheated oven at 200° C, until golden brown bread. Chop the tomato and slice the mozzarella. Then season them with extra virgin olive oil, oregano, a pinch of salt and add a diced clove of  garlic. Mix everything in a bowl and with a spoon dress the slices of toasted bread.
Bruschetta with stracchino cheese and Italian sausage
Remove the skin from the sausage and break it into pieces.
Mixed  the stracchino with the diced sausage and place over the slices of bread.
Bake in the preheated oven (200° C)  for 5 minutes.
Bruschetta with roasted peppers
Roast the sweet peppers, peel them and remove the seeds. Then cut them into strips. Dress with extra virgin olive oil, a pinch of salt, parsley and some diced garlic.
Toast the slices of bread in a 200° C oven until golden brown. Place the peppers over the hot slices of bread.
They're perfect for an aperitivo (happy hour) with your friends!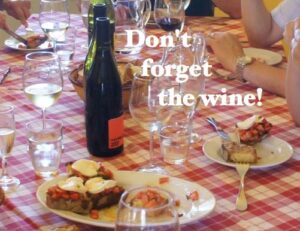 Buon Appetito!
Check out our website to discover our Cooking Holidays in Abruzzo. You'll learn how to cook real traditional Italian plates in the friendly and relaxing Abruzzo.