Cicerchiata is a wreath of little fried balls of sweet dough stuck together with honey and almonds. It's a traditional Abruzzo Carnival dessert found in almost every home around Abruzzo, the time of Carnival or Fat Tuesday (Mardi Gras).
In the past this dessert was made with special beans similar to sweet beans called "cicerchi", similar to chickpeas. The name of this dessert derives from the fact that the little fried balls resemble the small beans.
Some recipes contain candied fruit, some contain liqueur, some contain sugar in the syrup, some contain coloured sprinkles on top or chocolate. Other varieties are sure to be found…
Ingredients:
800 g Flour
7 eggs
7 tablespoons of sugar
7 tablespoons of Extra virgin olive oil
(for each eggs one tablespoon of oil and one of sugar) 
Almonds
500 g Abruzzo's acacia honey
Coloured sprinkles for decoration
Vanilla powder
Cooking time: about 45 minutes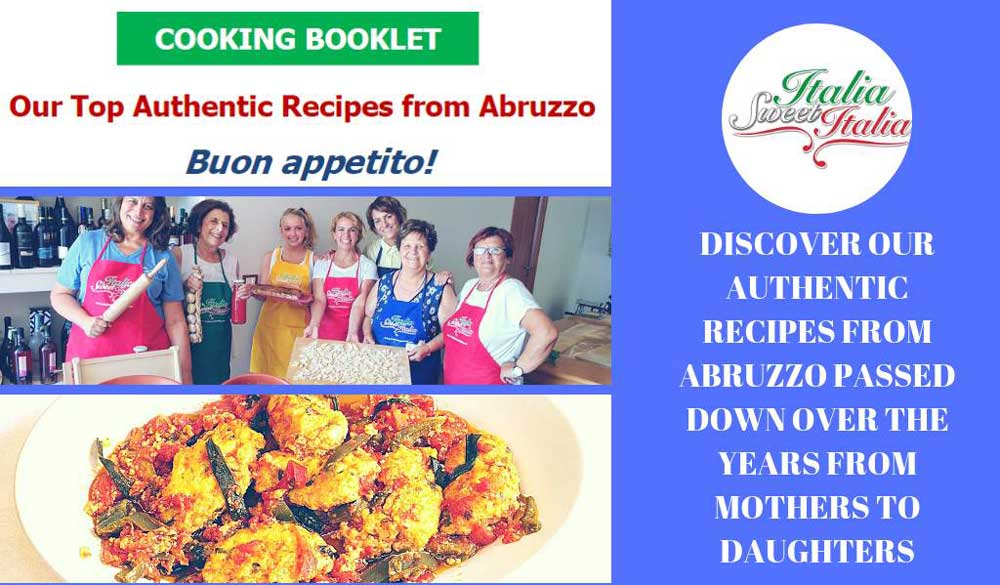 Preparation:
Put flour on your working surface and make a well in the center. After, break the eggs in the center and add a tablespoon of sugar for each egg and some vanilla powder.
Mix all the ingredients until a elastic dough forms. Add more flour if the dough is not compact.
Divide dough into smaller parts, then take each piece and roll it out slightly until you form long round strips. Then cut each strip into equal pieces about 1 centimeter long. Sprinkle them with some flour to avoid them to stick together.
Heat the oil in large pot or deep fryer and fry the small dough pieces until golden. Lay the dough bits on absorbent paper towel to get rid of oil in excess, then place them in a bowl.
Heat up the honey in a very large pot and add one spoon of sugar. Simmer for about 5 minutes on low heat until gets red. Then add the almonds.
Add the dough balls to the honey and stir for 10 more minutes.
Quickly turn the mixture onto your working surface (board or table) with water on it.  Helping with a spoon try to shape the mixture into a round wreath, or the shape you like.
If you want to add a touch of color, sprinkle the wreath with some colored sprinkles.
Happy Carnival, everyone!
Buon Appetito!
by Mamma Anna Maria
Ready to experience Abruzzo with us?
Get in touch today for more information about our region, I will help you understand what are the best options for your dream vacation! 
And if you're not quite ready to make an inquiry, sign up for our free email course to learn everything you need to know about planning a tour of Abruzzo and Puglia.