This recipe is an alternative Abruzzo recipe on the classic Ravioli with Spinach and Ricotta cheese. The Ravioli with Sugar is a traditional favourite of Abruzzo cuisine during Carnival time, but there's no harm trying it all year round! The adding of sugar in the filling gives to this classic dish a touch of originality… for those who like rich strong tastes.
Ingredients:
for the ravioli dough:
for the filling:
400 gr spinach
grated Parmesan cheese
700 gr Ricotta cheese (from Abruzzo farms)
2 tablespoons of sugar
for the sauce:
4 pork ribs
2 pork rolls
2 sausages
extra virgin olie oil
nutmeg
500 gr. tomato sauce (possibly homemade)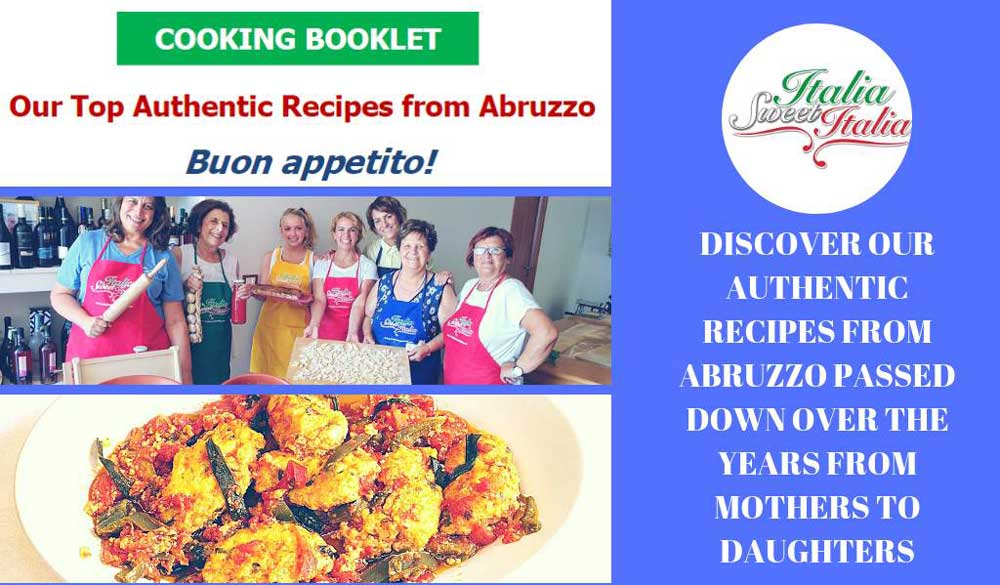 Preparation:
We start with the meat sauce.
Take a large saucepan, heat the olive oil and add the pork ribs, the pork rolls, the sausages and a pinch of salt, some spices if you like it. Cook for about 10 minutes, until the meat is golden brown.
When the meat is browned add the homemade tomato sauce.
Cook  on very low heat for about two hours. Stir occasionally and if it looks like drying out, add some hot stock.
Meanwhile make the ravioli pasta dough.
Put the flour on your working surface and make a well in the center. Break the eggs in the center and beat them inside. Add a pinch of salt. Mix all together and knead to form a dough.
Sometimes wet your hands with some water in order to help you knead the dough. Let the dough rest for a while.
Now, prepare the ravioli filling.
In a pot of boiling water, cook the spinach until tender. Squeeze out the water from the spinach and chop it up roughly. In a bowl mix all together spinach, ricotta, two eggs, the Parmesan cheese and grated nutmeg.
At the end add two tablespoons of sugar.
Take the dough cut small pieces and roll out the pasta dough into thin sheets.
To assemble the ravioli drop the filling mixture on the dough sheets by teaspoonfuls about one inch apart. Fold the dough and press firmly around the filling to seal. Cut into individual ravioli with a knife or pizza cutter.
Cook the ravioli in a large pot of lightly salted boiling water.
Take the pieces of meat out from the red sauce.
Pour some red sauce into a serving plate and add the ravioli. Add some more sauce on top and finally, sprinkle with some grated Parmesan cheese. 
Buon Appetito!
by Mamma Anna Maria
Ready to travel to Abruzzo, Italy?
Get in touch today for more information about our tour. We are ready to help you choose the best options for your dream vacation! 
And if you're not quite ready to make an inquiry, sign up for our free email course to learn everything you need to know about planning a tour of Abruzzo.