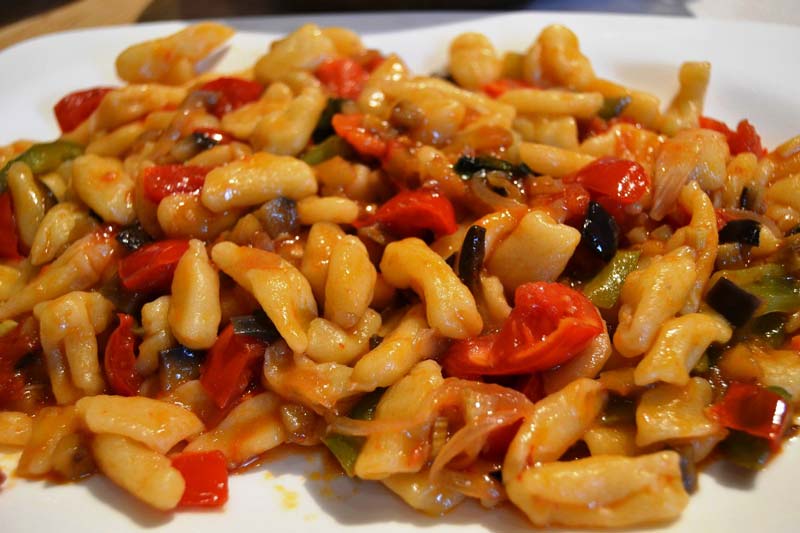 Cavatelli are a kind of small pasta traditional of Southern Italy that look like miniature hot dog buns. You can eat cavatelli with different kind of sauce: fish, meat, vegetables.
Cavatelli
Preparation time: 30' Cooking time: 10' Portions: 4
Ingredients 
500 g flour for bread and fresh pasta (remilled durum wheat semolina)
300 ml water
Preparation
1. Pour the flour on a pastry board, begin to add a bit of water in the central cavity and knead a little flour at a time, continue to pour water and add flour until the dough is smooth and workable.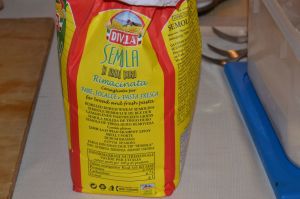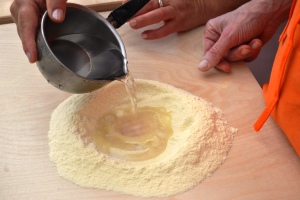 2. Work hard with your hands. The flour does not absorb the same amount of water, so it is difficult to give exact doses with precision.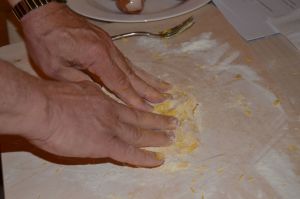 3. Cover the dough with a cloth and let it rest for about 10 minutes.
4. Cut the dough into small pieces.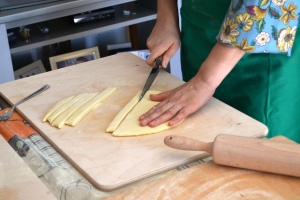 5. Roll them under the palm of your hand to create a log of half an inch thick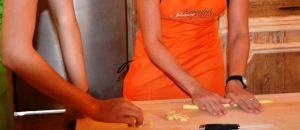 6. Cut them into pieces about an inch.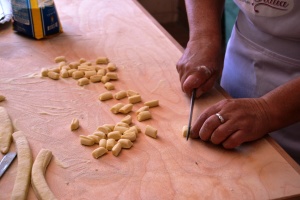 7. Press the cylinder by pulling on the board and turning it on himself, helping with the index finger / middle, so you get the cavatelli.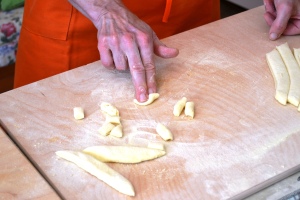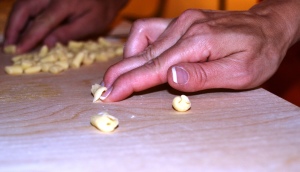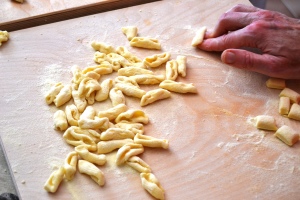 8. Boil in salted water for about 10 minutes.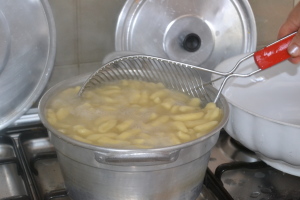 Sauce/sugo 
Ingredients
1 eggplant
2-3 zucchini
4-5 cherry tomatoes
1 onion
2 carrots
celery
salt
black pepper
extra virgin olive oil
 Preparation
1. Cut vegetables into cubes and place in a saucepan with a little bit of extra virgin olive oil.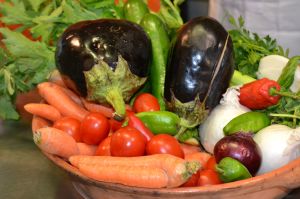 2. When the fried vegetables are ready, add two glasses of hot water and bring to boil.
3. Stir and finish cooking over low heat until to reduce the sauce dense and full bodied.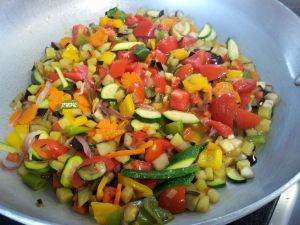 4. Adjust salt and pepper and serve.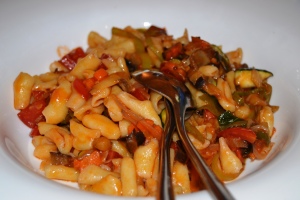 Buon Appetito!
by Mamma Anna Maria and her friends!
Want to learn how to cook authentic Italian cuisine at home? Learn the secrets of traditional and regional Abruzzese cooking with Mamma Anna Maria, Rosa & our professional Chef on a  4 or 7 day Italian Cookery Course in Abruzzo.