Christmas comes but once a year, as for so many of us do holidays abroad, but how to go about combining the two to create a very edible Christmas present that keeps on giving? With the gift of an Italian Cookery Holiday perhaps!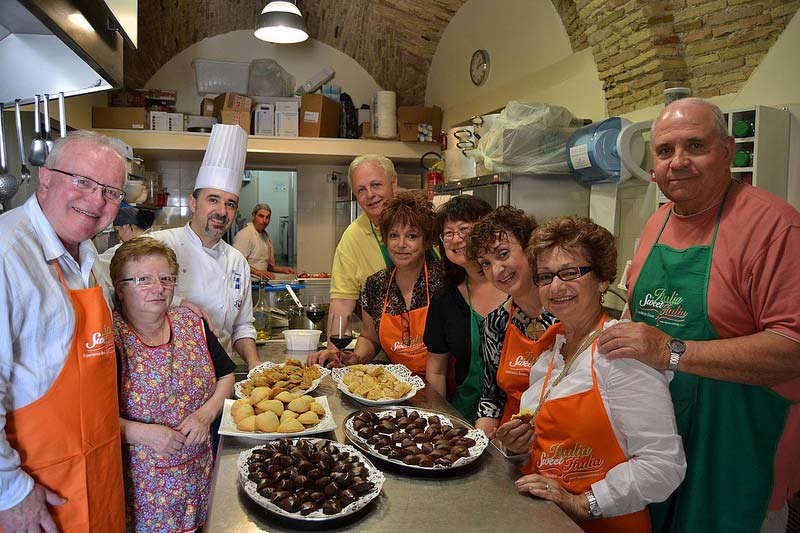 An Italian Cookery Holiday to Suit all Tastes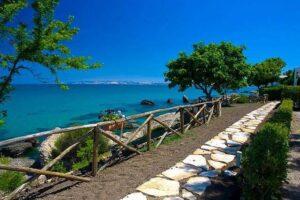 Set in the Roman town of Vasto, overlooking the azure Adriatic and home to Italy's most famous fish soup Brodetto alla Vastese, our 4 or 7 day Italian cookery holidays are combined with excursions and activities that can be tailored to suit all tastes.
Experiences to Share with a Partner
You can choose to explore award-winning Italian wineries for generous wine tastings, at the vineyard or aboard a traboccho and discover that in Abruzzo pecorino is not just a cheese but also a regional white wine! Unlock the skill of olive oil tasting, learn how to make ricotta cheese, or be creative and master the traditional art of making & painting majolica made famous by the Abruzzo mountain town of Castelli.  Alternatively walk off a hearty Italian dinner in the breathtaking mountains of Abruzzo, Italy's best kept secret region, home to wolves, bears, orchids and more ; ramble amongst Abruzzo's beautiful hilltop towns and villages and see why they have played host to so many Hollywood films, all just a short drive from Rome!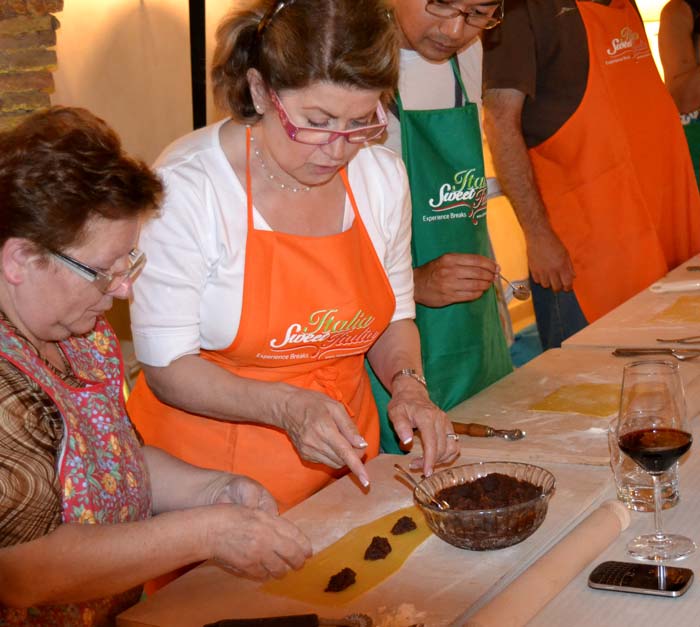 The Secrets of Stuffing, Italian Style
Over the cookery course our guests get to explore & experience the bedrock of Italian cookery, the world's favourite cuisine, mastering fresh pasta, and seasonal holiday favourites that reveal the secrets of stuffing. Plump pillows of ravioli or tortellini your choice , stuffed seafood or, if you attend our Christmas cookery course, the Vasto variant of the  Abruzzo favourite Caggionetti, sweet ravioli parcels stuffed with coco, honey, almonds and laced with vino cotto wine, fried and coated with a dusting of icing sugar. Once tried they are never forgotten, and something you'll learn to share and entertain friends & family with, ensuring a very Merry Christmas for years to come.
Italian Cookery Holidays Available All Year Round
Our Italian cookery holidays are available throughout the year; our Christmas special 7-day Italian cookery holidays course is available every yearin December, allowing you time to try your new Italian cookery skills out on your family this Christmas.