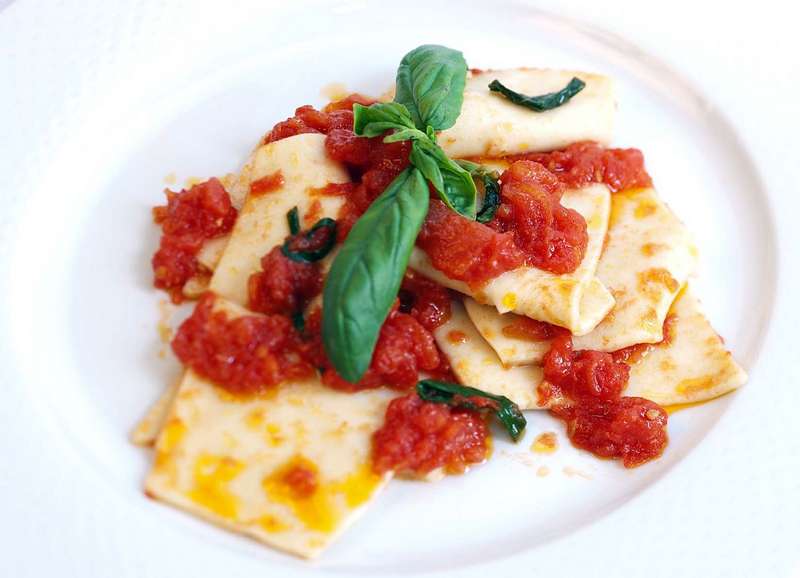 You couldn't pick a more scenic place than Abruzzo for a cookery course, with its views of the Apennine Mountains and Adriatic coast. However, that's not the only reason to choose this region to develop your skills in Italian cookery. During your time on a cookery course here, not only will you enjoy hand-on instruction, using traditional recipes to create delicious local dishes, but much of the food in the area is healthful. When sampling what you make and the food on offer from local producers and restaurants, it's reassuring to know that not only is it full of flavour, but it's also packed full of beneficial nutrients.
The value of fish
Locally caught fish is an important part of the cuisine here. While on a course, you will learn about traditional fishing from the trabocchi platforms you will see along the coast, as well as how to incorporate your catch into a range of tasty dishes. White fish is a good low-fat source of protein, while oily fish, such as anchovies, and shellfish offer the best source of omega-3 fats in the diet. With a good intake of these healthy fats, which reduce the risk of blood clots and help to keep blood pressure and levels of fat in the blood in check, this may partly explain why people in Italy and other parts of the Mediterranean are at lower risk of heart disease. Seafood also offers an excellent source of selenium and B vitamins, which may also protect the health of your blood vessels.
Wholesome pasta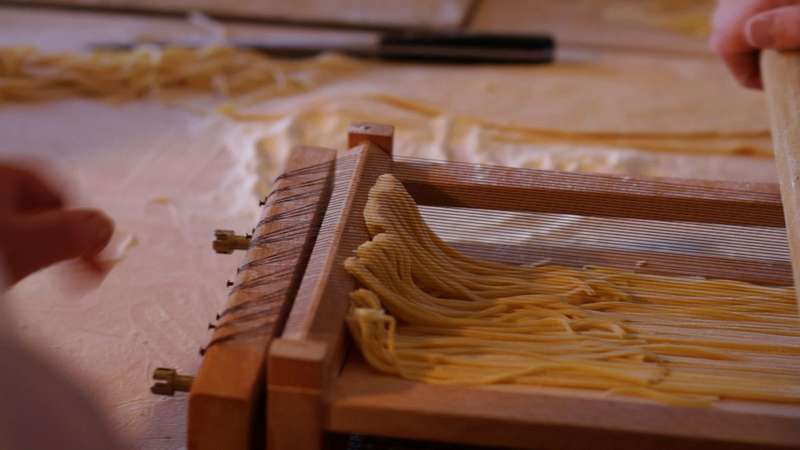 The Abruzzo region is famous for De Cecco pasta, but on a cookery course here you can also learn how to make your own pasta. Nothing beats freshly made pasta and with its various health benefits you have plenty of reasons to make it more often when you get home. Not only is pasta a filling addition to a meal, which prevents you from snacking, but it has a low glycaemic index, which is beneficial if you have diabetes, raised cholesterol or if you want to lose weight. There is also an association between regular pasta consumption and a reduced risk of chronic health problems, including diabetes and cancer.
Healthy olive oil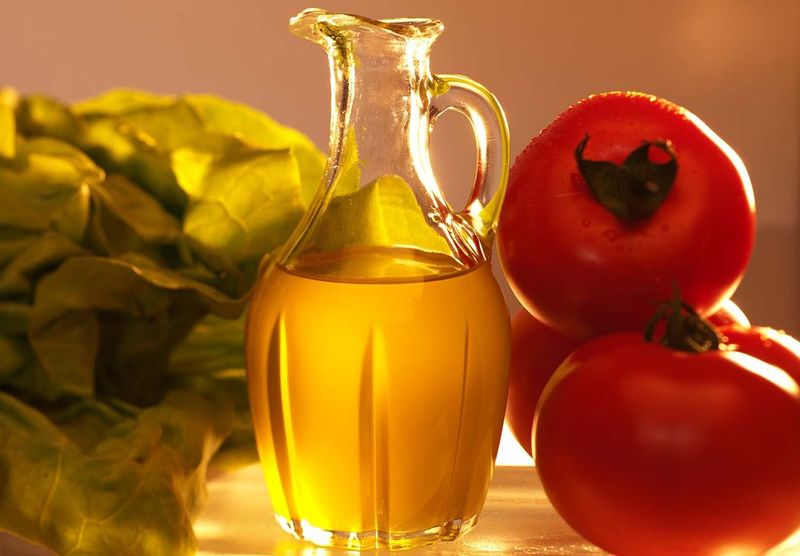 When cooking, olive oil is the oil of choice here, which you will notice when attending a course in the region; you'll also be able to visit a local olive mill to understand the process used to make this healthful oil. Olive oil is rich in monounsaturated fats, which are the healthiest fats for your heart, but it is also high in antioxidants, which provide further protection for your blood vessels. These antioxidants additionally offer protection for cells throughout your body and may cut your risk of cancer and health problems that affect the nervous system. Besides using olive oil for cooking, you can enjoy it drizzled over a salad or mixed with balsamic vinegar to dip bread.
Nutrient-rich vegetables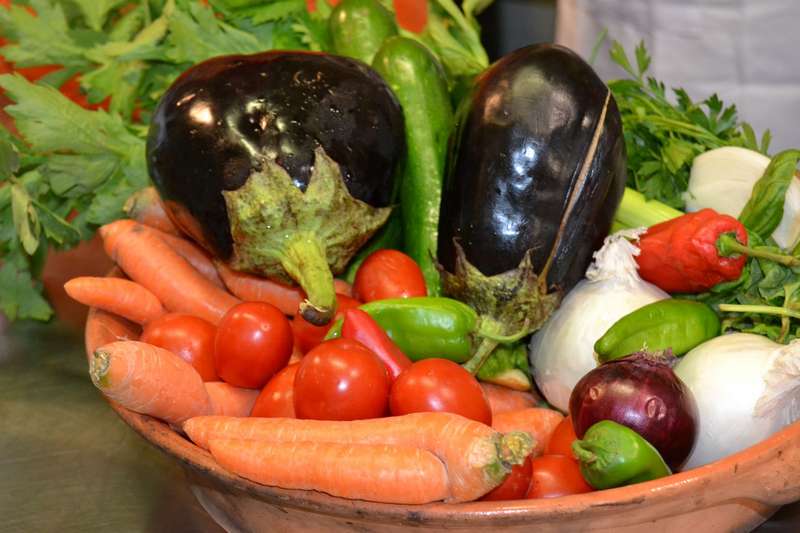 Vegetables are another key feature of the Mediterranean diet. Eggplants, mushrooms, peppers and zucchini often make their way into dishes and these vegetables offer another good source of antioxidants. The tomatoes added to pizzas, bruschetta, pasta sauces and a whole host of other dishes contain the antioxidant lycopene, which offers specific benefits towards a healthy heart and for men, a healthy prostate. Add to these the benefits of legumes that often feature in soups, which offer an ideal balance of protein and carbohydrate, as well as B vitamins and important minerals such as iron and zinc.
A little of what you fancy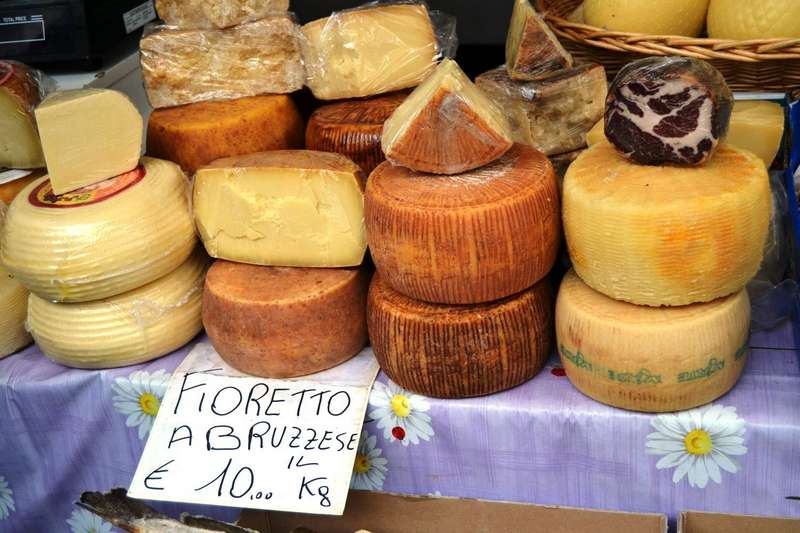 When you come to Abruzzo you will have the chance to sample ricotta and pecorino cheese from the region. Although cheese is high in fat, it is also a good source of calcium, and can be used as an alternative to adding salt to dishes. When eaten in moderation it fits perfectly into a healthy balanced diet and with the freshly produced cheeses available in the area, you won't need much to feel satisfied. You can also sample traditional desserts at the end of a meal and no doubt you will look forward to everyone's favourite, tiramisu; it is aptly named, as a bit of this dessert really does serve as a "pick me up". Rather than seeing foods as good and bad, it's far healthier to view all foods as acceptable in the diet, as this way you embrace a truly balanced approach to eating, where no foods are banned, which protects you against psychological problems surrounding food.
Local food is healthier
Typical lunch in Abruzzo
Whatever type of fresh food is in question, eating local produce is preferable, which is easy when you have fresh food right on your doorstep in Abruzzo. When you source food locally, it is fresher, so it doesn't simply taste better, but it is also more nutritious, as levels of vitamins and minerals tend to fall over time. Making use of food from the region also helps to preserve traditions and has environmental benefits, as it maintains the landscape and wildlife, while reducing food miles that contribute to carbon emissions. It is additionally good news for the local economy, so eating local food really does benefit everyone.
Check out our website to discover our Cookery Holidays in Abruzzo. You'll learn how to cook real traditional Italian plates in the friendly and relaxing Abruzzo.
Written by Italia Sweet Italia contributor Jenni Mendes