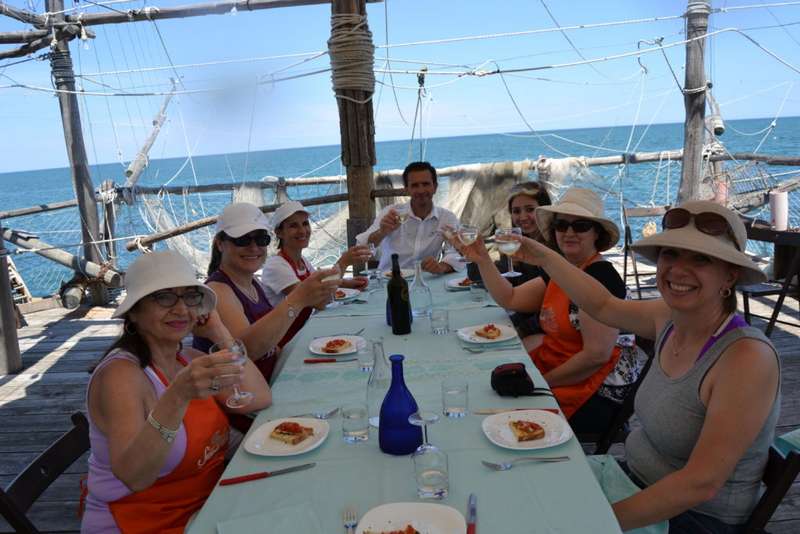 Mention Italy and most people immediately think "Rome." And that's OK, because Rome is a dream city for tourists—if that's the type of experience you're looking for.
But if your idea of an awesome vacation is something a bit more authentic and off-the-beaten-path, you definitely should visit Abruzzo. This beautiful region of Italy is hemmed between the Apennines and the Adriatic coast and is around two hours from Rome; it's known as the greenest region in the continent.
Did you know that 75% of Europe's flora and fauna are found in Abruzzo? And that almost a third of its land is devoted to gorgeous national parks and preserves?
Abruzzo's landscape is so unique, in the springtime, you could be skiing the Apennines in the morning and strolling on the beach in the afternoon. Can you imagine dabbling your feet in the sand looking at snow-capped mountains on the horizon? That's life in Abruzzo.
So if you're planning a trip to Italy this year and are tired of the cities like Rome, Venice, and Florence, check out all that's in store in Abruzzo.
1. You have never seen anything like the Trabocchi Coast.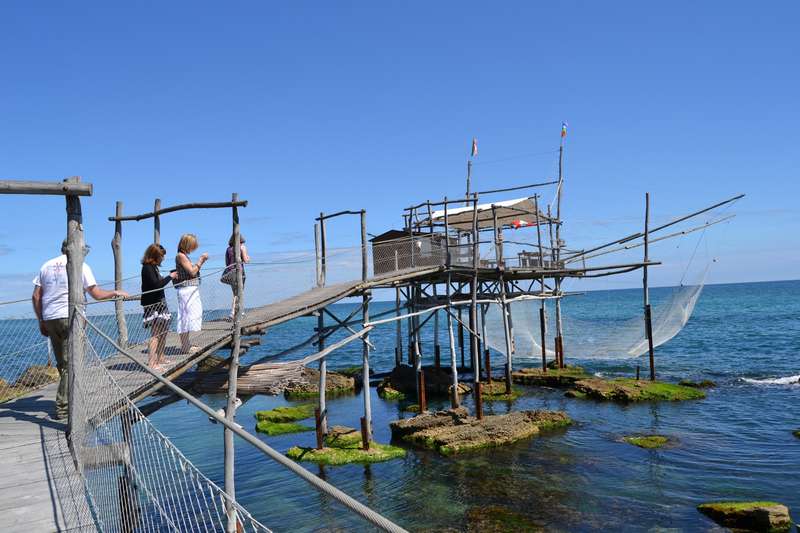 In a country known for its ancient relics, Abruzzo's centuries old trabocchi stand out like sentinels on the Adriatic coast. These wooden fishing platforms extend into the sea, giving local fisherman access to the deeper waters where fish are more abundant.
The fishing method hasn't changed over the centuries, either. These skilled fishermen turn a wooden lever that operates a system of pulleys lowering a net into the sea, which is later drawn up (hopefully full of fish). You can see how this works on our BBC feature.
In fact, the lovely beaches of Vasto's trabocchi coast near the Punta Aderci nature reserve were named one of the top 10 beaches in Italy for many years.
Explore a charming trabocchi fishing house for yourself where you can take part in a fish cooking class and enjoy a wonderful lunch during any one of our tours.
2. Care to castle-hop? You won't believe the Roccascalegna.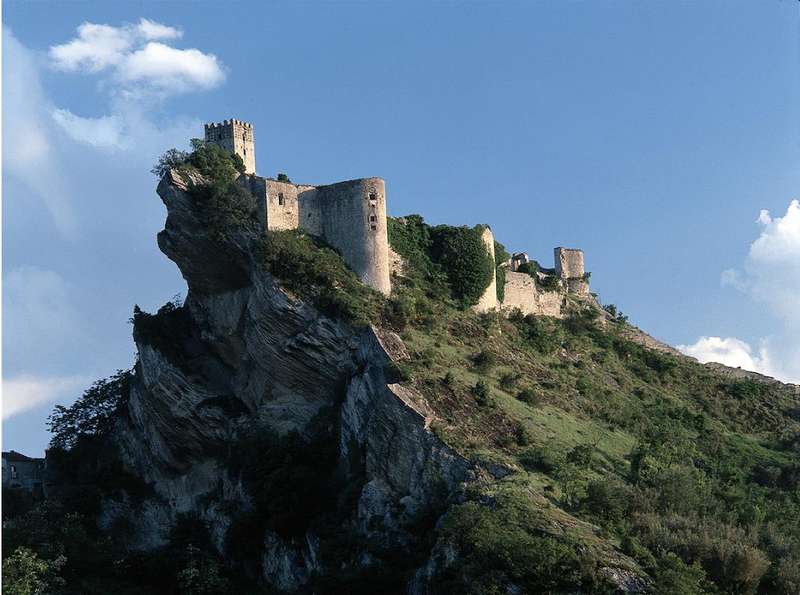 The 16th century Roccascalegna has to be seen to be believed—its curving contours jut from the top of a limestone cliff. It's such an unusual castle, it was recently featured in "Tale of Tales," a movie starring Salma Hayek and Vincent Cassel.
With more than fifty castles in Abruzzo alone, it's not the only castle set atop a cliff. Near L'Aquila, you'll find a 15th century castle, Ocre, rising up into the sky over the site of an ancient Roman acropolis. Rocca Calascio, a 14th century castle considered to be one of the most beautiful in the world, also climbs to dizzying heights and offers stunning panoramic views of Gran Sasso.
3. Celebrate the grape harvest with a beautiful bottle of vino novello.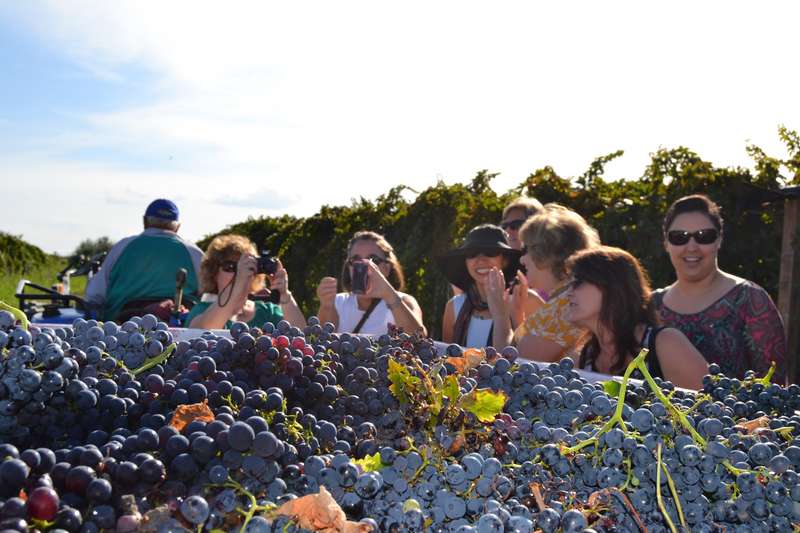 The Abruzzo grape harvest has a fragrance all its own—and each September, the region comes alive as locals and visitors alike flock to the vineyards to help pick the grapes, sample wines, and picnic in the warm Italian sun.
By November, the winemakers release their vino novello, almost always a lovely Montepulciano d'Abruzzo. These desirable vintages are released in very small batches, and they're usually all gone by the time the new year rolls along. Be sure to buy an extra bottle to take home if you enjoyed it because you'll never see this vintage again.
4. There really is a festival for snake catchers—and a snake parade!—and it is amazing.
The Festival of the Snake Catchers in Cocullo, a hilltop village in Abruzzo, is actually a religious celebration in honor of St. Dominic, its patron saint. The snake-catchers gather as many snakes as they can find and form a procession through the village to drape them on the statue of St. Dominic. As many as 30,000 people journey to this gorgeous medieval town to witness the spectacle.
Snake-catching is a honorable profession in Cocullo, a skill handed down from father to son in a tradition that actually extends to the pre-Christian era. While you might not think an abundance of snakes is a good thing, in Cocullo, it's a wonderful thing. Too few snakes are a bad omen in the villagers' eyes.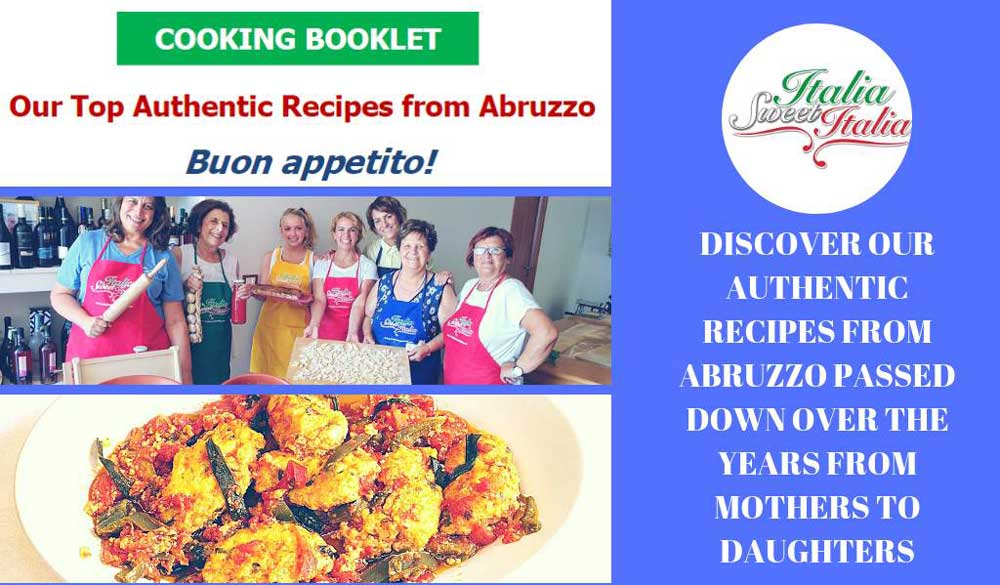 5. Skip the snakes and experience the Festival of the Running Madonna.
Of course, if snakes are not to your liking, Sulmona's reenactment of "La Madonna che scappa" or Running Madonna each Easter is a lovely tribute to the promise of spring. This most famous Easter celebration in Abruzzo draws 10,000 visitors each year; it's the highlight of a springtime tour for many travelers—and an experience you'll not soon forget.
6. Discover the secrets of passata with a sweet Italian nonna.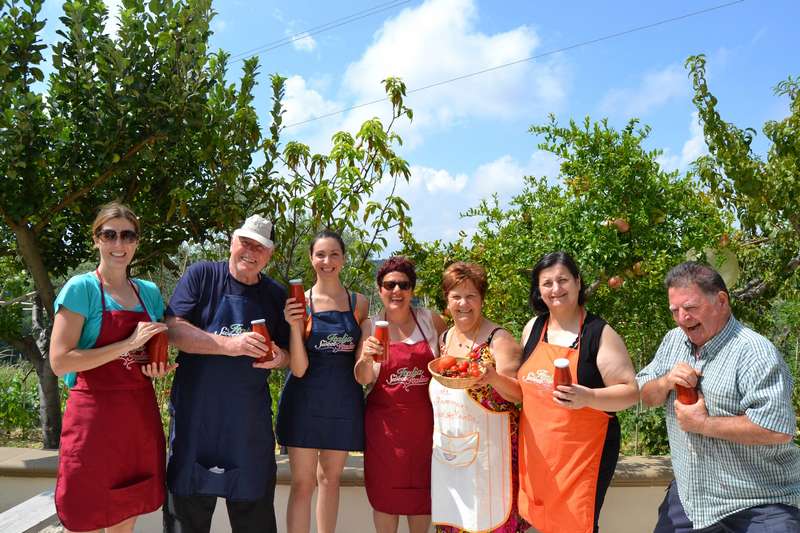 Summer is the season for tomatoes in Abruzzo—and tomatoes signal passata, the delicious, light tomato pureé that forms the foundation for so many Abruzzese dishes and sauces. You can find a recipe in any Italian cookbook, but there's nothing like learning the secrets of passata in nonna's cozy kitchen.
7. Visit Italy's "golden triangle of olive oil" and sample some fresh-pressed olio.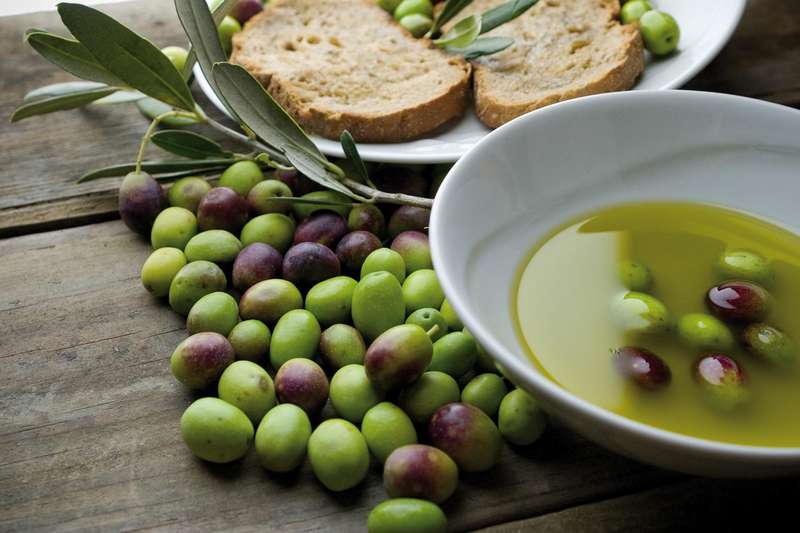 Italy is the premier producer of olive oil, but it's the Golden Triangle in Abruzzo where the most prestigious varieties are produced. Extra virgin olive oil from Abruzzo has a distinctive nutty flavor and low acidity that makes it perfect for finishing your favorite dishes.
Visit in November and you can celebrate the olive harvest and sample the local oils to learn the subtle differences of Italy's "liquid gold."
8. Pack a picnic and hike through the Parco Nazionale d'Abruzzo.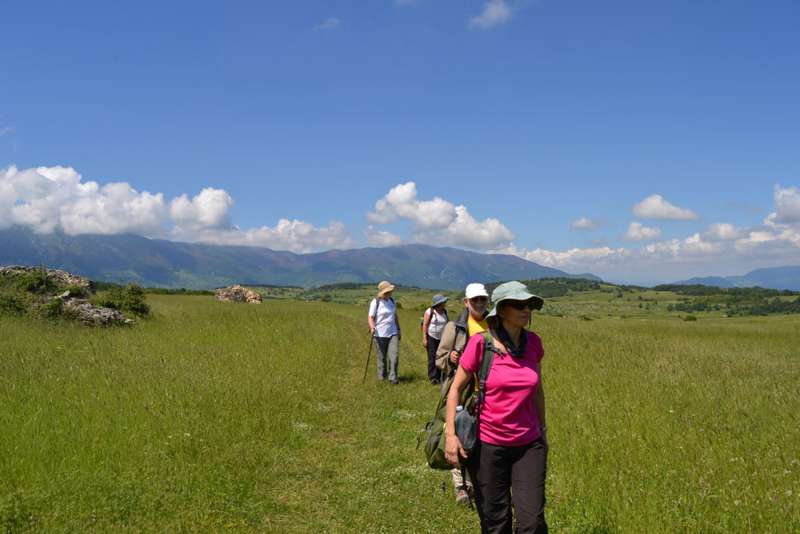 Abruzzo is known as the greenest region on the continent, in part due to its amazing national parks: Maiella, Gran Sasso e Monti della Laga, and Abruzzo, Lazio e Molise. Of them, the Parco Nazionale is perhaps the most popular, with its abundant wildlife, lush forests, and countless hiking and biking trails. Don't be surprised to find deer, bears, wolves, mountain goats, and roebuck as you wander through the park—it's truly an idyllic landscape.
The Parco Nazionale d'Abruzzo is the oldest in the Appennines, and the perfect setting to marvel at the mountains and embark on some light scenic walks.
9. Hunt for truffles with man's best friend.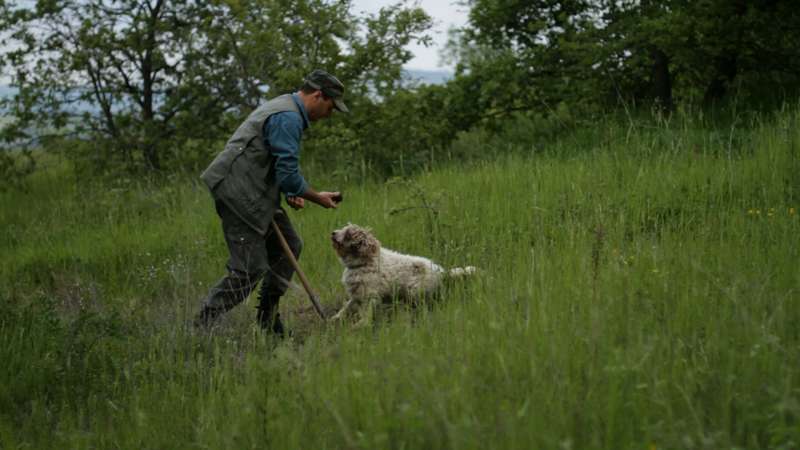 What could be more pleasant than trekking about the shaded woods with a couple of truffle dogs searching for Abruzzo's "black diamonds?" And if you're wondering what happened to truffle pigs—well, they're no longer allowed under Italian law because of the way they root up and destroy the ground.
But that's OK, because dogs have the same keen sense of smell that leads them to these delectable little tubers (and dogs are definitely more fun to pet). Truffle dogs are a precious commodity in Italy; some go for as much as €7,000 or more.
If you're seeking the elusive white truffle on your truffle hunting adventure in Abruzzo, be sure to plan your visit between October and December, the only months these delicious nuggets are found.
10. Who can resist a porchetta festival?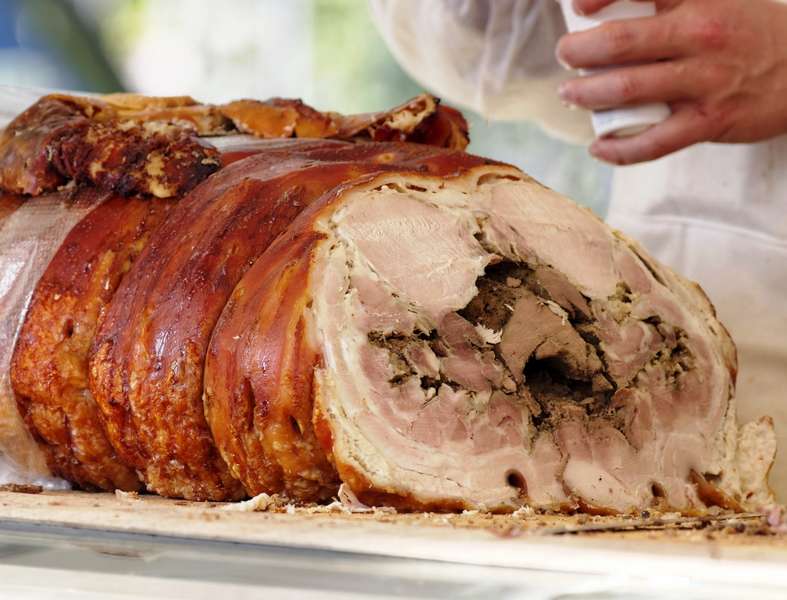 Italian porchetta
Although porchetta is popular all throughout central Italy, the people of Campli in Abruzzo actually celebrate its porky goodness with a festival—the Sagra della Porchetta Italica. Porchetta was actually born in this region in the 16th century when Margherita d'Austria married the Duke of Parma and Piacenza and their cultural fusion resulted in an entirely new roasted pork dish.
And if a porchetta festival isn't enough pork celebration for your taste buds, why not attend the Sagra della Ventricina di Guilmi dedicated to the award winning aromatic fennel and dried red (sweet or spicy) pepper salami unique to Abruzzo?
11. Swoon to sweet tunes at the Siren Festival, Vasto's fabulous indie music celebration.
One of the best ways to live like a local in Abruzzo is to take part in its music culture. And the Siren Festival in Vasto is a high-energy event set in a truly amazing venue. The Piazza del Popolo, which houses the main stage, has absolutely stunning views of the Adriatic Sea.
The courtyard of the neighboring Cortile Palazzo d'Avalos, which dates to the 15th century, is a spectacular sight at night. It's a magical experience to listen to the music of new and emerging European artists surrounded by the crumbling walls of a medieval fortress.
12. Learn the art of Castelli, Abruzzo's famous ceramics.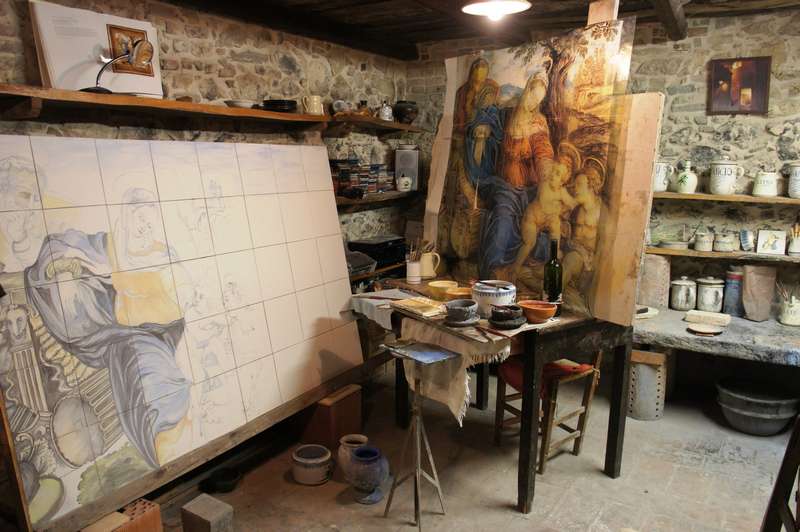 Every region and culture has its own version of decorative ceramics—the French have faience and Abruzzo has Castelli. These brightly colored hand-painted pieces are famous for their characteristic "pentacromia," a five-color palette of yellow, green, blue, orange, and brown.
Italian decorative pottery is extraordinarily popular—and you can learn to make and decorate your own Castelli masterpieces on some culture and art tours of Abruzzo.
13. Eat pasta at La Casa della Pasta.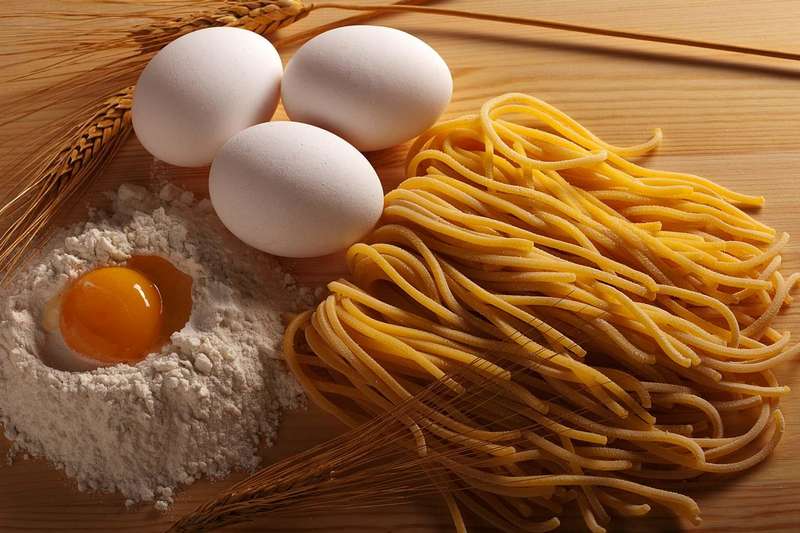 There's nothing more synonymous with Italian cuisine than pasta—and in Abruzzo, you can enjoy it in the literal "house of pasta." The quaint village of Fara San Martino, on the outskirts of Maiella National Park, earned its sobriquet for the distinctive flavor and quality of the pastas made there. In fact, this tiny hilltop village is home to two of the most widely recognized high-end pasta brands, De Cecco and Delverde.
It's also the home of Domenico Cocco's artisanal pasta factory. The mastri pastai at Cocco's factory create such exquisite pastas, they are one of the few that actually make their way to the Pope's table at the Vatican.
While the pasta masters at Cocco's guard their secrets very closely, you can still learn to make delicious fresh pasta the Abruzzo way at a pasta-making class.
14. Try Arrosticini: The Barbecued Delight/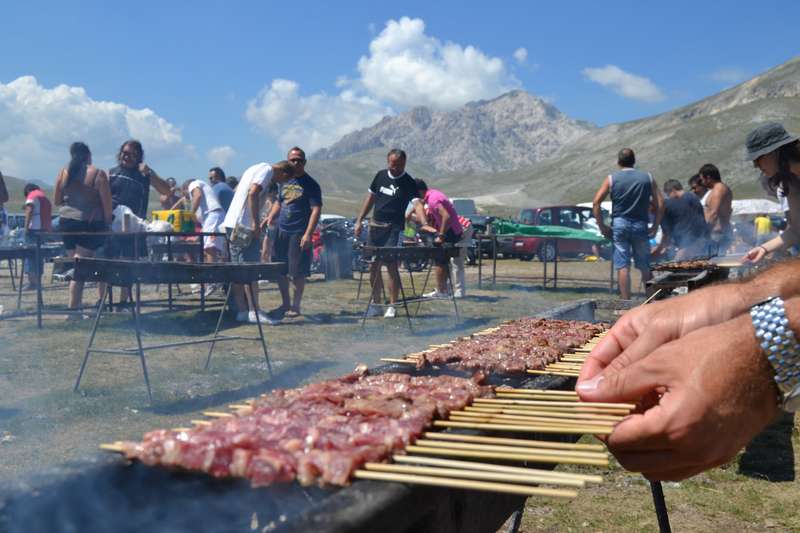 Sometimes, sunny afternoons in Italy call for one thing- the sound of meat sizzling on the barbecue. The delicacy of the Abruzzo region: arrosticini, known as rrustelle in Pescara is the perfect addition to your outdoor feast. These mutton skewers are cooked on fornacellas, a special narrow grill that people use in Abruzzo.
Don't be afraid to put the knife and fork to one side, as these authentic treats are traditionally eaten by hand with fresh bread, or 'pane bruschettato' and olive oil. If you're looking to take your al fresco cooking elsewhere, why not purchase some arrosticini at a local butcher shop on the mountains and grill it up as a picnic lunch with a scenic view?
Ready to Go?
So if you're tired of the same-old same-old city tours of Rome or Venice, why not experience the authentic Italy of Abruzzo?
Get in touch today to help bring your dream tour into focus – wouldn't you love to see yourself on a truffle hunt or sampling the finest wines after Abruzzo's grape harvest? And if you're not quite ready to make an enquiry, sign up for our free email course to learn everything you need to know about planning a tour of Abruzzo.