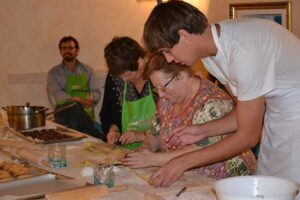 Want to learn to make pasta, to cook Italian like Mamma? Discover an authentic and regional cookery style that embraces Central Italy's seasonal harvests, from Abruzzo's rich Apennine Mountains and Adriatic coastline.
"Normally I avoid guided tours but this trip interested me because it included both travel and cooking in the best place to enjoy both – Italy." Nov. 2012, John Trip Advisor
Perhaps you want to go on an Italian holiday where you can explore whilst you learn to cook Italian like Mamma real Italian food, the type that tastes so different back home.  Getting out of the kitchen with your friends and family could mean discovering how to make Learning how to make ricotta cheese, sampling some award-winning vineyards, truffle hunting, trying your hand at art, pottering at ceramics, going for a bike ride along a stunning marine national park or even exploring Italy's "Little Tibet", Campo Imperatore.
Alternatively you may want to uncover your own Abruzzese ancestry, hunting for genealogical trails amongst the formerly conjoined regions of Abruzzo & Molise, central Italy… Or learn a little Italian to surprise your friends with when back home, from the home of nationalist poet Gabriel Rossetti, father to Dante Gabriel & Christina.
Italia Sweet Italia create tailored, value-packed tours and holidays in the Romanesque town of Vasto, Abruzzo and Termoli, Molise, a short drive from the RyanAir serviced Pescara Airport, and Rome in 2.5 hours.  Guests can choose from a selection of charming accommodation in these historic centres, farm-style agriturismi, beach located B&Bs or boutique style hotels whilst cherry picking activities or joining their regularly run breaks of 4 and 7 days.
Join our Celebration & Receive 10% off our Italian Cookery Holidays & a Free Bottle of Wine
To celebrate the combined launch of Italia Sweet Italia's new easy-to-book responsive website, where glorious photos and videos tell the stories of just how enjoyable their tours are and becoming Number 1 on Trip Advisor, we are offering all visitors that book online using the promotional code Vale by Valentine's Day a free bottle of Abruzzese sparkling wine and 10% off all our Italian Cookery holidays!
Italia Sweet Italia – Unforgettable holidays in Italy that all members of your party will enjoy.