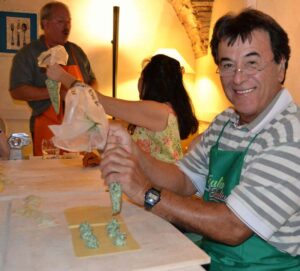 Valentine's Day celebrates love eternal, but what about that allied eternal question: what to give the one you love?  With food becoming the world's new religion, and Italian being the world's favourite manna from heaven, how often do we overlook the gift of love we can make kneaded, rolled and cut simply with our very own fingers?
Pasta has a power to bring people together, as famously showcased in the Disney classic The Lady and the Tramp, a single strand of spaghetti achieves what the bashful lovers alone cannot, creating one of the most famous kisses in cinematic history…Food for thought!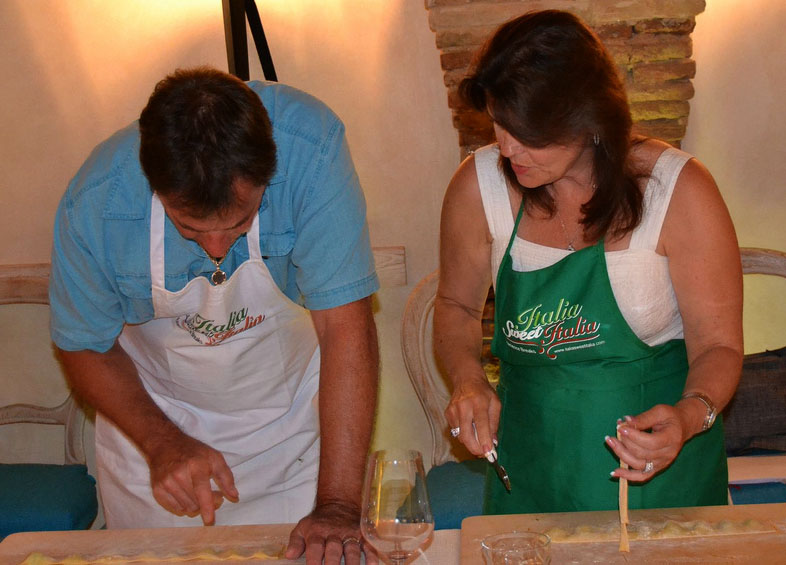 But how does one make the perfect pasta? How do you pull, curl and pinch those morsels of tactile malleable dough into shapes just begging to be dressed with rich, creamy or tangy sauce, or soft plump pillows that envelop the most delicate of fillings without falling apart when being boiled or ending up as dense dumplings, depressed and desolate of desire?
Italian cooking is all about emotion; if you don't have an Italian Mamma to guide you and find that TV programmes, recipe books and apps aren't always the most useful for learning about creating consistency and textures with passion, perhaps it's time to invest in an eternal love of ceaseless variety and learn how to truly make fresh pasta combined with a holiday in Italy!
Our Italian cookery holidays are held in the Italian region of Abruzzo, a region famous throughout Italy and the world as one the cradles of great Italian cuisine, and for its exceptional dried pasta produced in nearby Fara San Martino by the likes of De Cecco alongside the smaller, artisan pastifici such as Giuseppe Cocco that you might see weekly in your local deli or superior supermarket.
From our very first cookery lesson, we get down to basics: the ingredients, selecting the right flour, learning to understand that despite what it says on the packet not all flours are the same, they grow in different soils and countries (!) so even the flavour of pasta's most  fundamental ingredient will vary.  It is the same with eggs; it may say large on the packet but take two and they'll always feel different in weight.  We take our time and add the liquids to our flour slowly, taking these factors into consideration, learning when enough is enough, and when the consistency is just right for perfect pasta.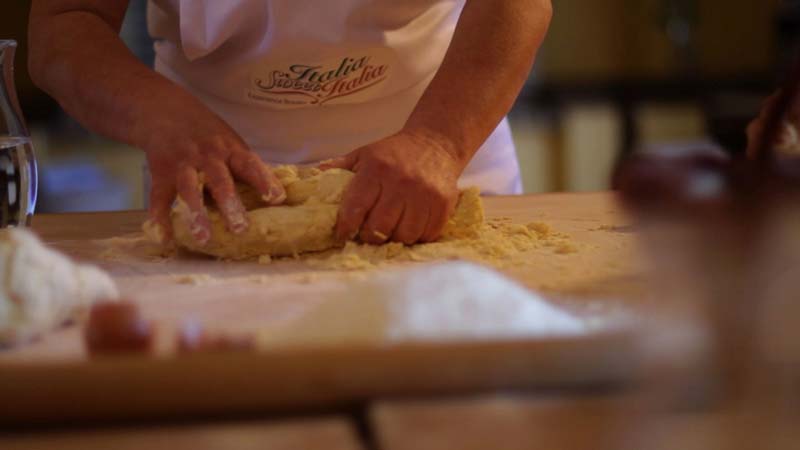 Kneading and rolling are part of the fun of making your own pasta; of course you can cheat and use a food processor or bread machine but a little bit of pummelling and wrist action never did anyone any harm, and you might even find it therapeutic, removing those stresses that build up from everyday life! Plus there is something simply more satisfying about working the dough by hand, an emotional engagement with the pasta-making process.
We'll teach you how to fashion our long, square spaghetti called chitarra by rolling our sheets of pasta through la chitarra, (pronounced key-tahr-rah, yes it's named after a guitar) and whose strings do the hard work of cutting our pasta. It's a light pasta that perfectly suits the seafood dishes that the Vasto area of Abruzzo is so famed for and of course a good, slow cooked sugo.
We'll cut and stuff succulent ravioli and learn to match the ridges, flutes and curls of cavatelli, orecchiette, tacconelle pasta shapes to the sauce they transport & transform. By the end you'll understand why an Italian would never serve their ragù (Bolognese) with spaghetti!
Learn the magic of making great pasta and enjoy a lifetime's love and gratitude from your partner, family and friends; join both Mamma and our professional chef for a 7 day Italian cookery holiday.