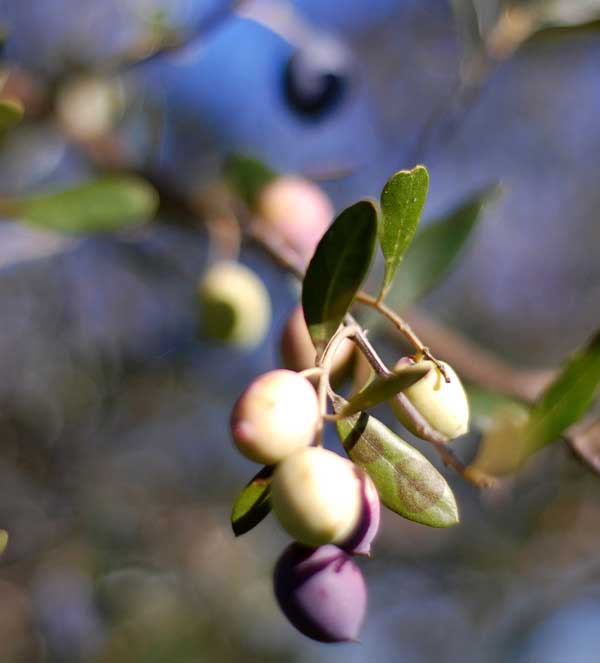 Planning a last minute autumn holiday to Italy?  November could be the best month to make your way to Abruzzo to help pick the last of the low-sun ripened olives, learn how to taste and appreciate the finest cold-pressed olive oils as well as enjoy some Vino Novello and of course our favourites, roasted chestnuts.
Hand picking the olives is called 'Burcatura" and is incredibly labour intensive and expensive in these tough times.  The artisan producers whose groves we offer visits to inland from our home on the coastal town on Vasto use a combination of this and bacchiatura (sticks) and scuotitura (a whirring little machine that looks similar to a strimmer) that vibrates the olive trees' branches causing the olives to drop onto the nets below.  The forecast for 2012's oils are that despite the yields being down due to extremely hot summer like grapes we are in for some intense flavours.
Lunchtime after olive picking is our favourite time for simple al fresco eating, post what can be a tiring morning if picking in earnest with our own family…  some fine Pecorino, ventricina salami, crusty bread cooked in traditional wood ovens and salad accompanied by a demi-john of home-brewed Vino Novella refreshes parts like no others.
For those that want to eagerly try Vino Novello, this soft new wine is traditionally first tasted on the 11th November, celebrating the patron saint of winemakers San Martino.  For those that like to dip in early, Vino Novello is available from 6th November and we'll be visiting our friends at Fontefico and La Selvotta  to try Italy's Beaujolais. We like nothing better than enjoying Italy's fruitiest wine and some roasted chestnuts or if Mamma makes … a slice of Castagne al cucchiaio, a traditional Abruzzese chestnut and chocolate pudding.
You could also join the Borgo Rurale sagra at  the small village of Treglio, which is set between the Trabocco coastline and Lanciano.  They will be celebrating our three favourite Autumn things will be celebrated late into the night over this weekend.
Join us for some autumn magic, olive wine and chestnut tasting in November.