Puglia is located in the southern Italy, and it is considered the "heel" of the boot. 
There are many reasons why you might consider it for a trip – we listed the most beautiful places in this article. As a great destination for travelers and foodies alike: you can't really say you have visited it if you missed one of its local  foods. 
We will make sure you taste the majority of them during our The Abruzzo, Puglia & Matera experience tour.
Extra virgin olive oil
Extra virgin olive oil is the foundation of the Mediterranean diet and it is used basically in each and every recipe in Puglia. The region supplies around 40% of olive oil production in Italy and 12% in the whole world.
It gives a unique flavour to appetizers, first and second dishes, side dishes, and of course, it  tastes perfect alone on a slice of homemade bread.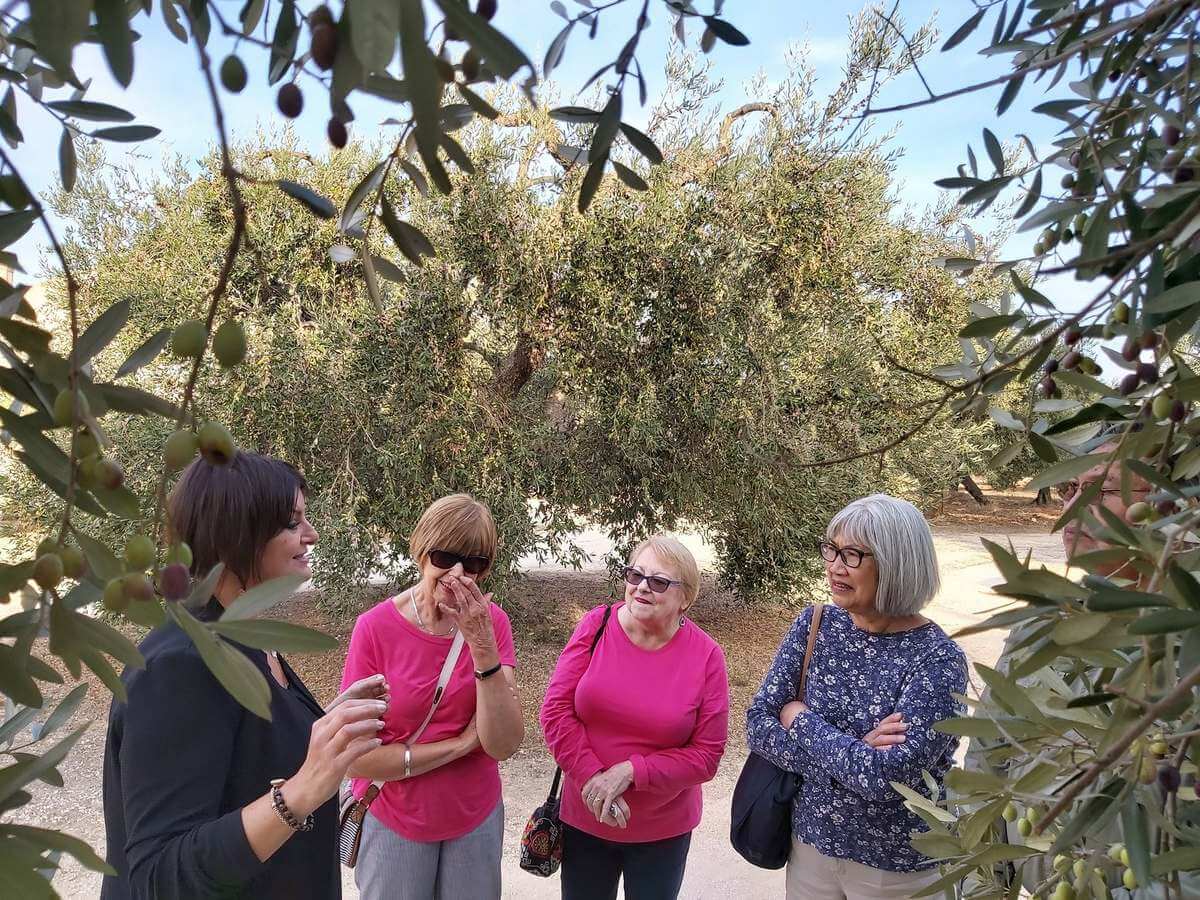 Wheat 
Puglia is also a great producer of durum wheat, and this is the reason why it is home to some of Italy's most famous pasta dishes and breads.
Talking about pasta, there are lots of shapes associated with the region: the most famous one is orecchiette ("little ears"). Let's not forget about cavatelli ("little hollows"), strascinati (similar to orecchiette, but much larger and open), sagne incannulate (rolled ribbons of fettuccine), troccoli (thick spaghetti), and capunti (they look like open pea pods), just to name a few.
On the other hand, the must-try breads are focaccia, typically a round dough that is crispy on the outside and soft on the inside, topped with tomatoes (but of course there are many variations), pane di Altamura, the only bread in the world with PDO (Protected designation of origin) (what is PDO?) -protected status made from 100% durum wheat grown in the Bari province, taralli, ring-shaped snacks, and friselle, a crunchy dry bread typical of Salento, that is put  under cold water to soften and then topped with oil, tomatoes, olives, and oregano – or whatever you prefer.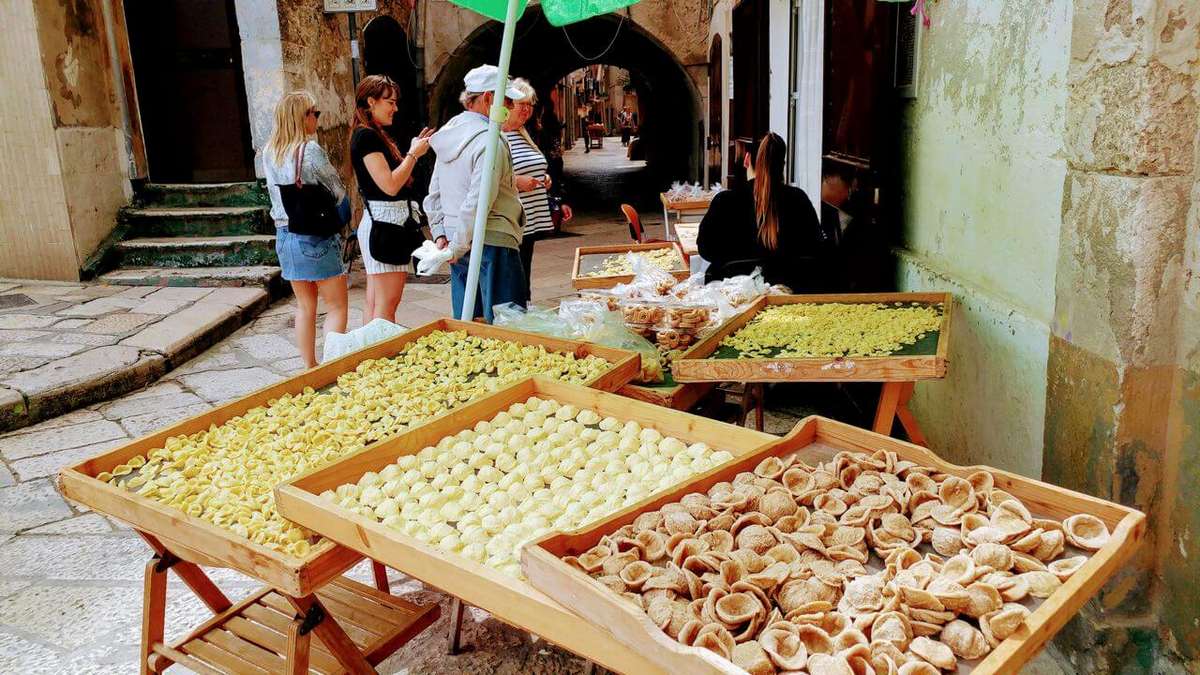 Tomatoes
Tomatoes are another local ingredient you must taste. You will find fresh cherry tomatoes as a topping on focaccia, friselle, and pizza, and of course passata, the typical Italian tomato sauce that is prepared in large quantities during summertime.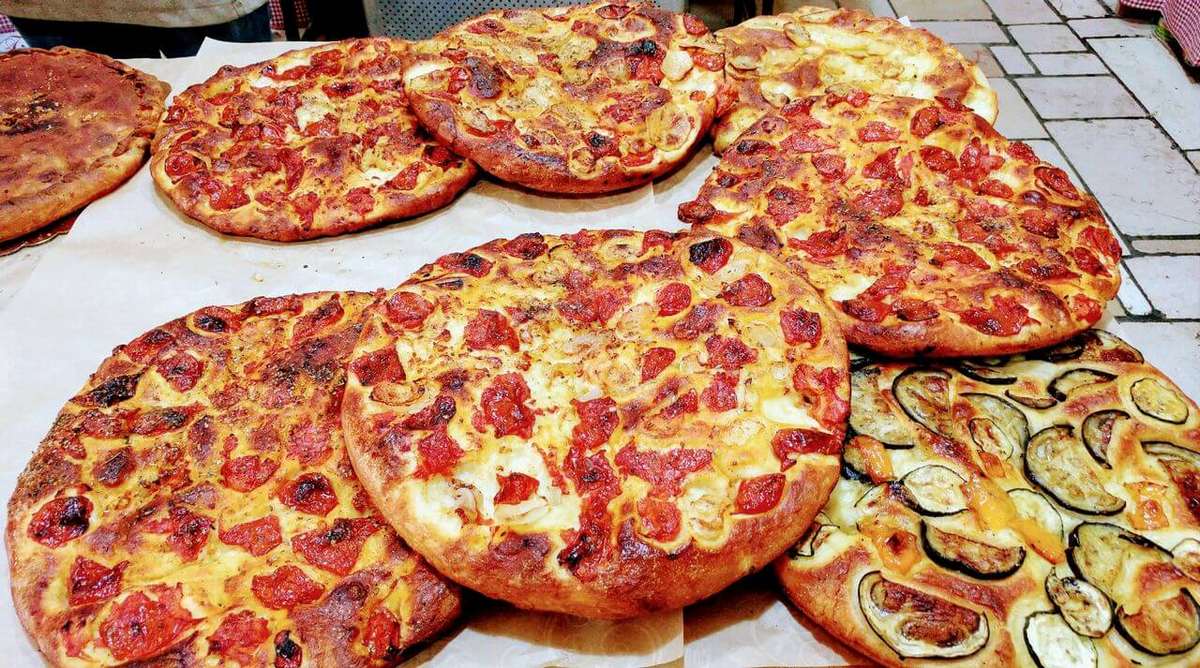 Fish
Puglia also offers a great variety of fish, octopus, mussels, and more to enjoy.
Mussels are the most common seafood in the region, and if you are a fish lover you should definitely try rice, potatoes and mussels (the so called "tiella barese") a mix of rice, potatoes and mussels cooked in the oven. 
Throughout the region, you will also find all kinds of fish and shellfish.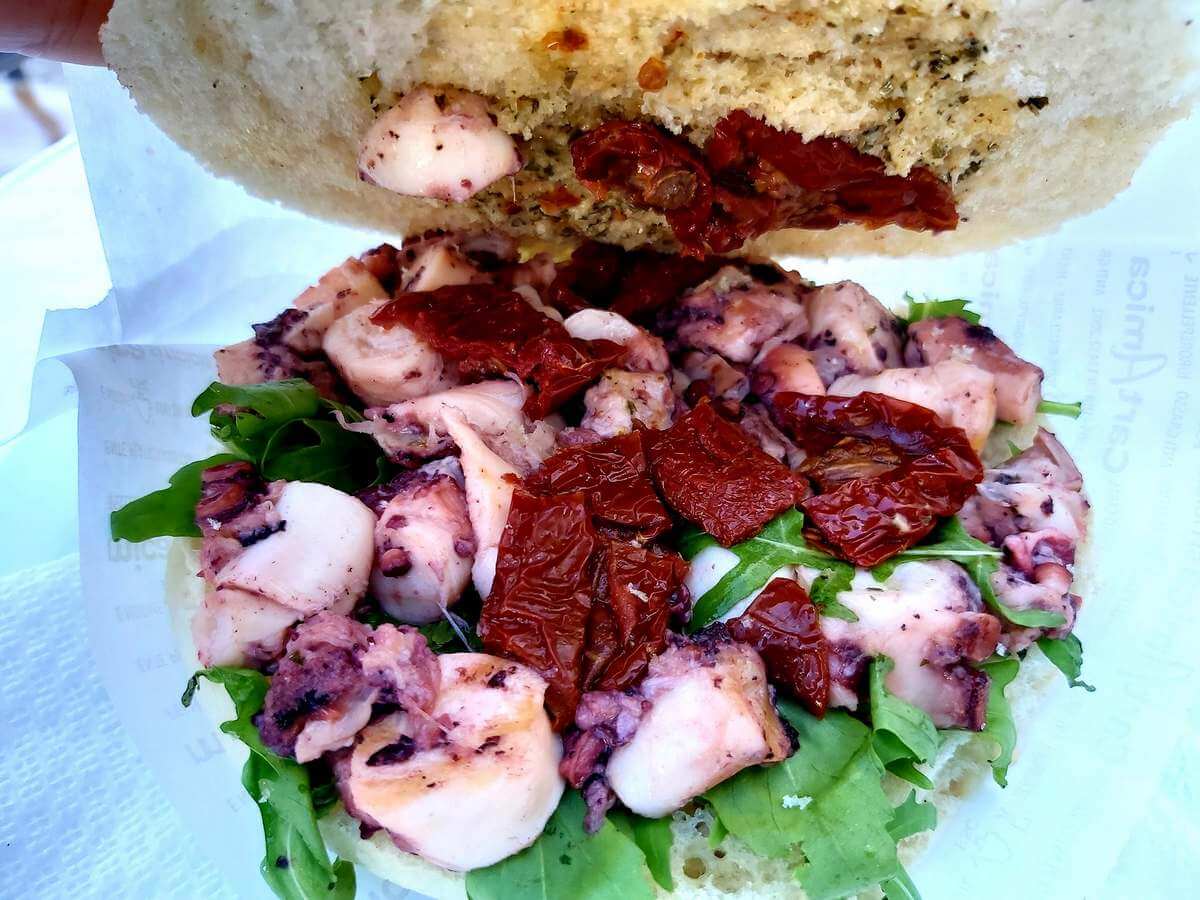 Cheeses
Puglia is also known for its variety of cheeses. Among the finest ones, we should mention the famous mozzarella (especially the DOP one of Gioia del Colle), a fresh cheese made from whole cow's milk, burrata, made from a mix of both mozzarella and cream, and stracciatella, which is the creamy filling of burrata. 
Another great local cheese is caciocavallo, with its unique pear shape and salty taste.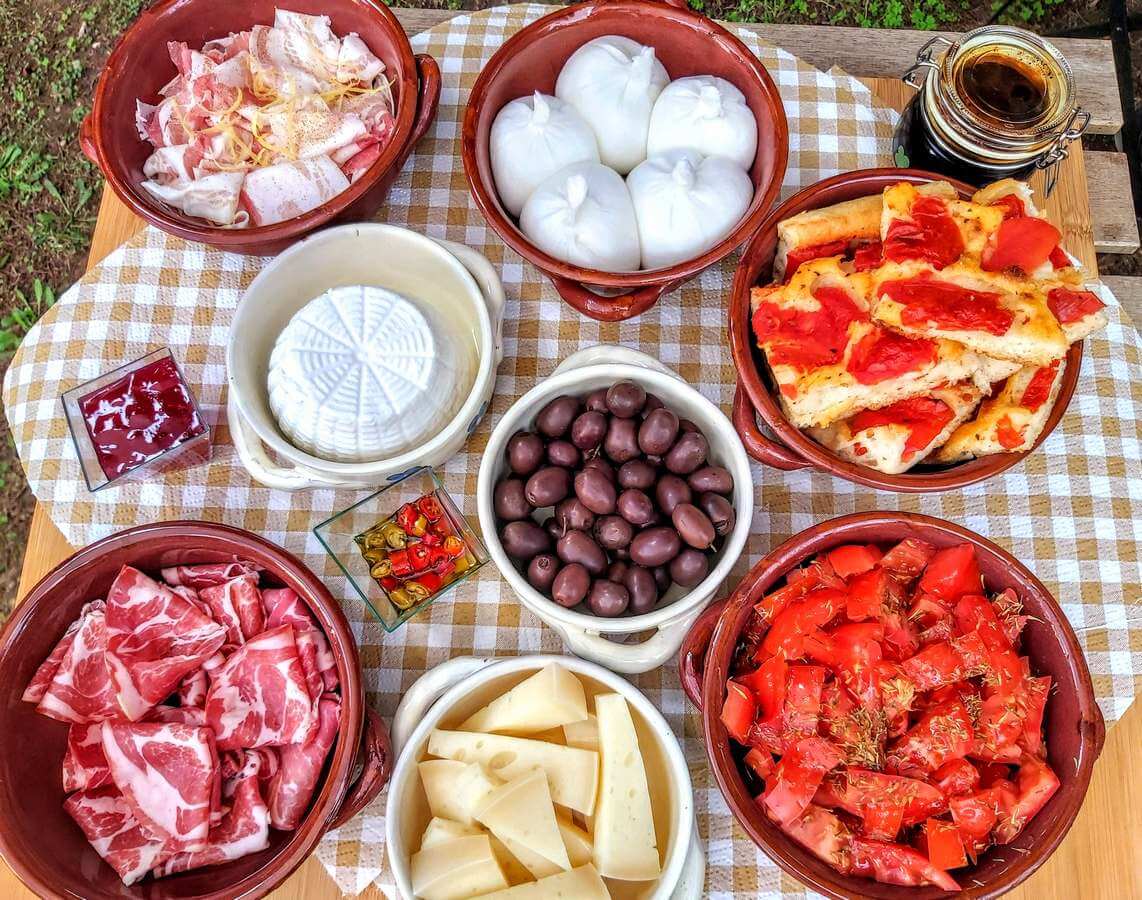 On the go foods
Puglia is also known for its great street food.
You shouldn't miss panzerotti, stuffed and deep-fried pockets of dough that are typically filled with tomato and mozzarella – but you will also find many other fillings to taste. 
Capocollo from Martina Franca is Puglia's top salami and it can be eaten alone, in a panino (sandwich) or, if you are at the restaurant, as an appetizer!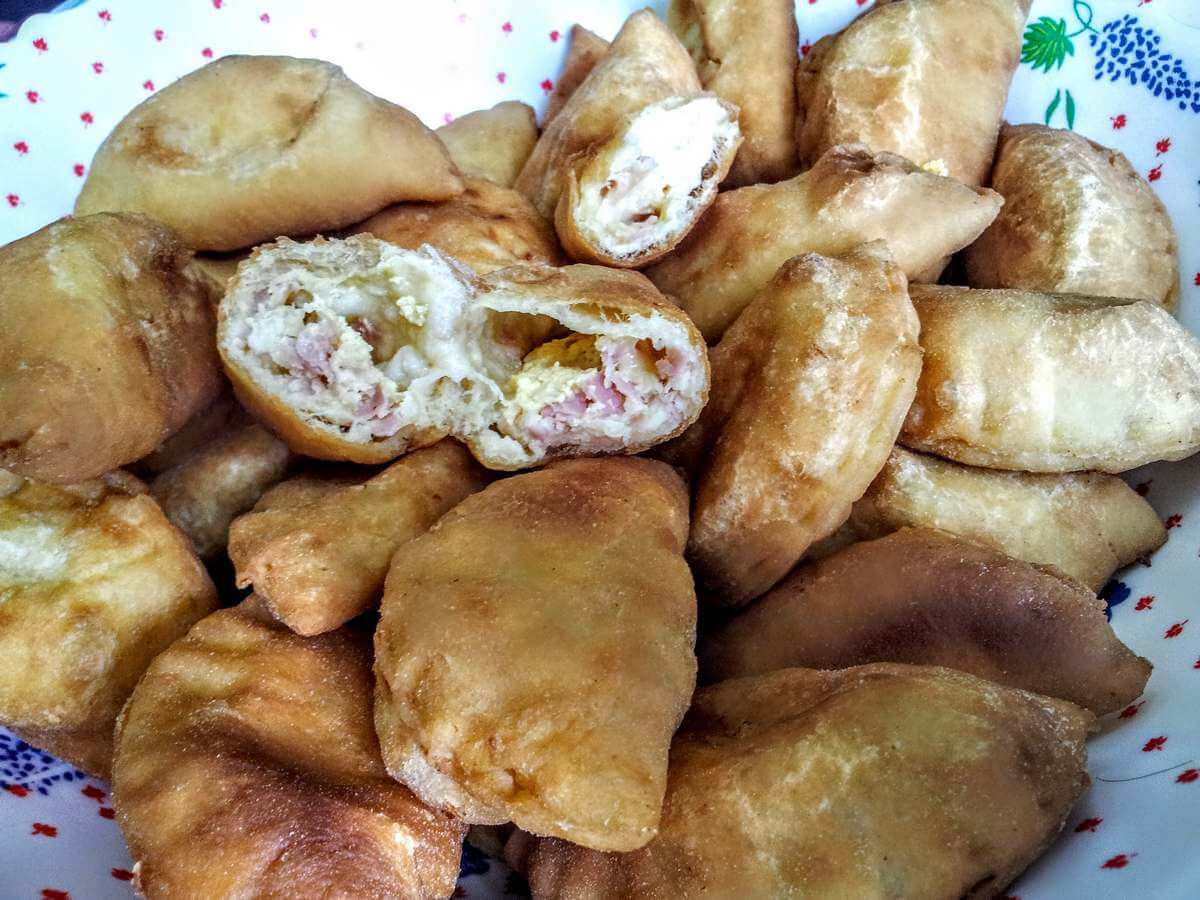 Caffè Leccese
Caffè leccese is a fresh coffee drink from Lecce, made by combining espresso, ice, and almond milk.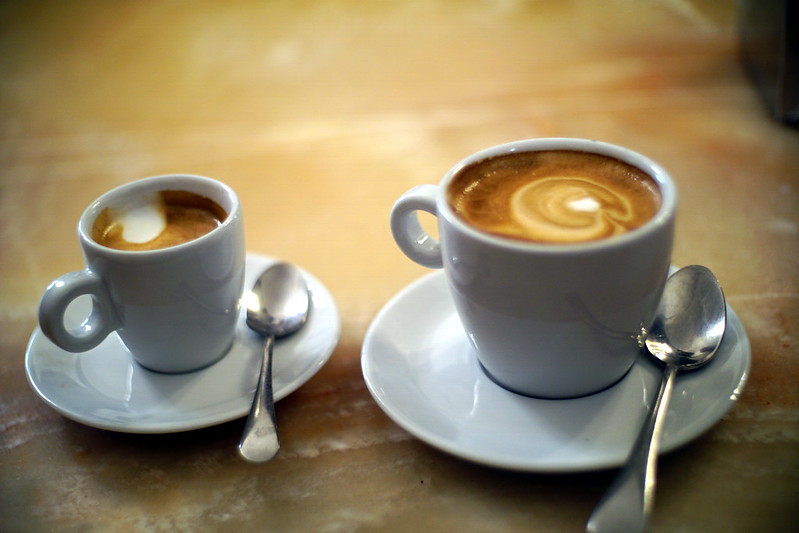 Wines
If you truly want to appreciate Apulian cuisine, you should also try some local wines.
The most famous ones are Negramaro (which means "black bitter"), a red grape variety which is mainly cultivated in the Salento area (in the provinces of Lecce, Taranto and Brindisi), Salice Salentino, which is also made with the Negroamaro grape, and Primitivo, a richer wine with notes of dark fruit.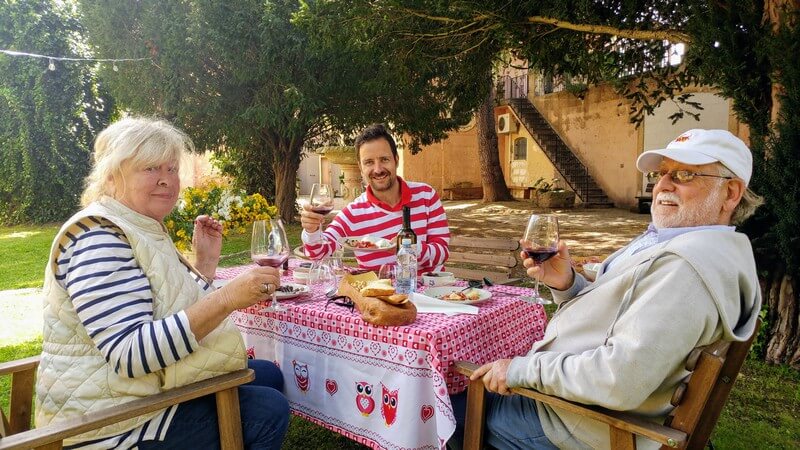 Bet you are now hungry and curious! If you join our  The Abruzzo, Puglia & Matera tour, we will make sure you will go back home with an unforgettable experience!
Ready to experience Puglia with us?
So if you're tired of the same-old same-old city tours of Rome or Venice, why not experience the authentic Italy of Abruzzo and Puglia together?
Get in touch today to help bring your dream tour into focus – wouldn't you love to see the Adriatic sea from the mountains or to have a lunch suspended over the sea? If you are ready to discover Puglia, Italy with us, you can find all the details of our most popular tour at: The Abruzzo, Puglia & Matera experience.
And if you're not quite ready to make an inquiry, sign up for our free email course to learn everything you need to know about planning a tour of Abruzzo and Puglia.