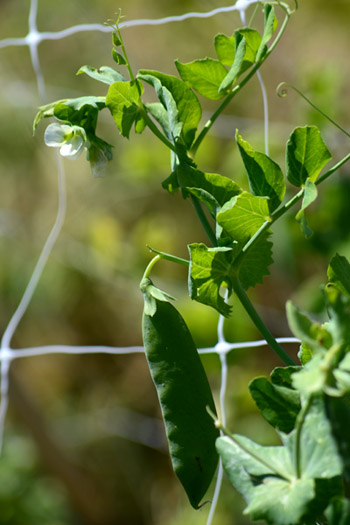 May's arrival signals sweet relief at home, with the sweetest peas and tender fave being popped by Mamma, who knows that the vegetable garden's hungry patch has truly turned into bountiful spring and that we're well away from jars and pickles.
Vistas from our Vasto orto, on central Italy's Adriatic coast, show the tallest of canes, steadied and knotted wigwam in style, ready to hold fast against any threatening warm winds pushing up from Africa or the cooler blasts down from Venice.  They'll soon be home to prized young tomato seedlings who with a lot of love, water and sun, will provide tasty heritage tomatoes for salad and some 50 bottles of passata.  That's a year's supply ready for both our kitchen and our Italian cookery students.   Italians expect to get through a minimum of 50 bottles of passata per family of 4 in a year.
Across the heavily laden nets pea blue butterflies flap, ethereal in contrast to the ever widening girth of the bacchello (pods).  The only pests to the peas and broad beans are tonchio (weevil), seen off organically with calce (lime).
Stuffed Squid with Peas
Author:
Prep time:
Cook time:
Total time:
A mid-week family supper favourite, we all love this squid dish for its lightness, fresh Spring flavours and combination of melt-in the mouth squid and peas. Mamma Anna Maria particularly loves it for its speed and simple preparation
Ingredients
4 medium cuttlefish[br][br]
[b]For the Sugo[/b][br]
Extra virgin olive oil
1 small onion
500 grams of peas
Black pepper to taste
Salt according to taste[br]
[b]Stuffing[/b][br]
300 grams of bread crumbs
1 clove of garlic
2 medium eggs
100 grams of grated cheese (pecorino)
1 tablespoon of extra virgin olive oil
1 pinch of salt according to taste
Flat leaved parsley to taste
Instructions
Clean the cuttlefish, taking care to remove the skin and insides and wash well with cold water[br]
In a baking dish add the bread, the cheese, beaten eggs, chopped garlic and parsley, olive oil and salt and mix together until the mixture becomes slightly hard[br]
With the help of a spoon, stuff the cuttlefish and close with a toothpick[br]
Heat the olive oil in a pan and add the cuttlefish and cook over low heat until golden brown for about 10-15 minutes, adding black pepper and salt
Add peas, onion, cut into very thin slices and two small drinking glasses (beakers) of water[br]
If you have stuffing left over roll into small balls and cook with the peas half way though their cooking[br]
When the peas are cooked, the dish is ready[br]
Serve with crusty bread and Fattoria la Valentina Cerasuolo d'Abruzzo 2012 wine[br]