If travelling for you means visiting some authentic and off-the-beaten tracks, finding an escape from the daily stressful routine, getting in touch with the locals and tasting delicious zero km products, Abruzzo might be the perfect destination.
This beautiful region is hemmed between the Apennines and the Adriatic coast and located just around two hours from Rome; it's known as the greenest region in Europe, as a third of the territory is set aside in protected areas: three National Parks (Abruzzo, Lazio and Molise National Park, Majella National Park and Gran Sasso National Park), a Regional Park (Sirente-Velino Regional Park) and 38 Nature Reserves.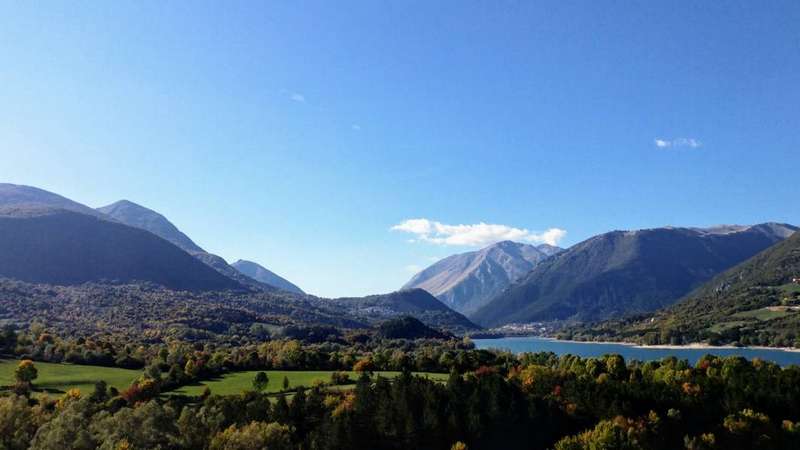 People here tend to slow down and take it easy, enjoy the little things, such as admiring the landscape, getting together and spending quality time with the beloved ones. 
We strongly believe this is Abruzzo's true soul and that's why we are ambassadors of the slow travel and sustainable tourism as a way to preserve it: we promote the local culture as a sign of responsible travel, we are focused on preserving our way of life and we always try to involve small, family-run and passion-driven businesses in our daily activities.
What are you going to get from a slow travel experience?
Warm hospitality of the locals
We will always introduce you to our "family and friends", because they are part of our daily life. Some of them – and some of the other travellers – can easily become life-long friends you will never lose.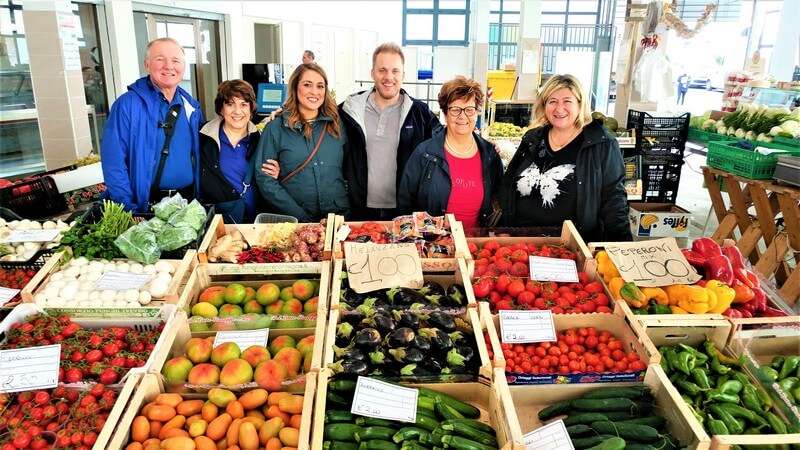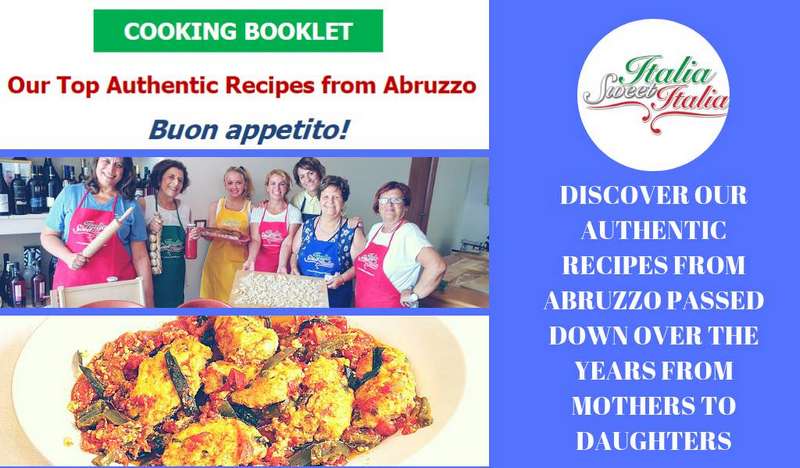 Off the beaten tracks
Being away from the crowds and knowing our land very well means we will take care of every single detail: you will get all the attention you deserve while discovering some hidden gems.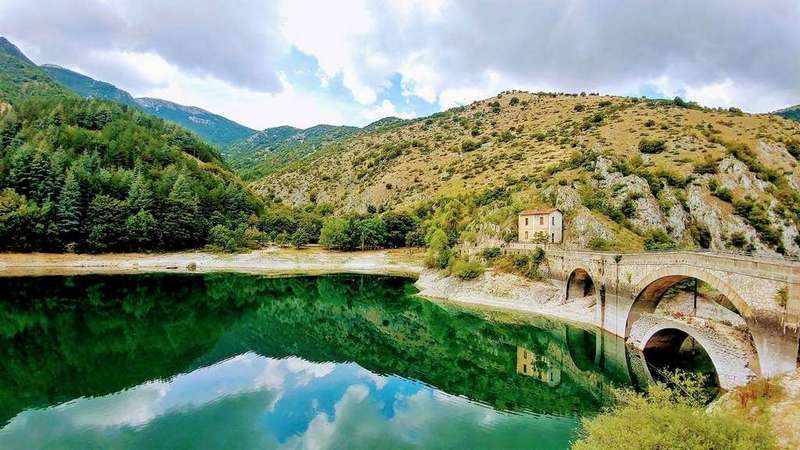 The gastronomic heritage
Food here is taken seriously! The Abruzzese cuisine is deeply influenced by the region's location and multifaceted soul. You will have the opportunity to taste local products – things produced, sold and eaten locally such as extra-virgin olive oil, tomato sauce, olives, wine, and cheese.

Local foods means also brodetto alla vastese, a soup packed with fish fresh from the Adriatic and simmered in a tomato broth, arrosticini (traditional sheep skewers) cooked over an open grill, ventricina del vastese, an award-winning pork salami flavored with fennel and dried red (sweet or spicy) pepper, spaghetti (or maccheroni) alla chitarra, and many others.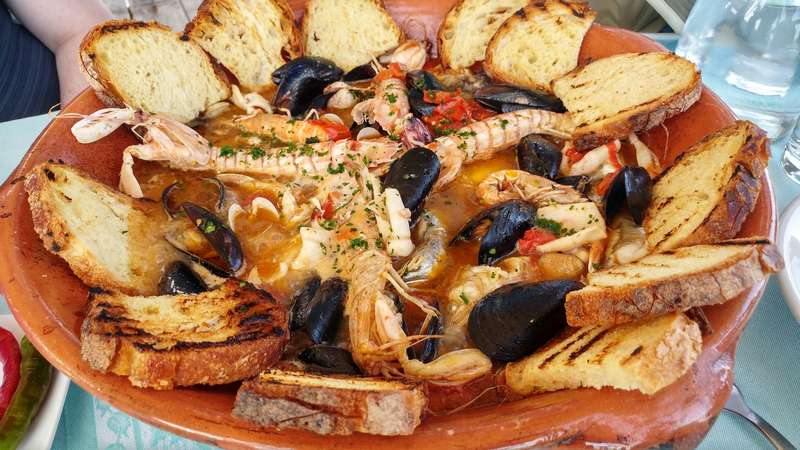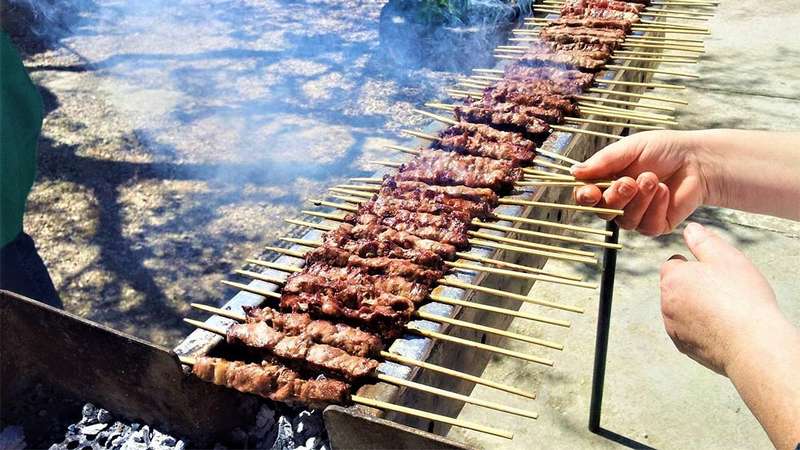 Everything can be accompanied by a great white, rosè or red local wine, and every meal should end with an ammazzacaffè, such as the local ratafia, a blend of Montepulciano d'Abruzzo and dark cherries (fruits or leaves) locally known as "visciole". 
Green and breathtaking views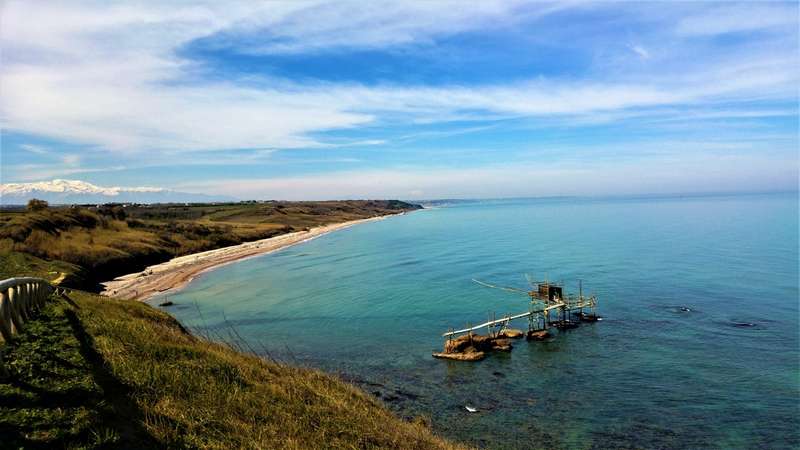 Abruzzo has 75% of the flora and fauna species in Europe, three National Parks and tons of nature reserves. You will find the Apennine ski slopes on the west side and the blue waters of the Adriatic Sea on the east coast: you could ski while admiring the sea, or enjoy a perfect sunset on the beach while looking at the snowy mountains.
There are many opportunities to do outdoor activities, from hiking to skiing, and also cycling or walking on the ex-railway that has been transformed into an amazing trail right above the sea.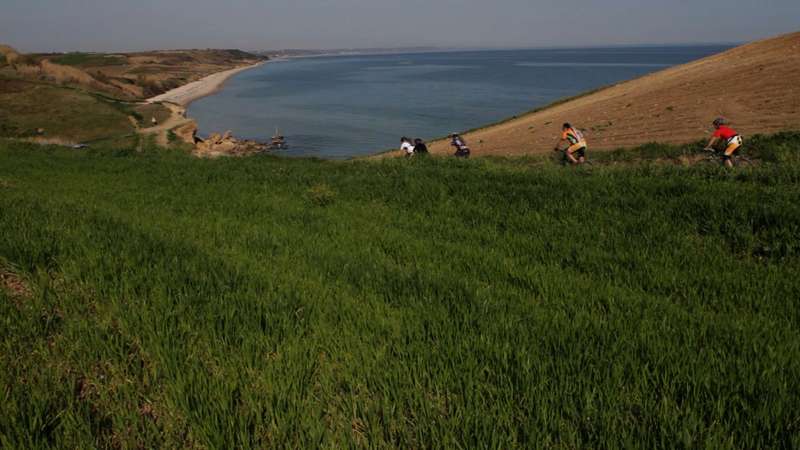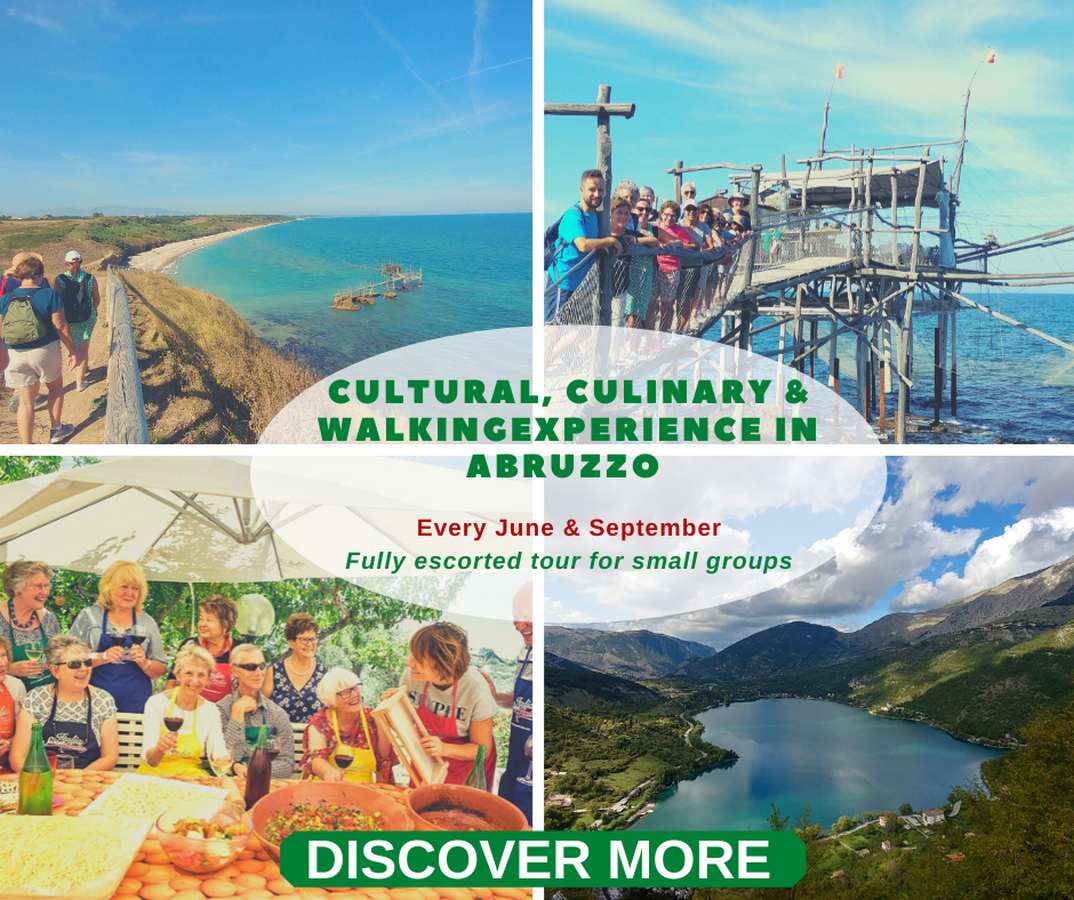 Enchanted medieval villages
Walking through the tiny streets of the medieval towns will make you feel like going back in time. All of them have a rich cultural history and still hold on very strong traditions. 
Abruzzo is home to the highest mountain fort in Italy (1,500 meters/4,921 feet above sea level), Rocca Calascio, to some of the most beautiful towns such as Scanno and Santo Stefano di Sessanio, and a breathtaking "Castle in the sky", Roccascalegna.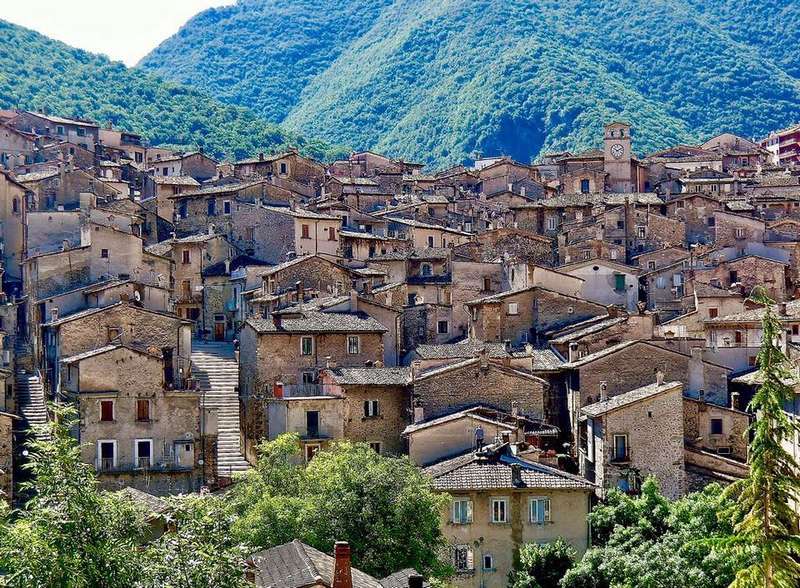 The ancient Vasto
We must dedicate a separate paragraph for our beloved base Vasto, a hilltop ancient Roman town overlooking the Adriatic sea. The old centre is a lovely medieval spot with beautiful buildings dating from the 15th century. You will fall in love with the Loggia Amblingh, a panoramic walk from which you can admire the blue gulf, and when the sky is clear you can also spot the Tremiti islands and Gargano promontory in Puglia. Vasto is also known for some great beaches and the nature reserve of Punta Aderci.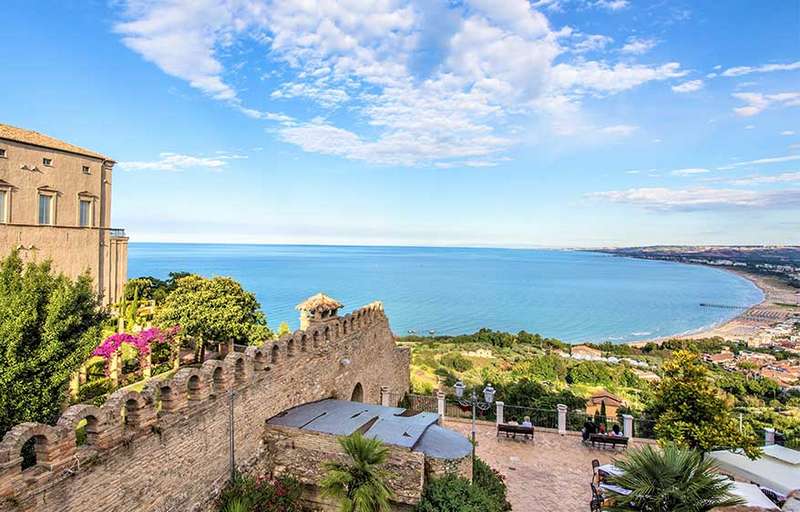 The Trabocchi coast
We will also make sure you will go home after having experienced a unique lunch or fisdhing experience on a Trabocco, an old fishing net structure that is typical of the area and gives the name to the Trabocchi coast, a 70-kilometer (43,5 miles) coast that stretches from Ortona to San Salvo in the province of Chieti. Some of them are still managed by generations of fishermen who converted them into restaurants.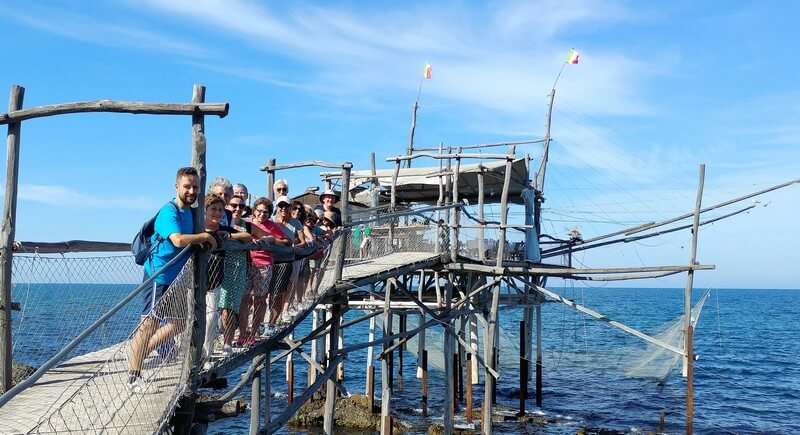 Our idea of sustainable tourism means getting the best out of all of this, making sure these "secrets" become unforgettable experiences and help local places in the area survive. We want to preserve our way of life and teach the future generations the importance of taking care of our resources and getting a deep awareness of our lands: we want to make them passionate about what we do during these tours and experiences, with the hope to foster the desire to work in this field one day, welcoming and supporting travelers from all over the world. We also want to sustain the local economy, which also means visiting local artisans and boutique shops and giving them the opportunity to get better known globally.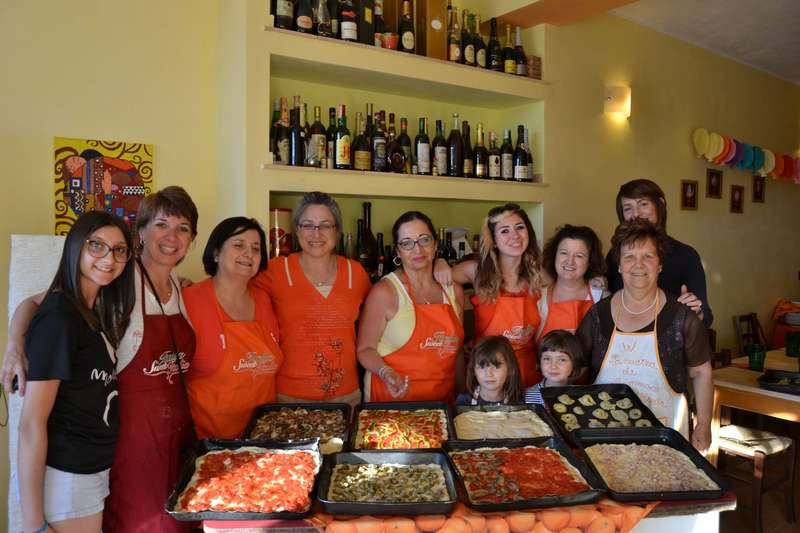 Ready to experience Abruzzo with us?
Get in touch today for more information about our region, we will help you understand what are the best options for your dream vacation! 
And if you're not quite ready to make an inquiry, sign up for our free email course to learn everything you need to know about planning a tour of Abruzzo, Puglia or Emilia Romagna.