When you think about Italy, we are pretty sure you have a few things in mind: beautiful and diverse landscapes, generous hospitality, a long history, great architecture and of course great food.
What if you could mix all of these together and live a wonderful off-the-beaten track experience in Abruzzo, Italy?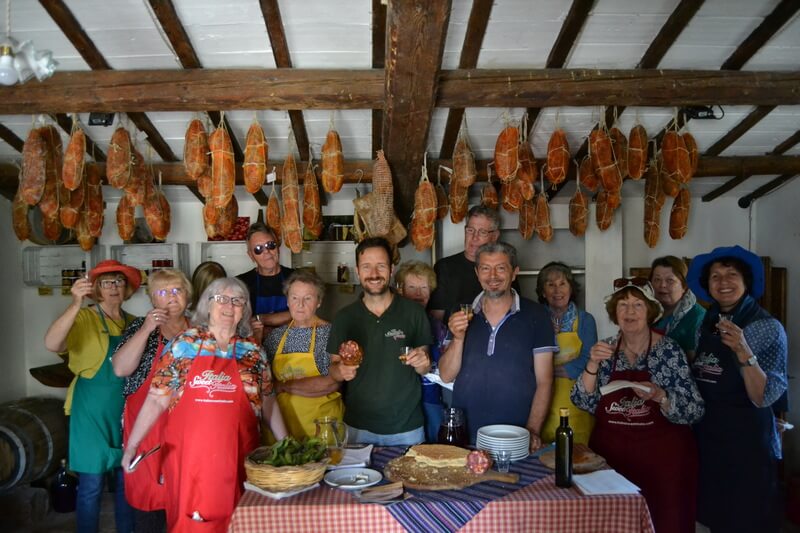 Rated in Italy's Top 3 regional cuisines, home to the oldest Italian cookery school, one of Italy's most famous pasta, De Cecco, and land of great wines, such as Montepulciano d'Abruzzo, this culinary landscape is Italy's best kept secret.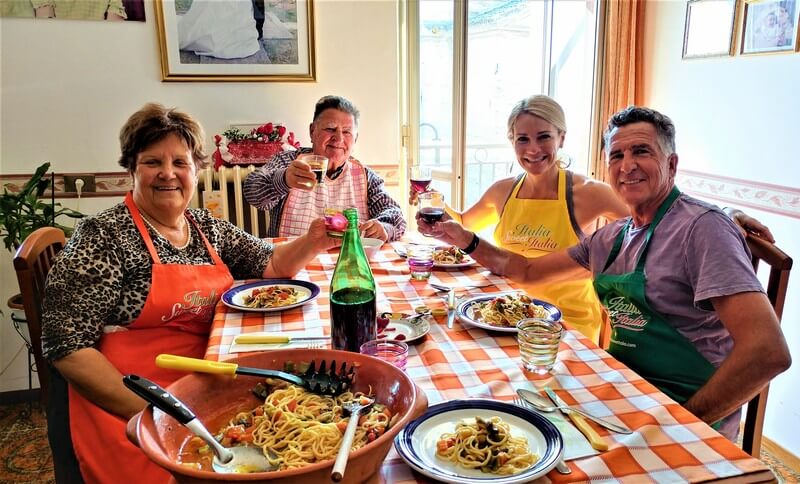 We offer some Italian cultural and culinary vacations mostly based in in my beloved hometown, Vasto, just 3 hours east of Rome in central Italy, which are perfect for foodies and Italian culture lovers. They are the best choice if you are passionate about our cuisine, wine and culture, and you will have the opportunity to attend hands-on classes with tastings together with my family, friends, collaborators and myself.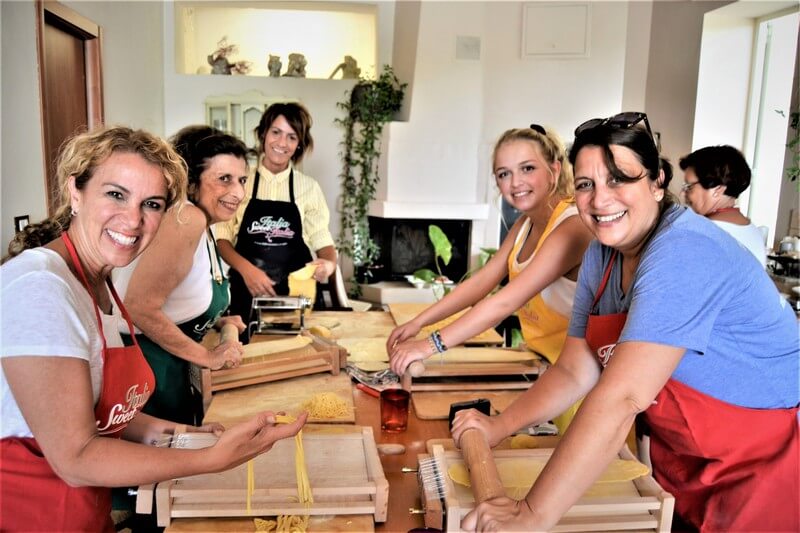 We will teach you the most authentic recipes, how to use more genuine ingredients, and make sure you will go home well trained to make them for your friends. At the same time, you will have the opportunity to visit local markets and small producers and make guided excursions immersed in nature, medieval villages and castles, with an eye towards the Adriatic sea and the other one towards the snow-capped mountains. While travelling with us, you will be able to relax, enjoy the little things, and the slow rhythm of life.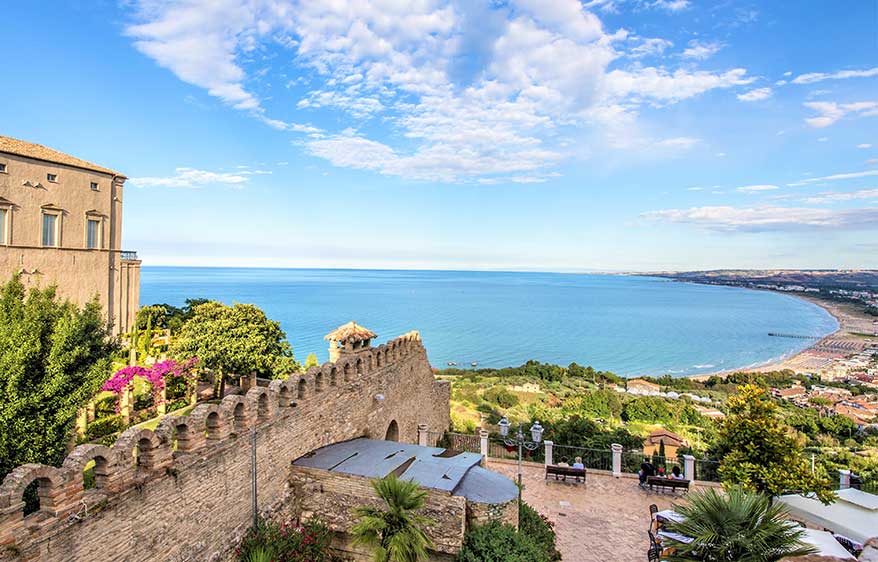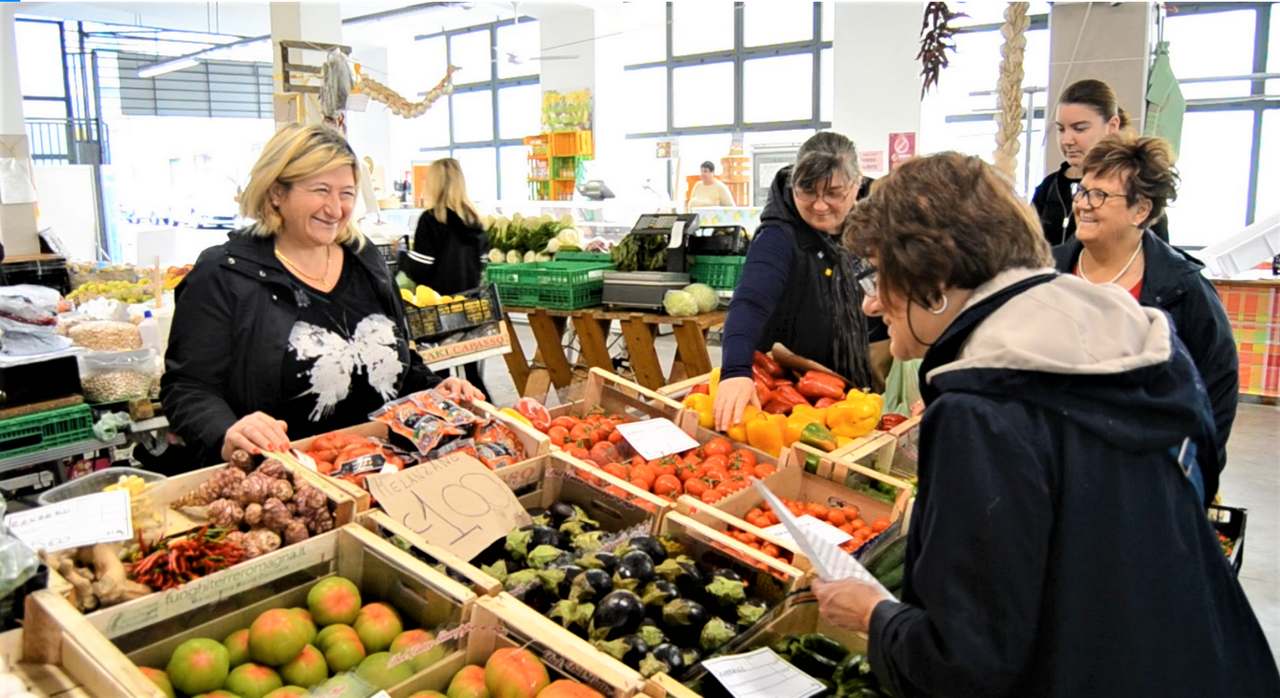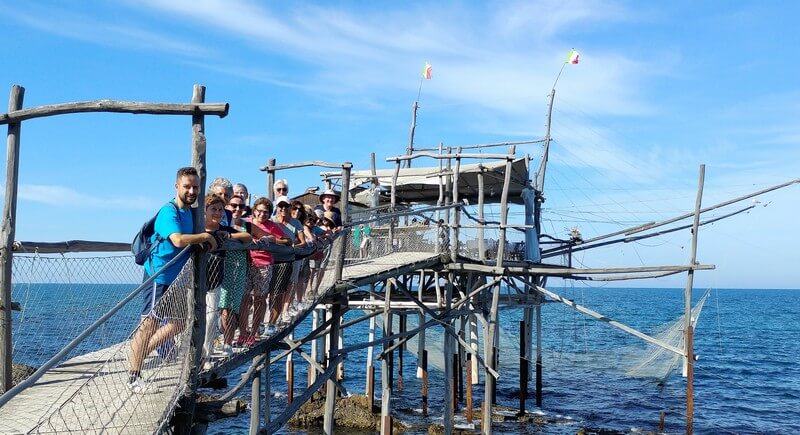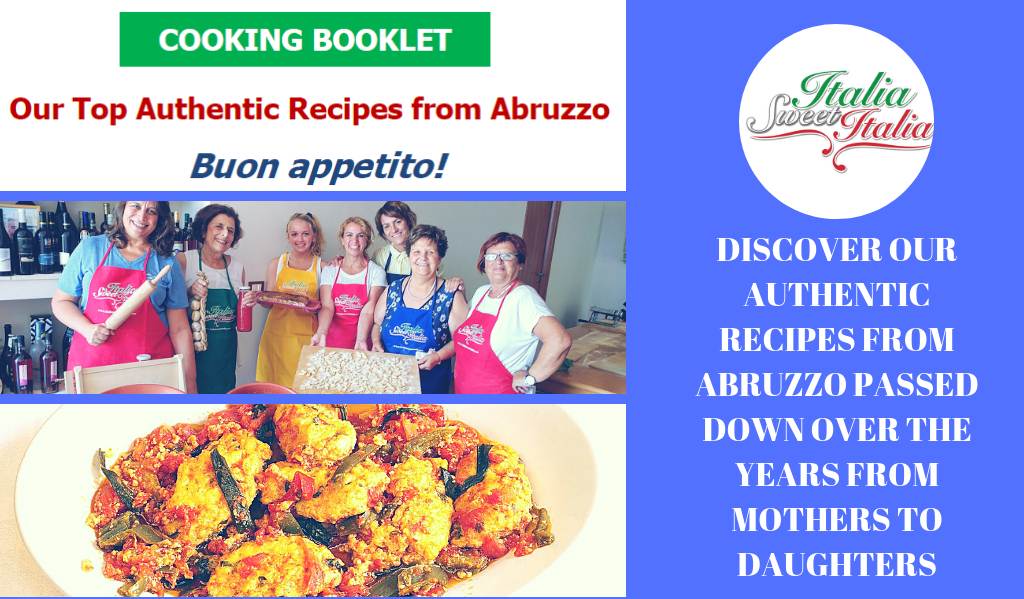 Here you can find a list of our authentic cultural and culinary tours.
Italian Easter Experience in Abruzzo

: this vacation will let you experience the

traditional Italian Easter celebrations

, religious events, festivals and typical food. We are talking about

Timballo

, the Abruzzese version of the famous lasagna,

Agnello (Lamb) "Cace e ove"

(cheese and eggs), and our iconic desserts, such as

Fiadone

, the Abruzzese version of the cheesecake and

La pupa e il cavallo

, two big-sized decorated cookies.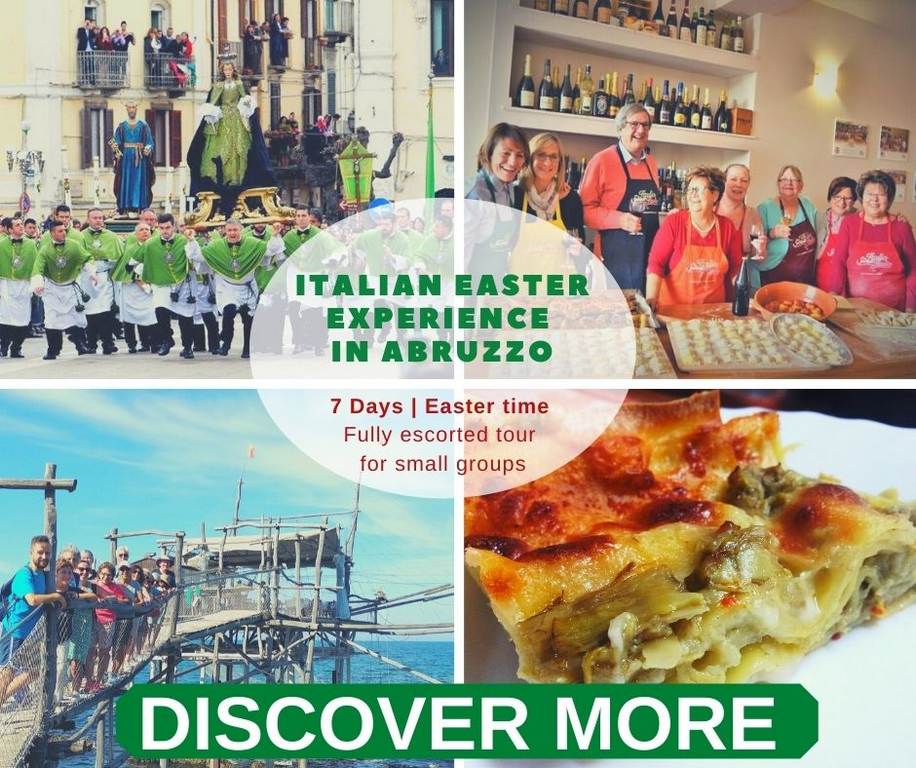 Going towards the summer, you can also enjoy many outdoor activities. The following tours will give you insights to daily life, food & wine, culture and production in our region and will let you discover the authentic Italy.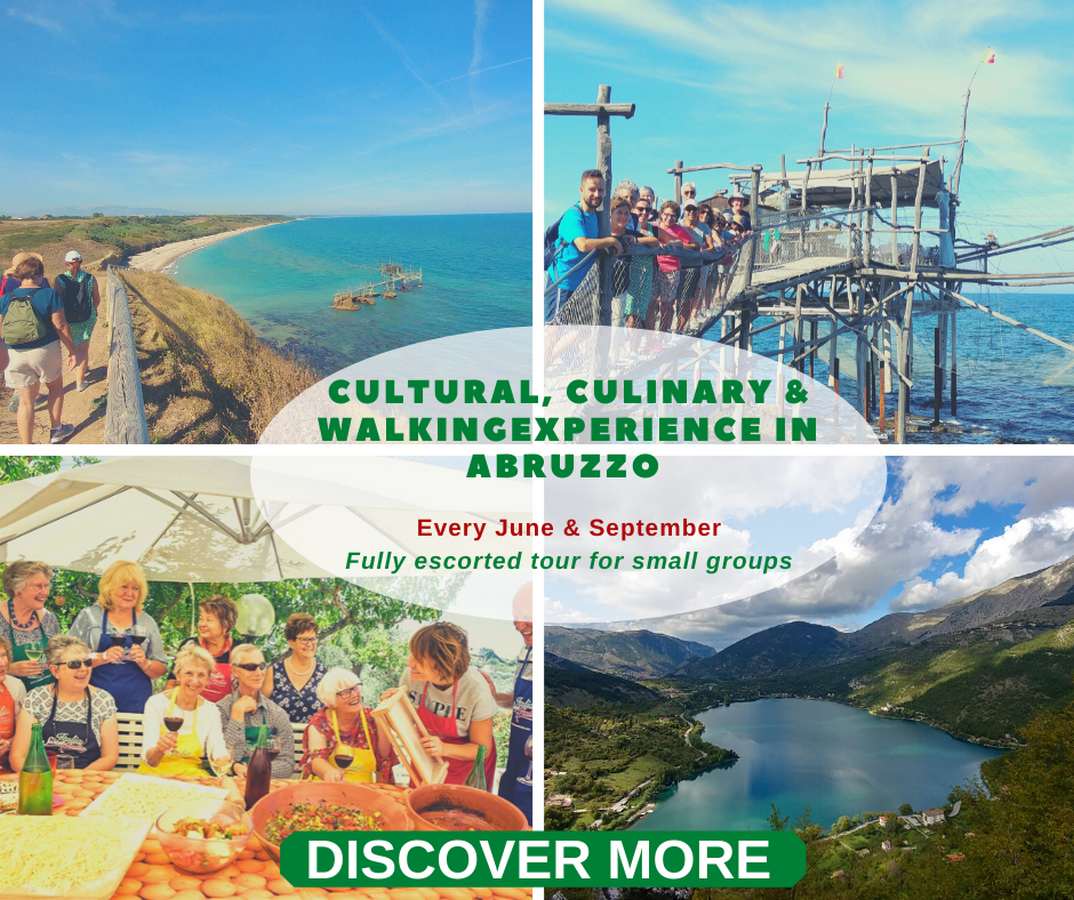 And at the end of Summer, going into Fall…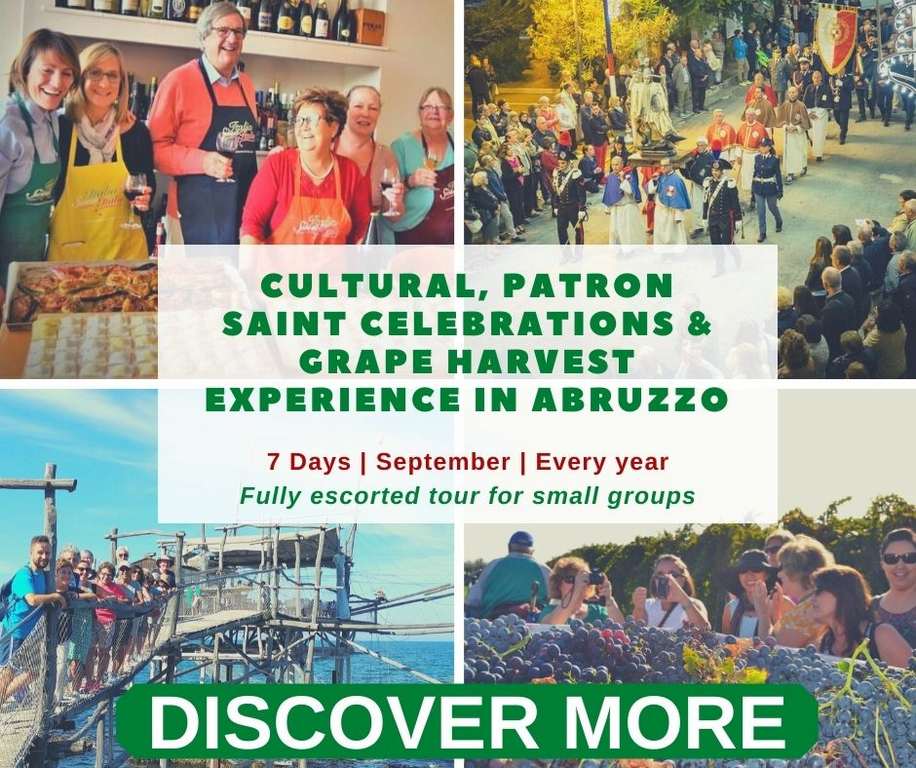 The Double Soul of Abruzzo Experience

: mountains or seaside, why picking one of them if you can have both? This tour is the chance to "live" in two historic town centers:

Sulmona

, the capital of confetti on the mountains and

Vasto

on the Adriatic Sea. You will experience the Abruzzo "double soul": the

coastal and mountainous areas

, with their unique

geographical

,

cultural

and

enogastronomic peculiarities

.

Cultural, Culinary & Olive Harvest Experience in Abruzzo

: this tour will let you

experience and have fun picking olives

and

visit the olive oil mill

while it is working and transforming olives to awards winning extra virgin olive oils.

Olive harvest

is a

typical autumn activity

of Central and Southern Italy: we spend a relaxing day having fun

among the

groves

to pick olives and enjoying a traditional picnic

together with our family and friends

. 
Travelling on Christmas time, always a good idea!
Last but not least, you can enjoy some of our most typical products and specialties – all around the year. These 7-day tours are all available upon request and they are the perfect combination of adventure and food discovery:
Sometimes we also go beyond our boundaries, and of course you can find great landscapes and cuisines there as well.
The Abruzzo, Puglia & Matera experience

: in this tour we have put together amazing experiences that combine passion, beautiful places and locals to

show you the best of Abruzzo & Puglia

. You will have the chance to

discover and experience different local cultures

that have in common the

warm hospitality

of local people,

great food

and

wine traditions

.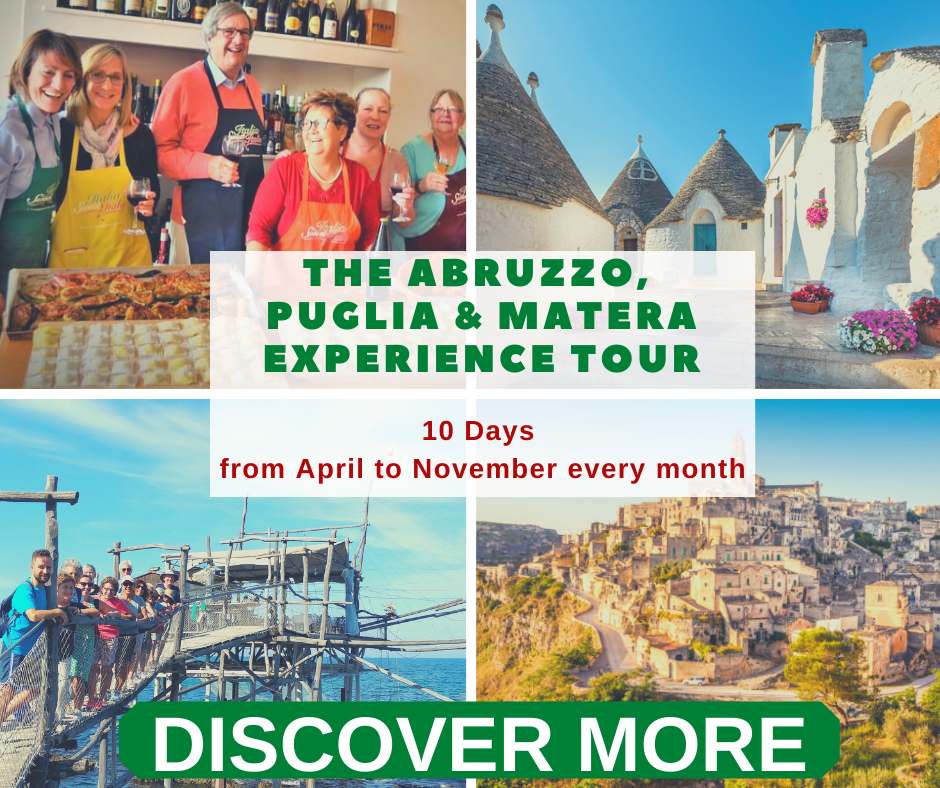 Food, Culture and Wellness in the Hidden Emilia Romagna

: this is a tour that will give you the

insights to daily life, food & wine, culture and production in Emilia Romagna

and will let you discover the authentic and uncrowded Italy in a balanced mix of

experiences, relax, adventure and learning

.
If you are looking for something different, we also offer tailor made tours, that will suit your interests and budget, and ancestry tours, with a personalised ancestry service to help you trace your Abruzzese family and visit the villages of your grandparents. These tours can be combined with all the culinary experiences outlined above.
Ready to travel to Italy with us?
Get in touch today to help bring your dream tour into focus. If you are looking for something we didn't mention in the article, let us know!
And if you're not quite ready to make an inquiry, sign up for our free email course to learn everything you need to know about planning a tour of Abruzzo.