Since we started our adventure with Italia Sweet Italia we have always shared our passion for Abruzzo and tried to instill it in our guests. That is why one of the things we valued the most is their opinion about the trip. We love to think they will go back to their hometown with a piece of our region: not only postcards, magnets or books, but an experience they will remember (and maybe make them come back!).
We decided to collect some of them to make everyone live what they saw and felt through their own words.
Our first story starts from a desire. Michele lives in the US but both her parents were born in Abruzzo, Italy and part of her family is still there. Together with her daughter, she wanted to travel to both of their birthplaces, to the best Abruzzese towns and to Italy for the first time.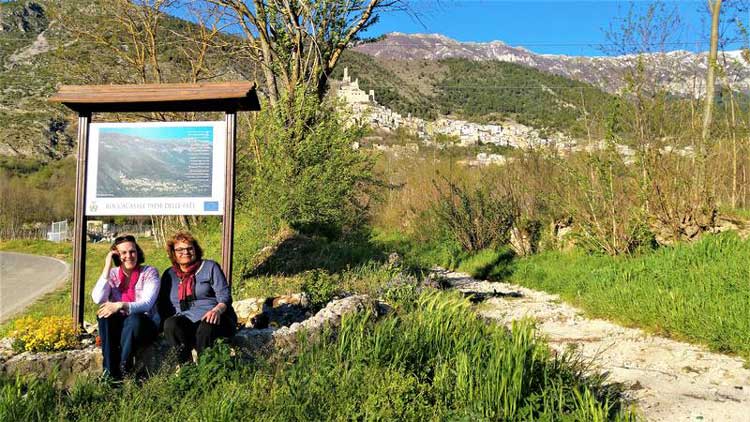 She visited Abruzzo for the first time in April 2017 with her daughter on an a private Ancestry tour, and they also attended the Cooking, Wine & Gelato making tour. They came back one year later to visit again the newfound family and to enjoy some tailor-made experiences with Italia Sweet Italia.
Why did you choose Abruzzo and Italia Sweet Italia for your holidays? Did you find what you were looking for?
We chose Abruzzo because both my parents were born in this region and I have family there. We had a desire to travel to both of their birthplaces and to Italy for the first time. After researching ancestry tours, I found Italia Sweet Italia and inquired about its tours.
Fabrizio kindly shared information about his tours and so our journey began. He organized our visit to my parent's towns and we met our cousins for the very first time!
After our personal ancestry tour, we joined this tour, "Cooking,Wine and Gelato making" with four other travelers and now our new found friends. Needless to say, we had an unforgettable experience and it was more than we had hoped for!
Who did you travel with?
My daughter, Krista.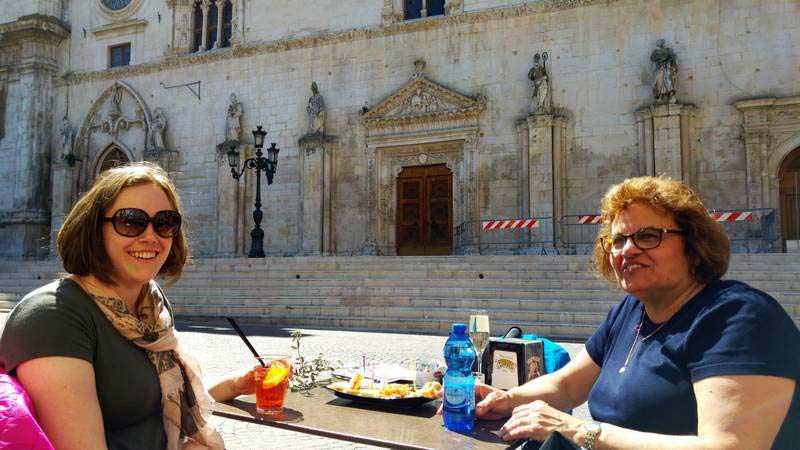 When did you visit Abruzzo?
Our first visit was in April, 2017. We loved it so much that we returned again in April, 2018.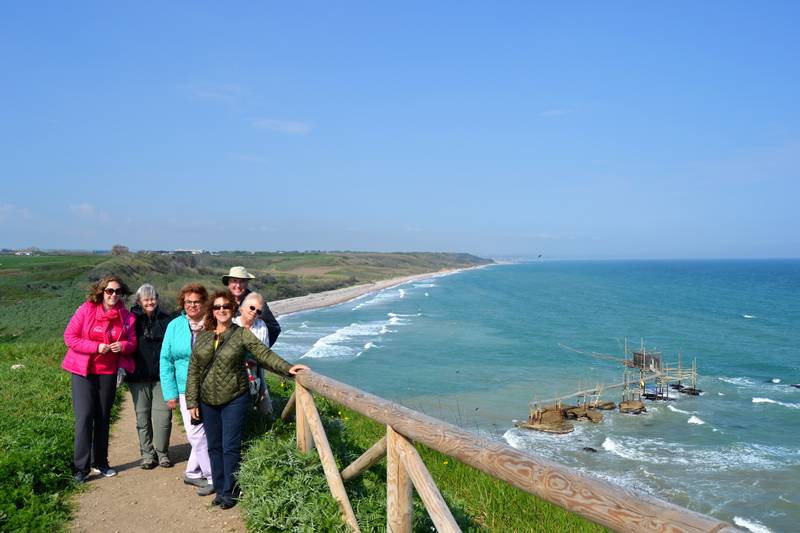 Did you spend your time doing some specific activities? What did you enjoy the most of your trip?
Yes, we made pizza, pasta, tiramisù, ricotta, fish stew, gelato…
We visited small farms where olive oil and wine are produced.
Probably what we enjoyed most was that we were a group of six travelers who laughed and ate a lot. Being in a small group and being amongst Fabrizio's family and friends made us feel that we were also "la famiglia".
How would you define the Abruzzese cuisine? What is your favorite dish you tasted or prepared over there?
The Abruzzese cuisine is fantastic. I was told that it is the best of all the regions. I totally agree!
Between the pasta, sausages and cheeses pizza and the fish (being near the sea) and of course the arrosticini… It is too hard to decide but I must admit the arrosticini is my FAVORITE!
What is the funniest moment of your vacation?
There were a lot of laughs! But I must admit that one of the funniest and most memorable moments was when a certain someone (not to mention any names) found their underpants on top of a tree. The gentle breeze appeared to have swept them off from the hotel balcony onto the tree below. That is quite a memory our group shared even on our return home!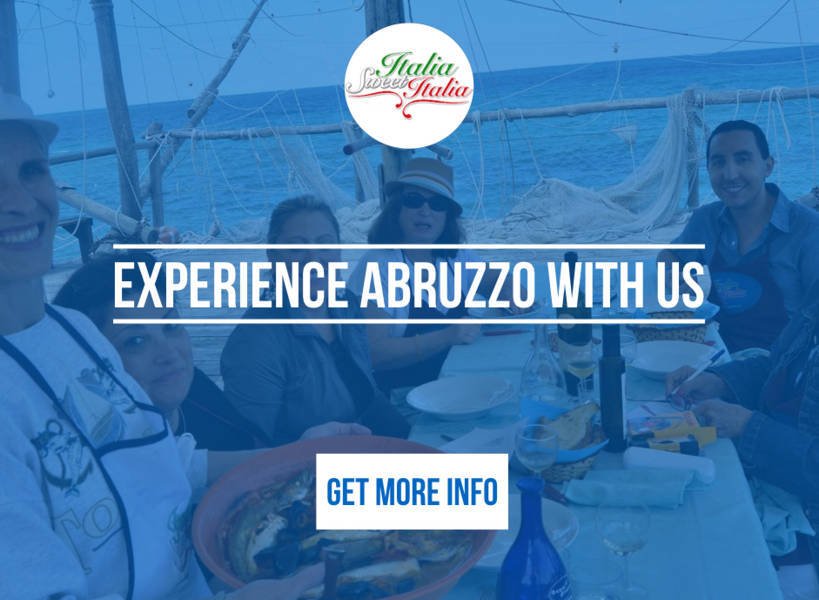 Is there a panorama/experience you still have in your eyes? Could you explain why and which emotions you felt?
Walking through the piazza and through the town of Vasto overlooking the sea. And of course there is the Abruzzo moon peeking through the arch. Walking through the main square with people of all ages, I felt that this is the way life should be. People talking, relaxing and just enjoying the moment. I experienced a real sense of family. I now know the true meaning of "la dolce vita".
Did you feel safe all the time?
Yes… very safe. We felt comfortable walking through the piazza and streets even in the evening!
Do you think there is anything that should be improved or changed?
Enjoyed ourselves so much… what is there to change?
Would you recommend coming to Abruzzo and do you have any advice for future travelers?
Wholeheartedly recommend Abruzzo!
Where can you enjoy the mountains with their national parks and small towns and the sea so close at hand? If you have an opportunity to visit Sulmona do so! Besides its beauty you have to introduce yourself to "confetti". It is the candy that is an Italian tradition and unbelievably delicious!
When visiting Abruzzo you will experience the "real" Italian culture…the food, people, and traditions. If can learn some Italian before your travels, that is a plus.
Other curiosities that you would like to share with us.
Being in Abruzzo during Easter week was another wonderful experience. We had the opportunity to experience the Italian Easter traditions and the spirituality of its people.
Lastly, it is important to note that Fabrizio is a wonderful ambassador of the Abruzzese people and their culture!