You might know that Abruzzo is considered one of Italy's best kept secrets but there are many other places in the country that will take you by surprise and we would like to suggest you some spots to visit off the beaten paths going south from our base, Vasto.
If you want to see a different Italy from the tourist cliches, there are plenty of spectacular but lesser-known destinations which are worth exploring and, keeping these options in mind, we could help you arrange a tailor made tour if you wish to include them in your vacation.
See the full map here.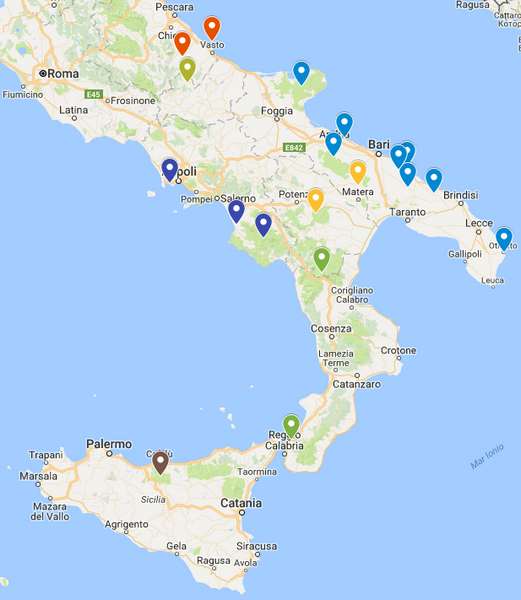 Abruzzo
As we said, our region itself offers this kind of opportunities. We could make an endless list of the best hidden gems to visit, but in this article we will just mention Vasto, a beautiful ancient Roman town overlooking the Adriatic Sea and a stop-over of all our tours, and Roccascalegna, that was recently listed among the nine most beautiful hilltop towns in Italy by Condé Nast Traveller: it is a perfectly preserved medieval village, lying on the spur of the mountain, surrounded by a magical atmosphere.
If you want to get more information about Abruzzo you can read this article, where we listed what we consider the twelve best places to visit, or simply get in contact with us…That's what we are here for!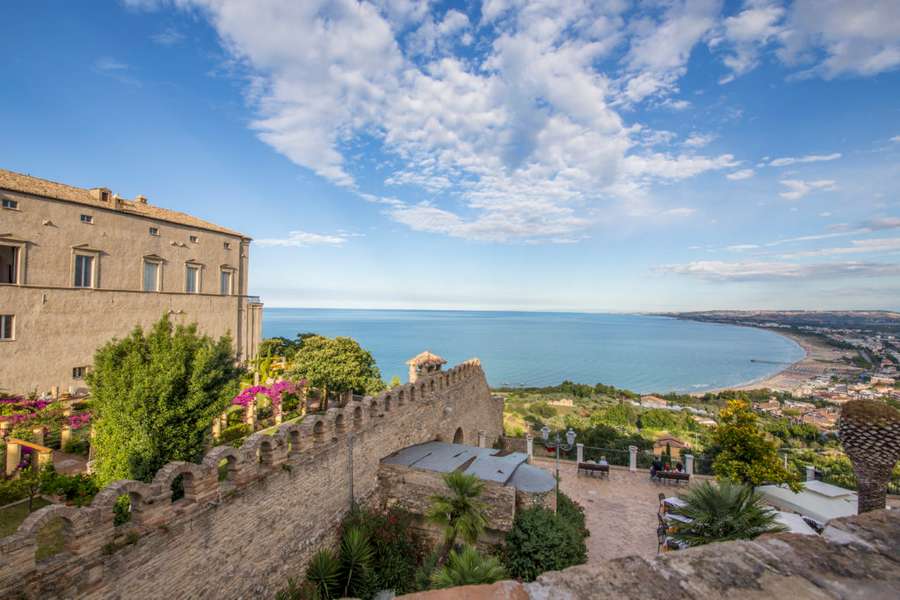 Molise
Moving down towards Molise…wait, does Molise exist?
You might have heard a recurring joke, similar to the ones dedicated to the city of Bielefeld in Germany and the state of Acre in Brasil, stating that the region doesn't actually exist. It's a small area incastonated between Abruzzo (formerly they were part of a single region called Abruzzi and Molise) and Puglia, apparently less recognizable than other Italian places.
However, we guarantee that it does have deeply rooted traditions and a strong culinary culture and we would be happy to let you discover them. We can organize specific trips to the area, such as the beautiful countryside of Agnone, known for the manufacture of bells, one of the oldest in the world, and the caciocavallo cheese.

Puglia
Puglia doesn't need any introduction. Located in the heel of the boot, it's what we can consider Southern Italy's rising star. In addition to the world famous destinations (the area called Gargano or the towns of Ostuni, Polignano, Alberobello, Otranto – just to mention a few of them) there are many other places to visit.
Our Abruzzo, Puglia and Matera experience tour will take you Trani, Castel del Monte, which is an UNESCO protected site and a symbol of the region, and Conversano, a lesser known ancient town with its medieval Castle and Romanesque cathedral.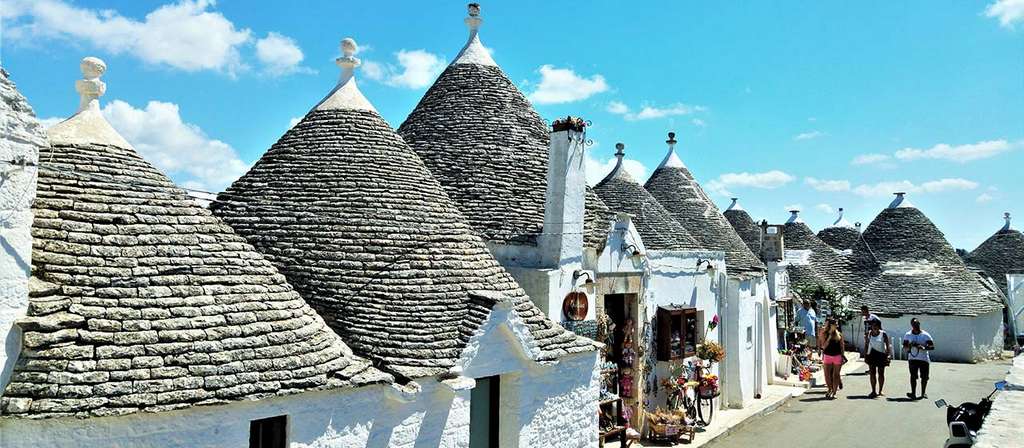 Campania
Everybody knows Naples. But Campania, where Naples is located, has much more to offer.
Campi Flegrei (Phlegraean Fields), for example, are much less touristy than the Amalfi Coast. Located just half an hour outside of the city, it's a volcanic area that consists of more than twenty craters and volcanic edifices, straddling the sky and sea, where poets and academics of all ages have remained enchanted.
According to us, another beautiful spot is the Parco Nazionale del Cilento e del Vallo di Diano, a national park in the Province of Salerno, officially instituted in 1991 to protect the territory of Cilento from building speculation and mass tourism.
Generally speaking, if you want to explore the Cilento area, you will be spoilt for choice.
We would like to mention Peastum, an ancient Greek city founded in the 7th century B.C., that has some of the best ruins found anywhere in the world.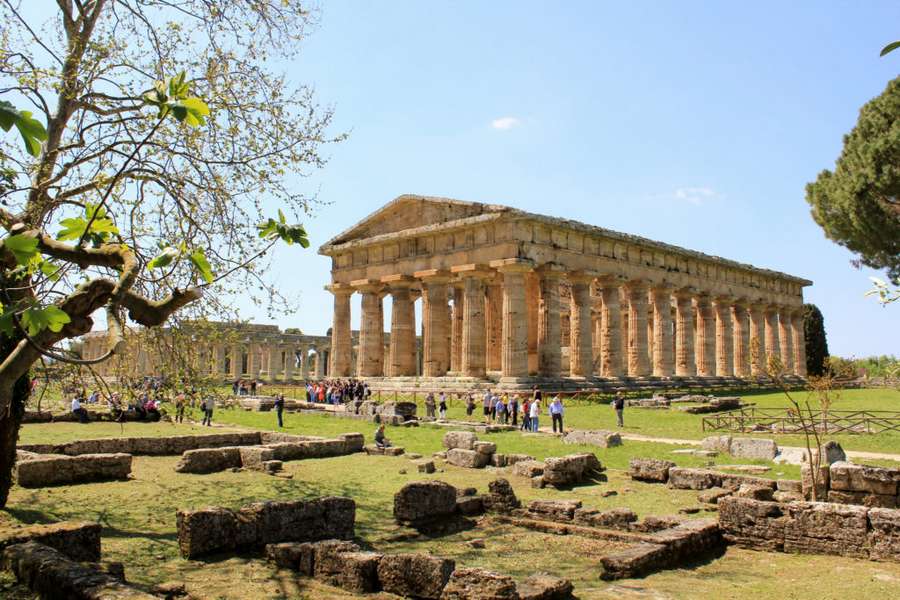 Basilicata
Basilicata hosts a must-see place: the enchanting Matera, elected European capital of Culture for 2019. Our tour will let you visit the town and its Unesco's site "the Sassi", cave houses and rocky churches where time seems to stop.
In the middle of the region, as giants emerged from the sea, rise the imposing Lucanian Dolomites, with spectacular spiers and shapes. Close to the peaks of the mountains, there are the small towns of Castelmezzano and Pietrapertosa, from where you can admire the incredible landscape and take many walking paths.
And you might notice a steel cable suspended between the tops of two towns… If you are up for an adventure, that's where you can experience the thrill of flying (Angel Flight).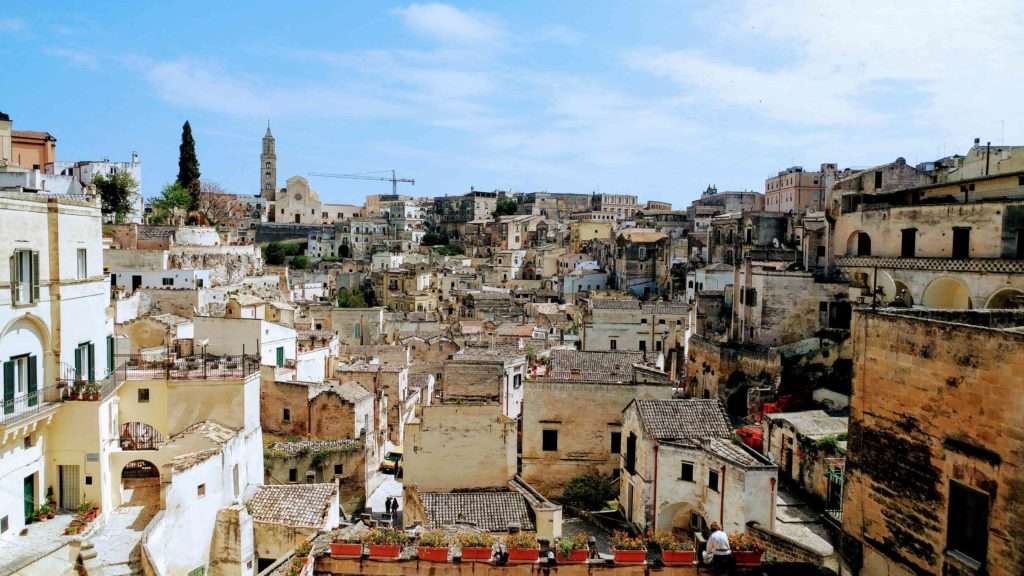 Calabria
Calabria offers many activities throughout its entire territory.
If you are looking for relax, write this name down: Chianalea di Scilla, often called the "Venice of the South", is one of the most peaceful and romantic villages in Italy: a corner of paradise made of small houses, tight streets and blue water.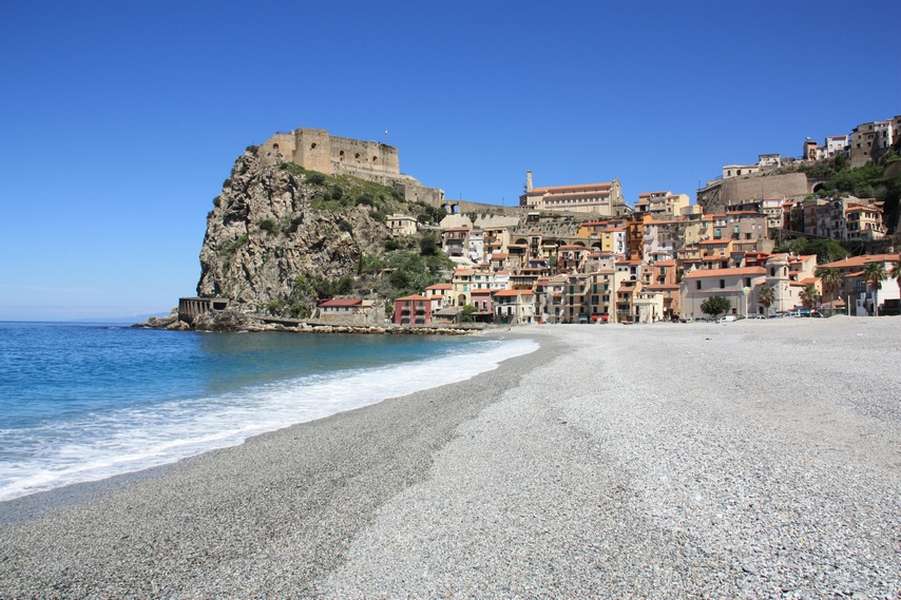 The region is also full of uncontaminated forests, rugged foothills and pleasant hilltops which are home to different animal and vegetable species, such as the Pollino National Park, Italy's largest national park, with waymarked footpaths and good hiking opportunities.
Sicilia
Sicily is one of of the greatest pearls of Southern Italy and can be discovered through a series of itineraries dedicated to areas of interest ranging from nature to history and traditions.
Since we are focusing on the lesser known tracks, we chose to talk about Madonie, one of the main mountain ranges of the island, located between Palermo and Cefalù, in a regional park that takes its name.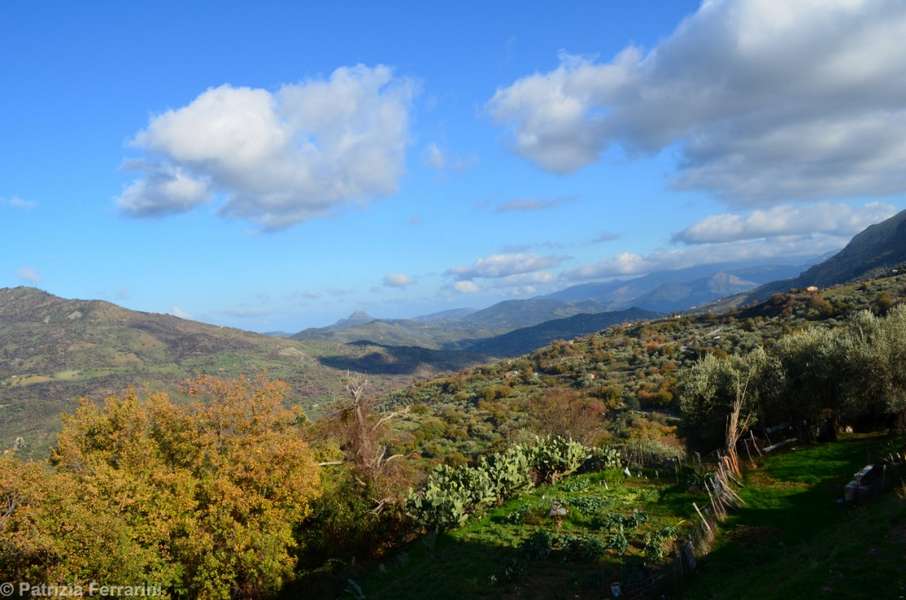 This area includes not only natural settings but also towns and villages which are worth a visit: the mountain range itself, with its highest peak (1979 metres) in Pizzo Carbonara, and towns or villages such as Castelbuono, Petralia Soprana, Petralia Sottana and Gibilmanna. It is the perfect spot for walks and picnics during the warmer months, and for skiing in the colder ones.
Of course there's much more to see in Italy, and in the south itself. Consider this a biased list for drawing itineraries and organizing a special vacation to discover something new that most of the population have never seen before (sometimes, not even Italians!).
If you wish to plan an authentic off the beaten paths experience, drop us a line and get ready to pack! We can think about everything else.