The region of Puglia, located in the 'heel' of southern Italy, is worth a visit for many reasons: just think about its beautiful historic towns, Unesco sites, countryside masserie, diverse landscapes, sandy and rocky beaches… And of course if you want to make the most out of your holiday you have to taste the best local foods it can offer.
Let's start from the ones we taste or prepare during our Abruzzo, Puglia & Matera experience cultural and culinary tour. We will visit an ancient masseria (typical Apulian farmhouse) in Monopoli, where you will be able to attend a cooking class with traditional recipes:
Orecchiette with cime di rapa (broccoli rabe)

, or

other seasonal veggies

, such as

cauliflowers

, usually paired with bread crumbs: all the restaurants have them on the menu. You can recognize them from their typical shape – a rough concave disk that looks like a small ear (in Italian "Orecchiette" literally means "Small ears").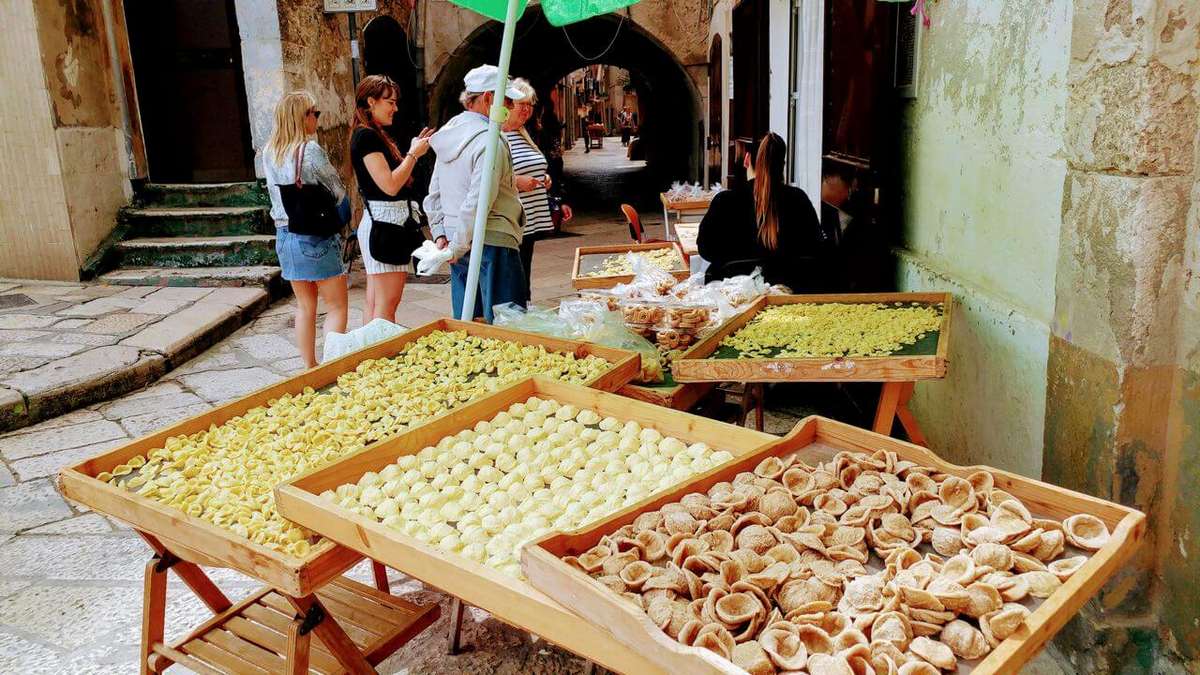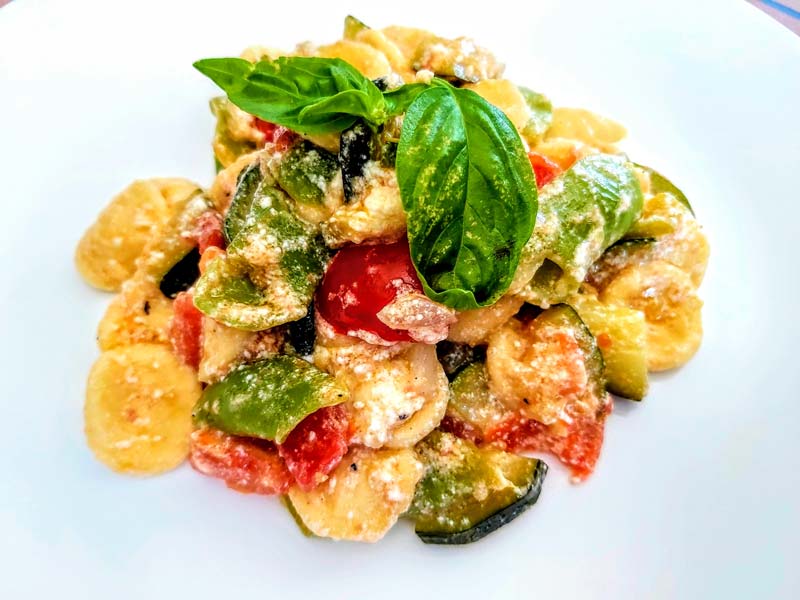 Cavatelli ("Little hollows")

: it's another pasta shape that has gained widespread popularity across the world, they are a little more puffy compared to orecchiette, almost like gnocchi, but with a hollow made from the side. They are usually served with

fish, vegetables, or sausages

.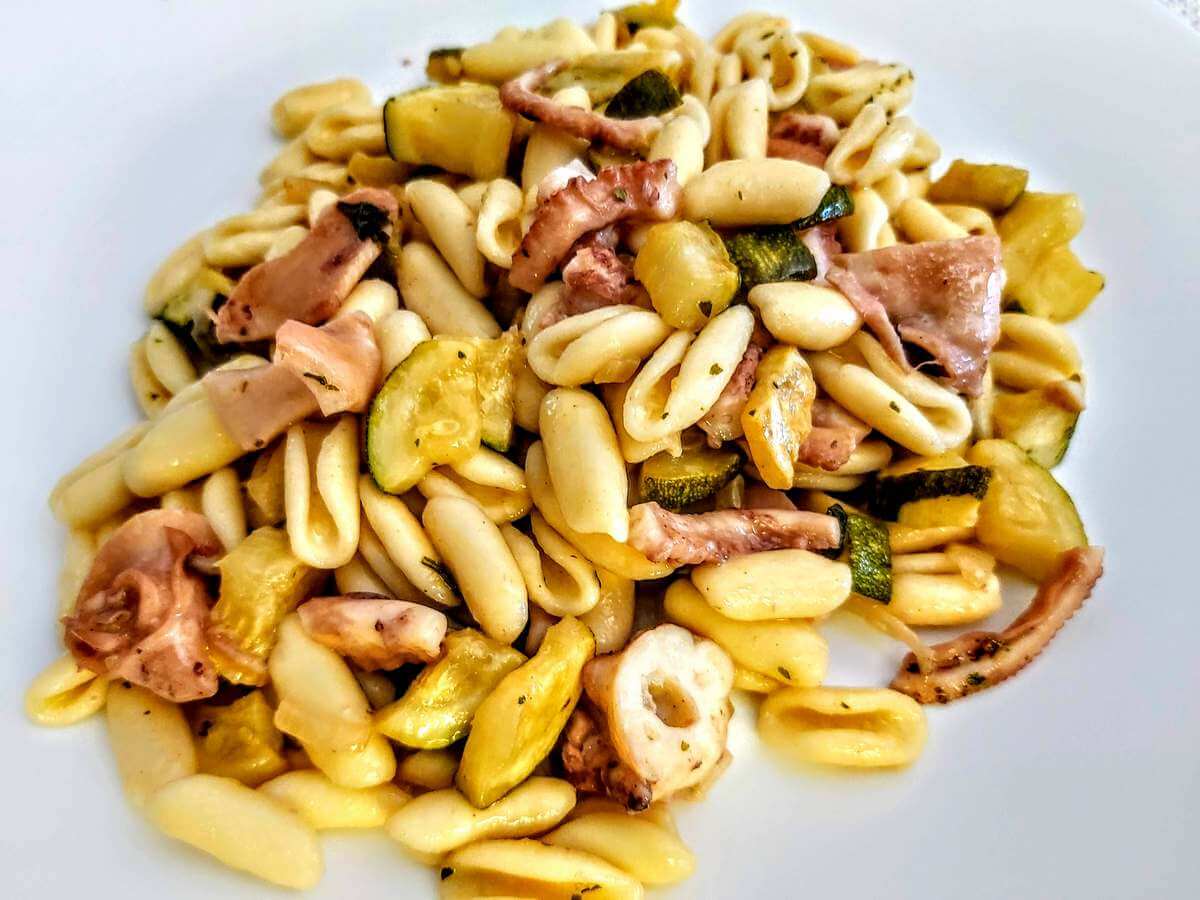 Melanzane alla parmigiana (Eggplant parmigiana):

a classic dish of the Italian cuisine, they consist of layers

of fried eggplant, mozzarella cheese, and parmesan

baked together with a

simple

tomato sauce

and

extra virgin olive oil

.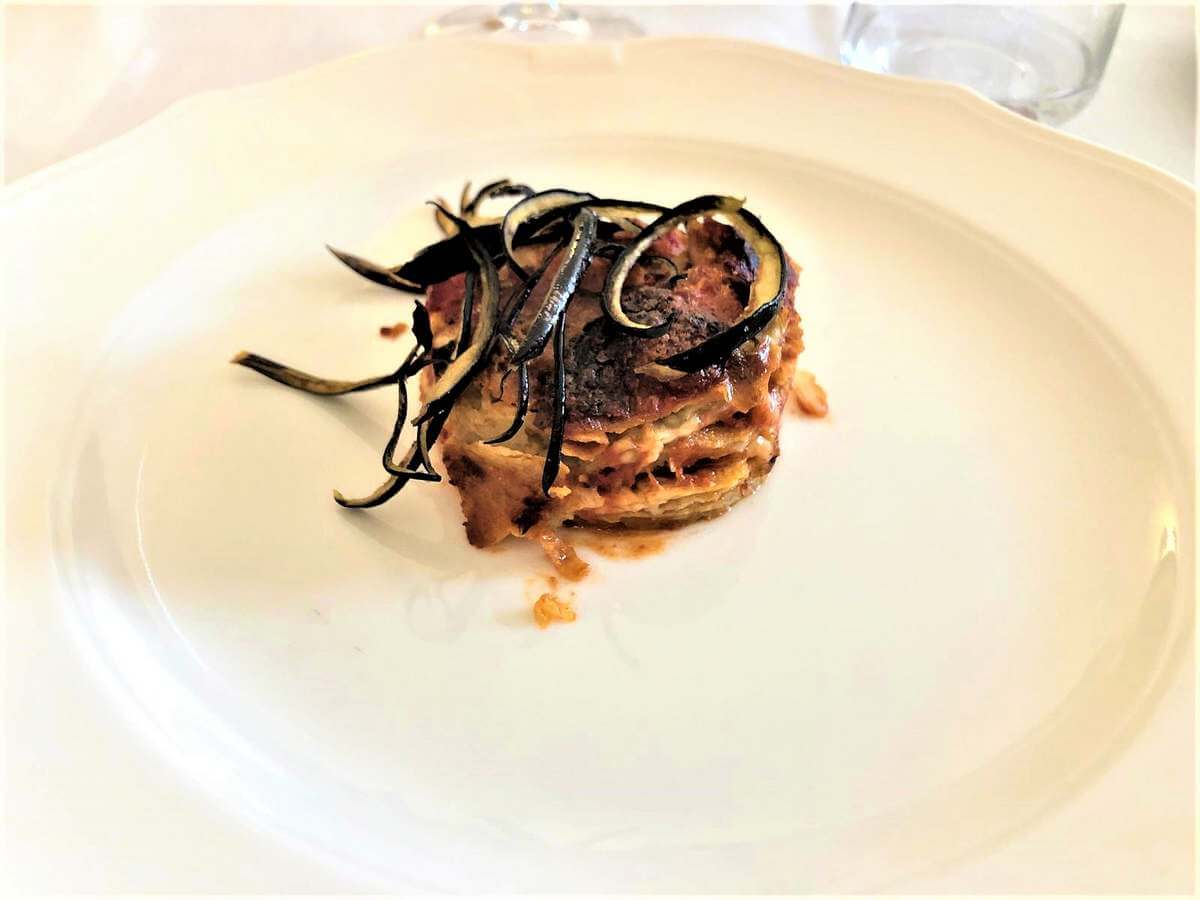 Focaccia pugliese (Focaccia pugliese bread): one of the most iconic Italian street foods

, it is perfect both as a main dish or snack at any time of the day. It is a simple

mixture of flour, water, salt (plus a bit of sugar), baked yeast, and potatoes, topped with local tomatoes

. Of course you can also find it in many other varieties, such as with olives, onions, aubergines, vegetables, cheeses, …

One of the most famous DOP focaccia is the one made in Altamura from 100% durum wheat grown in the Bari province. Right here, during our tour, you can enjoy a tasting in a very old bakery with a wood burning oven from the XV century.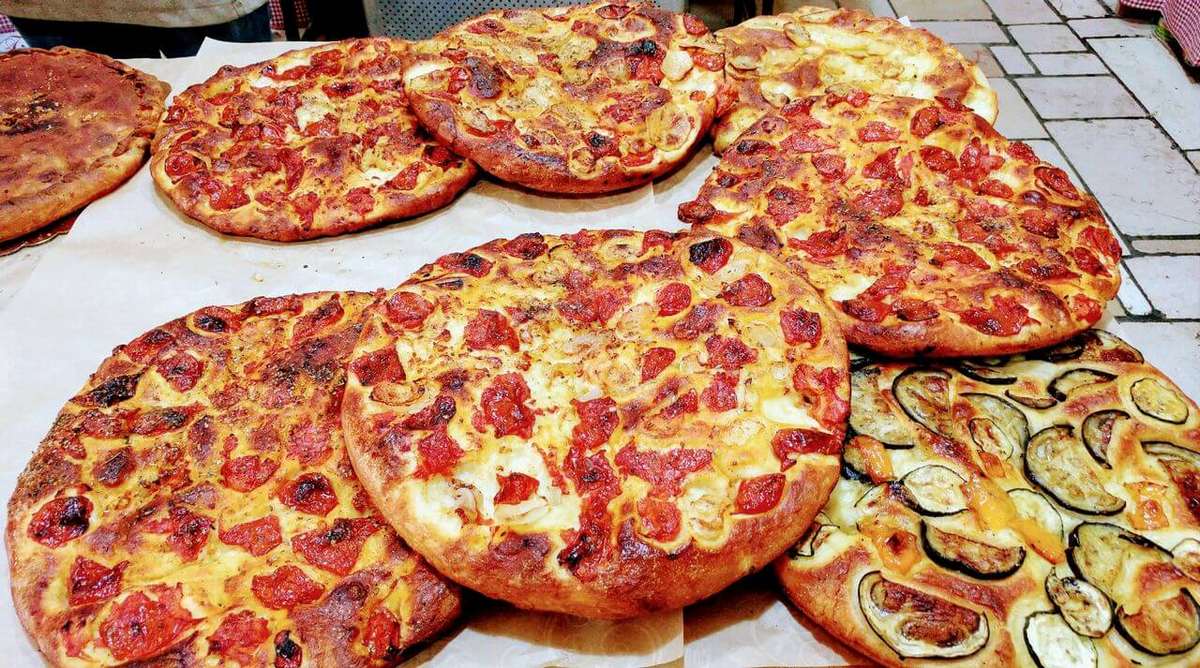 Bocconotti: shortcrust pastry filled with jam/marmalade or custard

, they are one of the most typical desserts.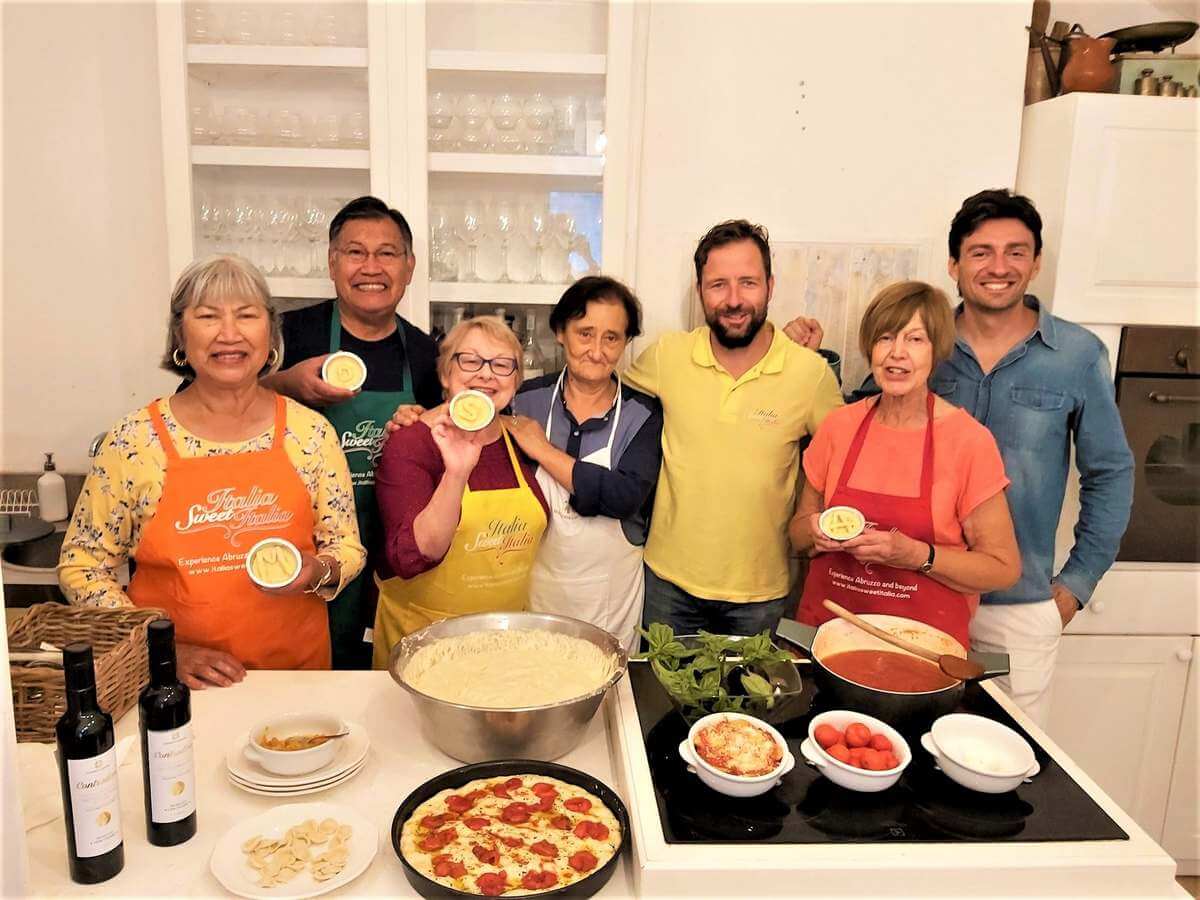 Panino con polipo (Octopus sandwich):

another popular street food in the region, we usually taste it during our tour when we visit the little fishing port of

Trani

.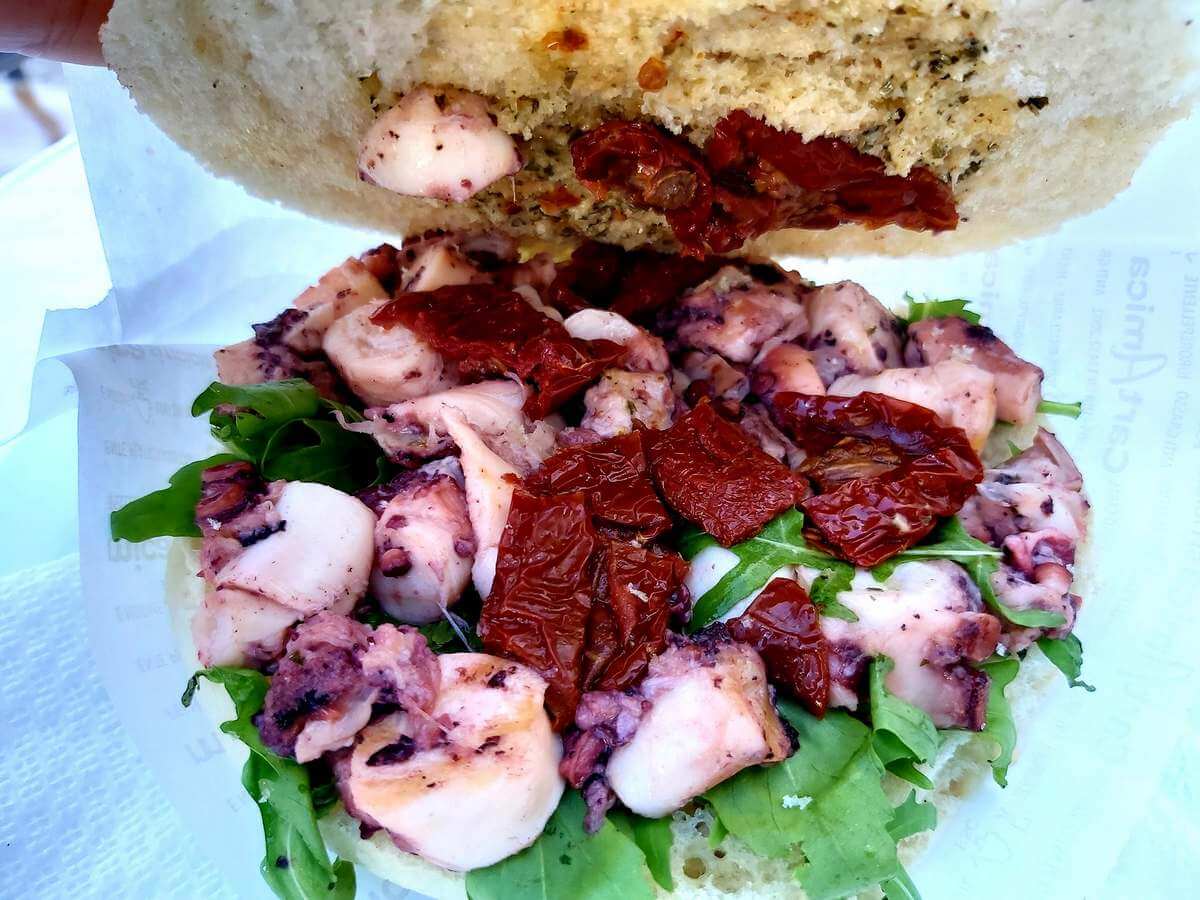 Of course the list can be much longer and there are many more unmissable dishes.
Riso, patate e cozze (Rice, potatoes and mussels):

the perfect mix of flavours of

land and sea

, this dish has a very old tradition, as it was usually prepared for the peasant workers with "poor" ingredients (mussels were the most economical and available seafood).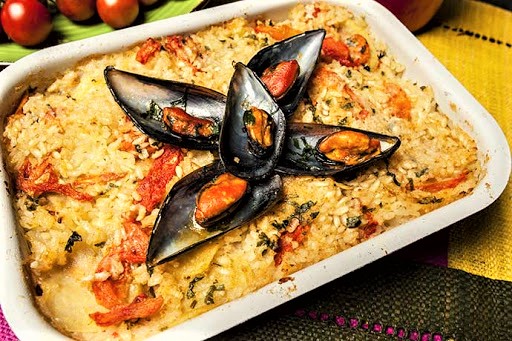 Panzerotti fritti (Fried panzerotti)

: to be added to the street food favorites, they are

deep-fried pockets of dough filled with mozzarella and tomato sauce

. They can also be filled with different cheeses like ricotta or scamorza, and prosciutto, anchovies, or olives.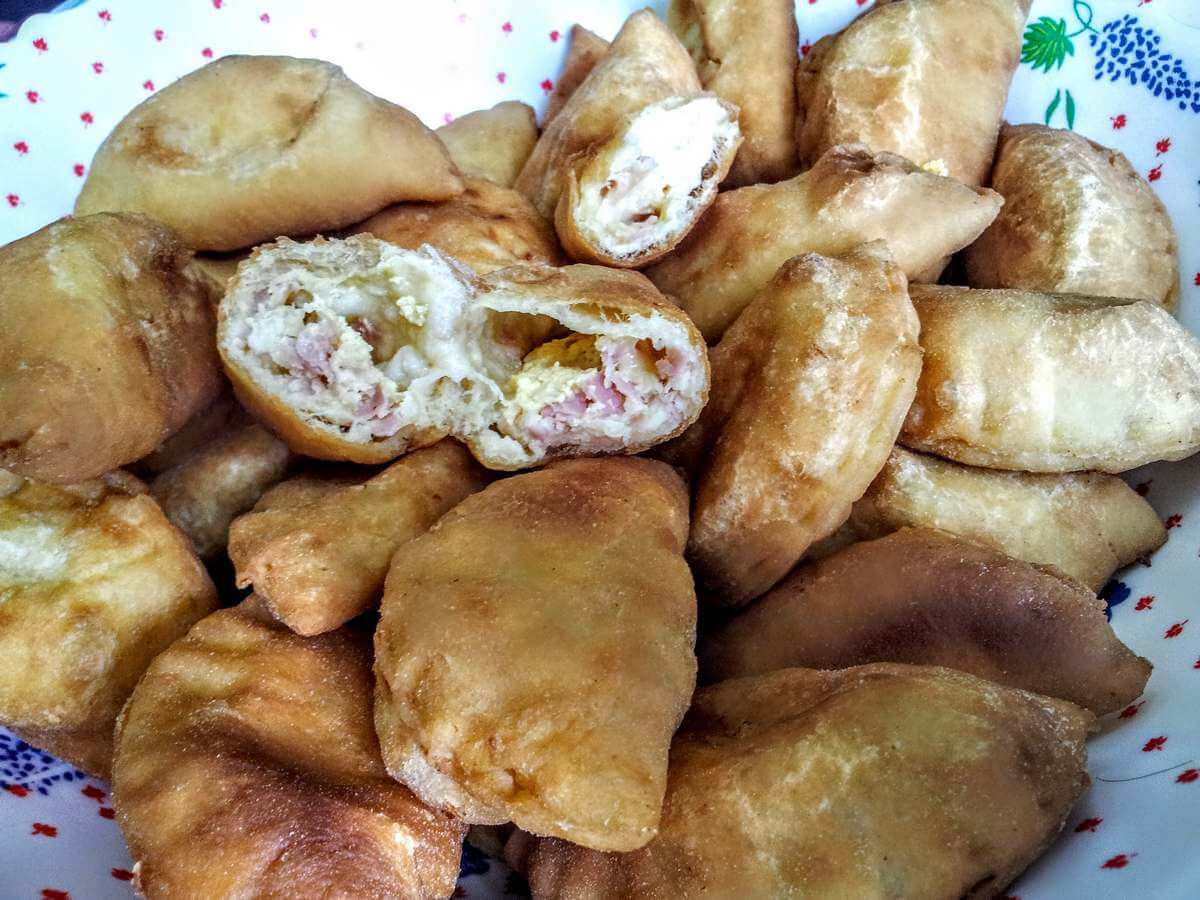 Among the desserts, you must try

Pasticciotto

, a small

cake filled with cream, and

Cartellate

, crispy and very tasty fried sweets, passed in honey or

vincotto

(cooked wine) and decorated with sprinkles and chopped nuts.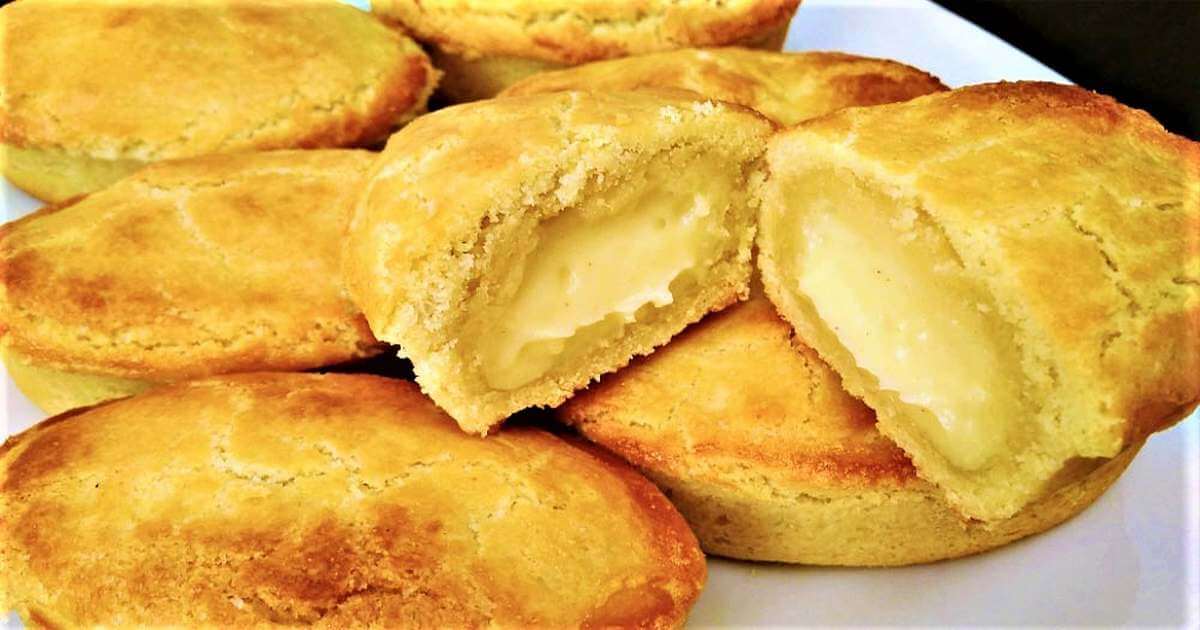 Cold cuts and cheeses

including

capocollo from Martina Franc

a,

caciocavallo

and

burrata

, ideal for an

aperitivo

together with

taralli

, crunchy rings made of flour, salted water, extra virgin olive oil and dry white wine.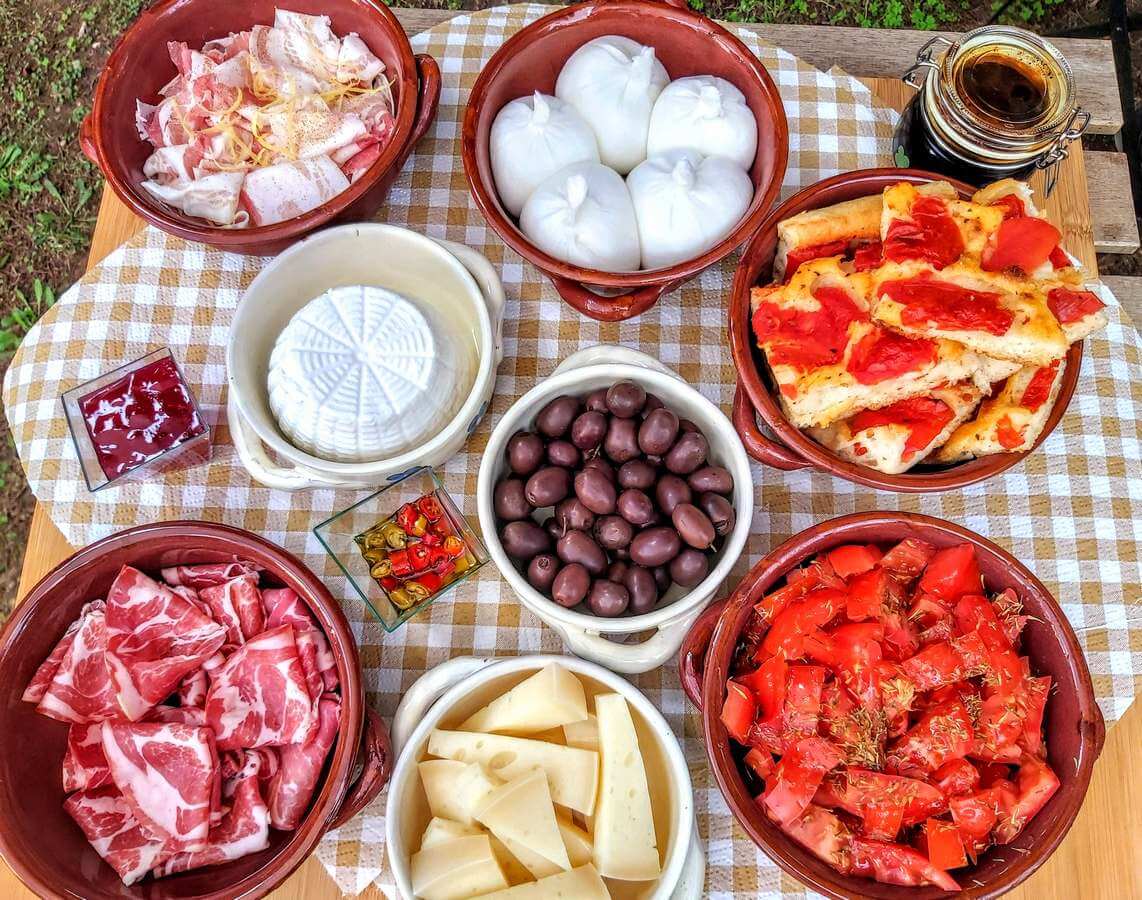 The wines are also not to be missed. During our tour we will take you to a family-run winery where you will enjoy a lunch with tasting of some great wines, such as Primitivo, that is delicious when served with cold cuts, sharp cheese, pork dishes or meat based tomato sauces over a typical pasta.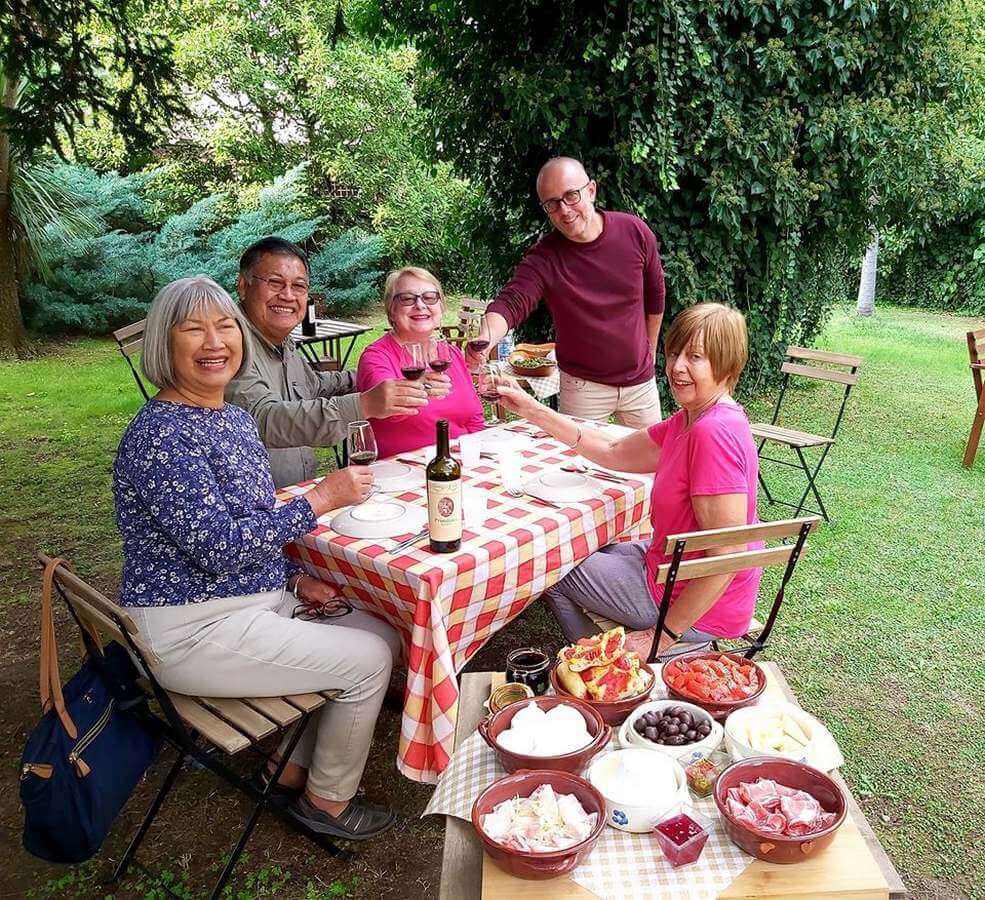 We will also visit a small olive oil mill in the countryside where we'll have an extra virgin olive oil tasting surrounded by ancient olive trees.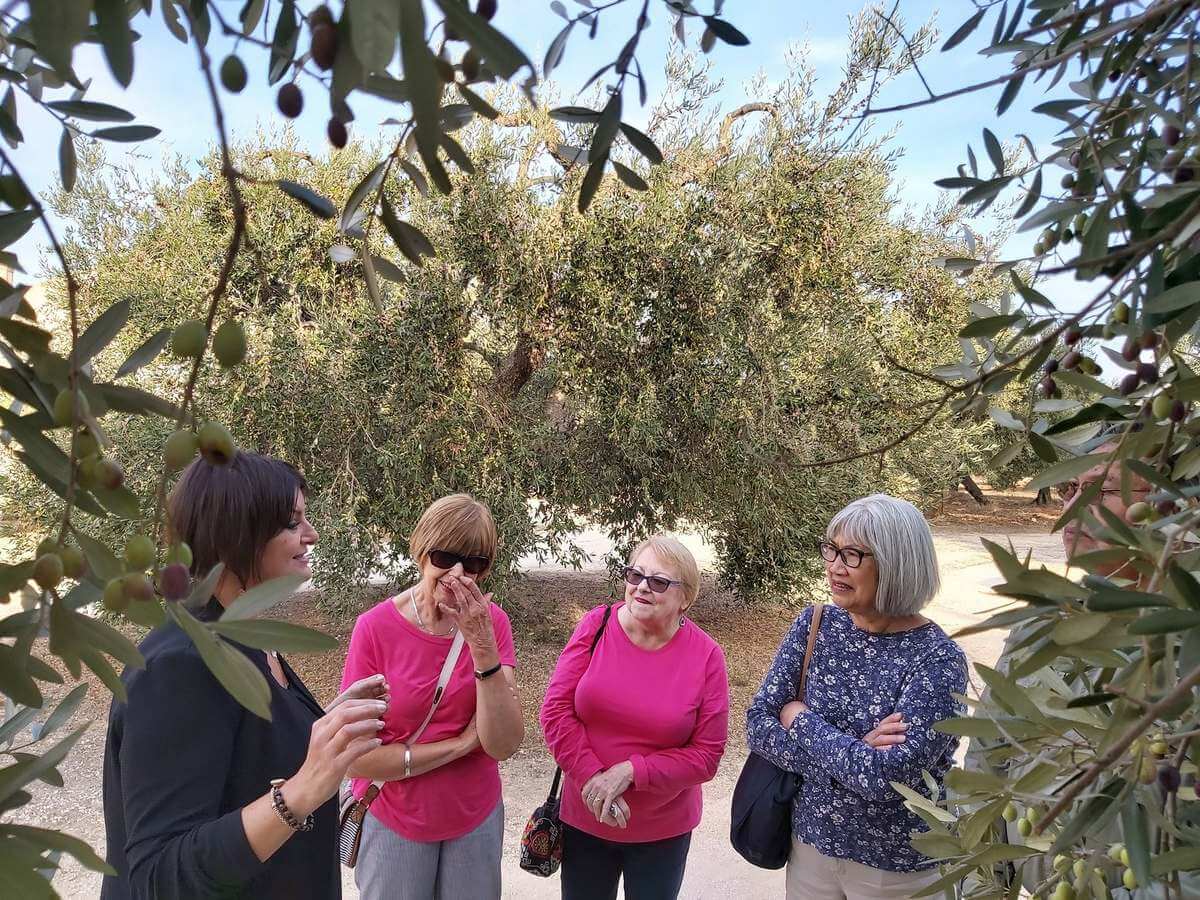 Ready to experience Puglia with us?
So if you're tired of the same-old same-old city tours of Rome or Venice, why not experience the authentic Italy of Abruzzo and Puglia together?
Get in touch today to help bring your dream tour into focus – wouldn't you love to see the Adriatic sea from the mountains or to have a lunch suspended over the sea? If you are ready to discover Puglia, Italy with us, here you can find all the details of our most popular tour: The Abruzzo, Puglia & Matera experience.
And if you're not quite ready to make an inquiry, sign up for our free email course to learn everything you need to know about planning a tour of Abruzzo and Puglia.