Located in the 'heel' of southern Italy, the Puglia region is known for its historic towns, Unesco sites, countryside masserie, diverse landscapes, excellent food, old traditions, and an 800 km (497 miles) amazing coastline.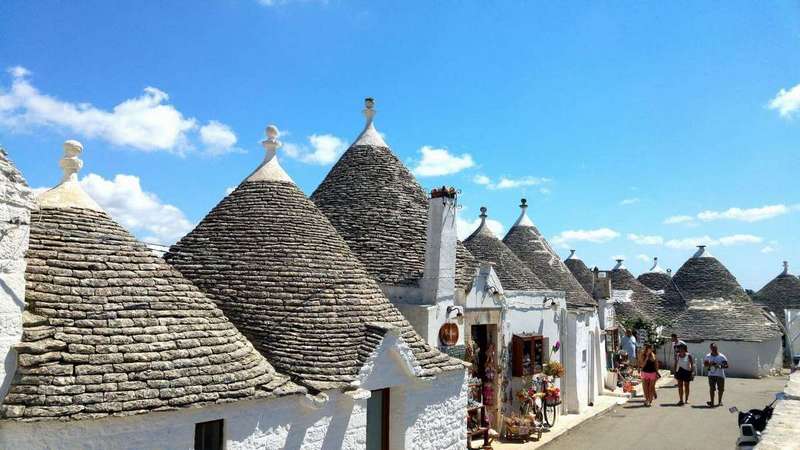 It is worth a visit for many reasons, and here you will find what we consider the best ones. Of course the list can be endless, and this is just our special selection that perfectly fits in our Abruzzo, Puglia & Matera experience cultural and culinary tour.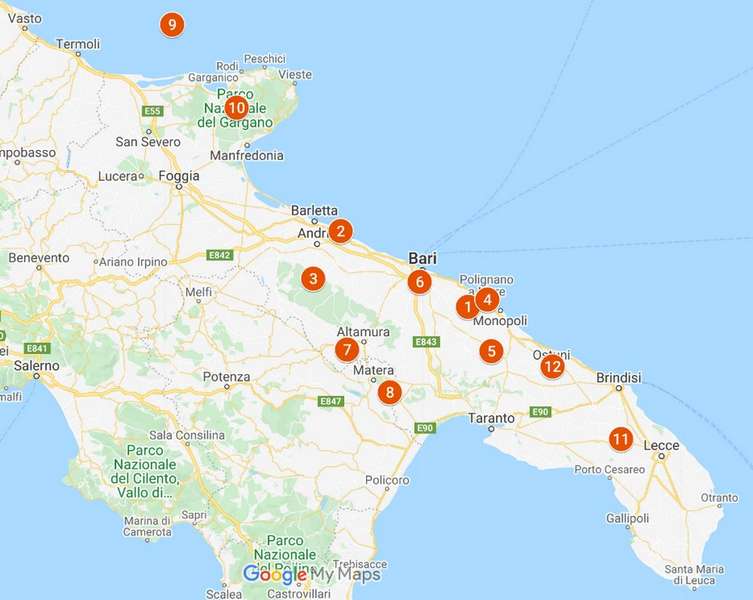 See the full map here 
1. Conversano, our base in the region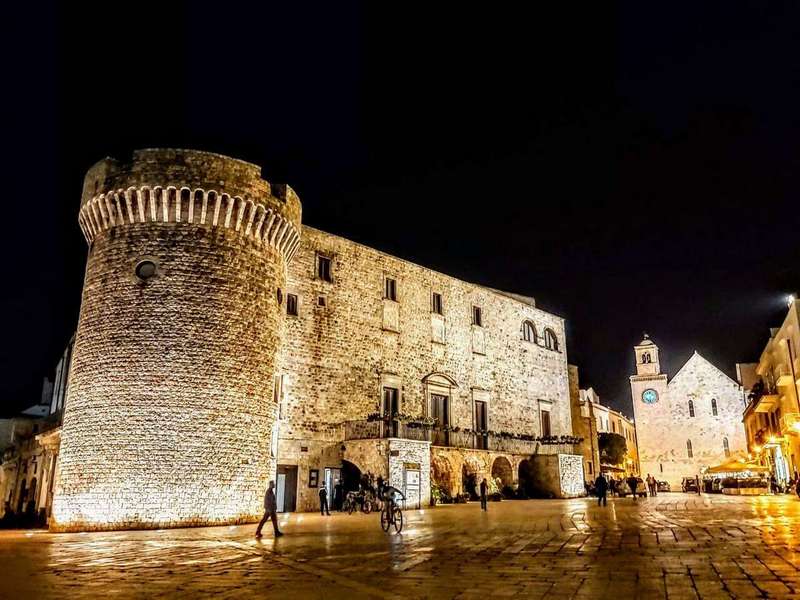 Conversano is an ancient town unspoiled by mass tourism and a wonderful place to start your adventure and experience the authentic Puglian atmosphere. It used to be the center of one of the most important counties of the region, and the importance of its past is still visible in its elegant streets and in the magnificence of its medieval Castle and Romanesque cathedral.
2. Trani, a charming fishing village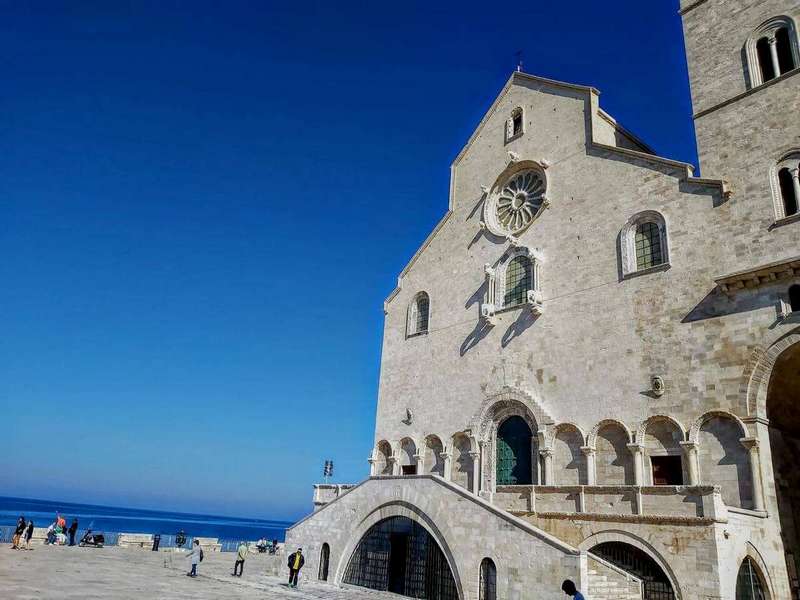 Trani is an historic fishing port with a lively promenade, the ideal place to peacefully wander along lanes and admire harbour views. There are many buildings of interest in Trani, such as the Church of the Templar Knights (Chiesa di Ognissanti), which was built in the first half of the 12th century in the courtyard of the Knights' hospital, and the San Nicola the Pilgrim cathedral, which dominates the seashore from a spectacular position at the water's edge.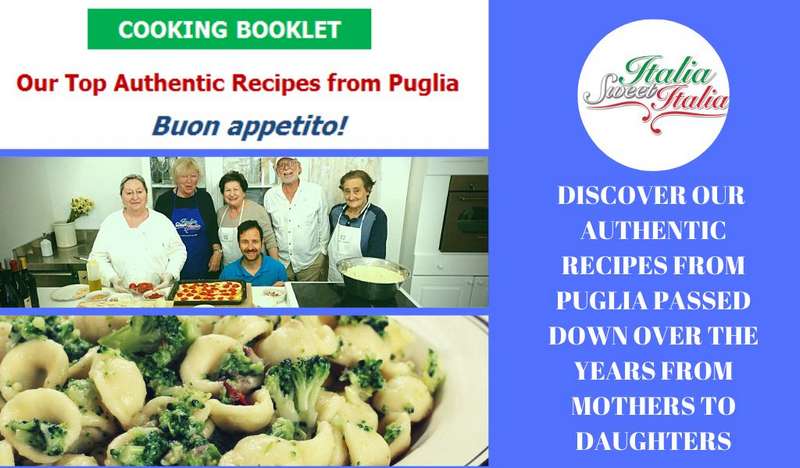 3. Castel del Monte, a symbol of Puglia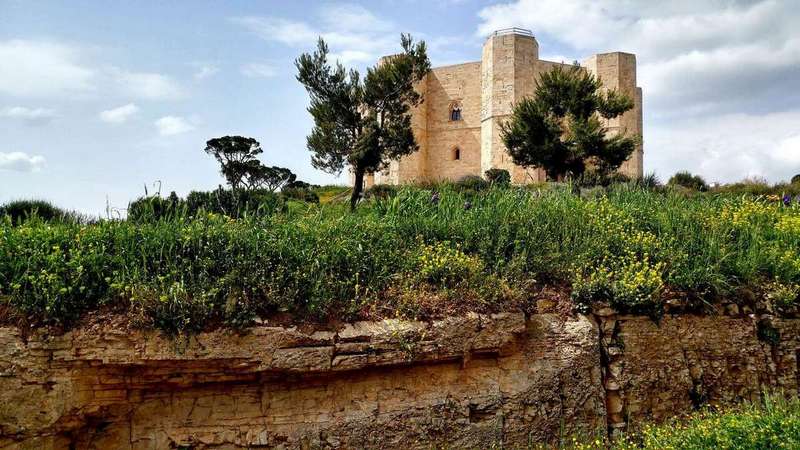 Castel del Monte is the region's most visited monument. It is an octagonal fortress built by Frederick II around 1240 and included by UNESCO in the World Heritage List back in 1996. It is located on a hill at 540 metres (1,771 feet) above sea level and dominates the surroundings with its absolute perfection.
4. Polignano a Mare, nothing better for a warm summer's day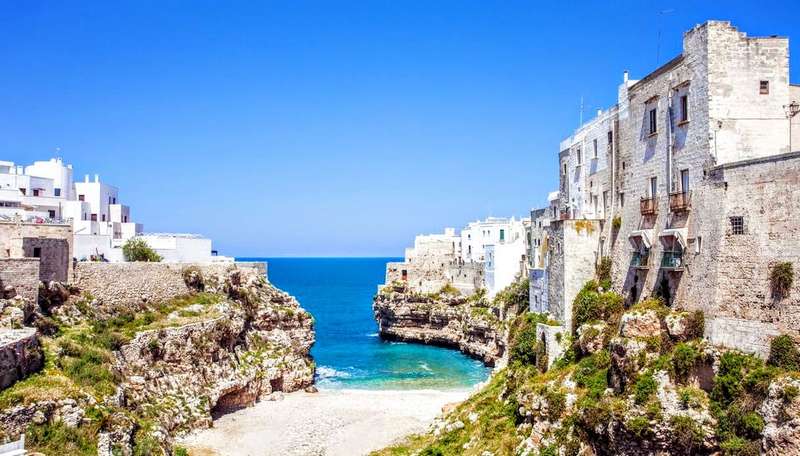 Polignano a Mare is one of the most iconic spots of the region: a world famous holiday resort edged by limestone cliffs overlooking the Adriatic Sea. Its picture speaks louder than words.
5. Alberobello and its trulli houses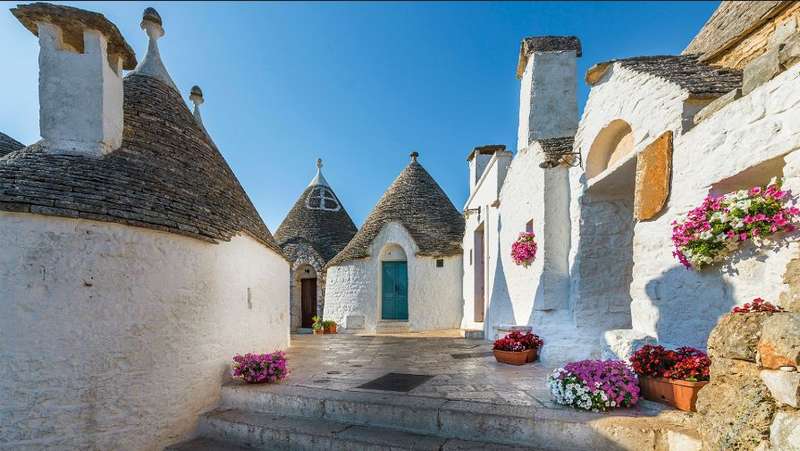 If you think about Puglia, one of the first things that come to your mind is trulli, the typical dry stone huts with conical roof, that are widespread in the central and southern part of the region. The old town of Alberobello is another UNESCO World Heritage Site, a maze of streets and steps lined by trulli.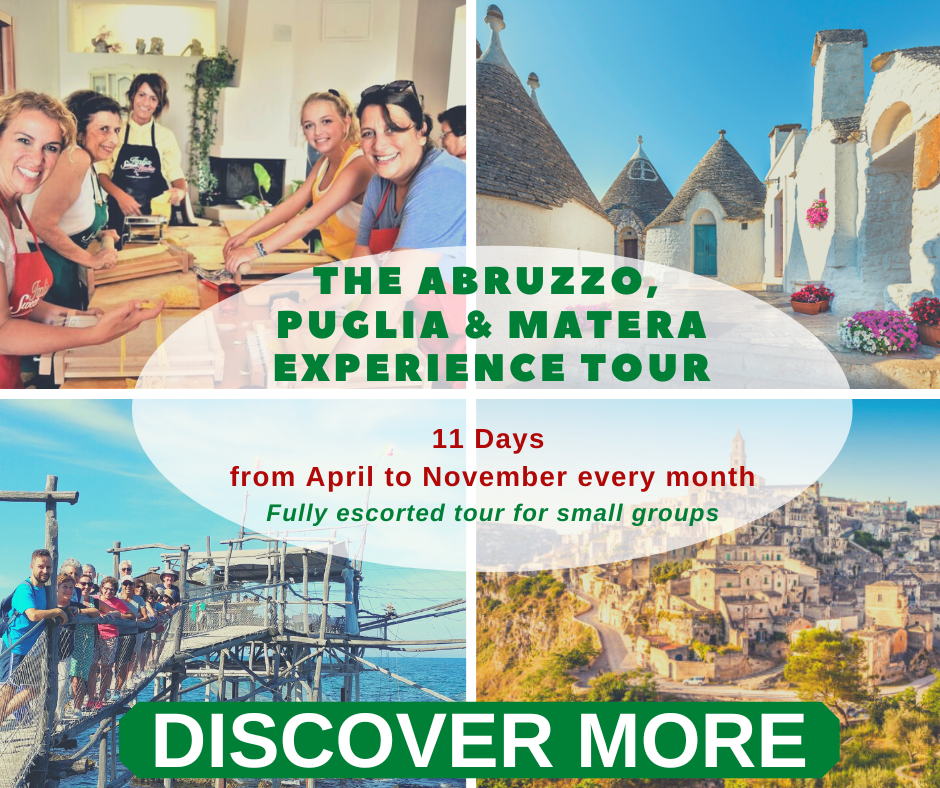 6. Bari, don't skip it!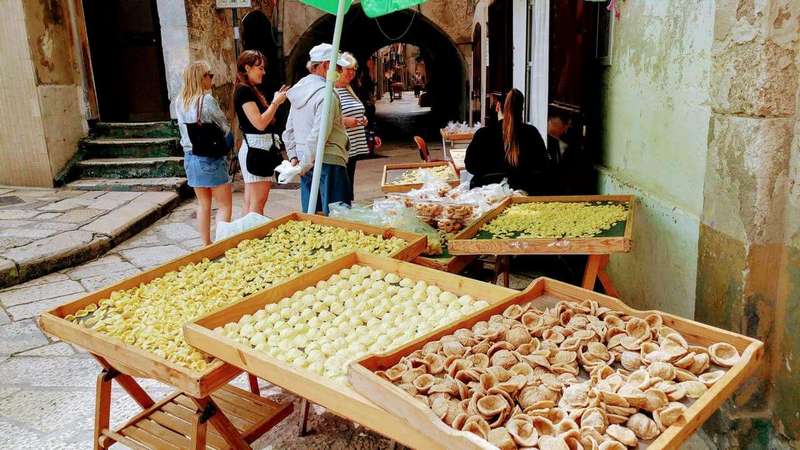 Bari is the capital city of the Puglia region, the second most important economic centre of mainland Southern Italy after Naples. Most visitors arrive in Bari but tend to skip the city: we can guarantee it's definitely worth a visit. 
It has a charming historic centre that sits on a peninsula, populated by churches, small alleys, crowded cafés and beautiful squares. Among the others, there are two important monuments: Basilica of St. Nicholas, an important pilgrimage destination, and Frederick II's castle, an extensive structure that protected the city for centuries. 
7. Altamura and the DOP bread and focaccia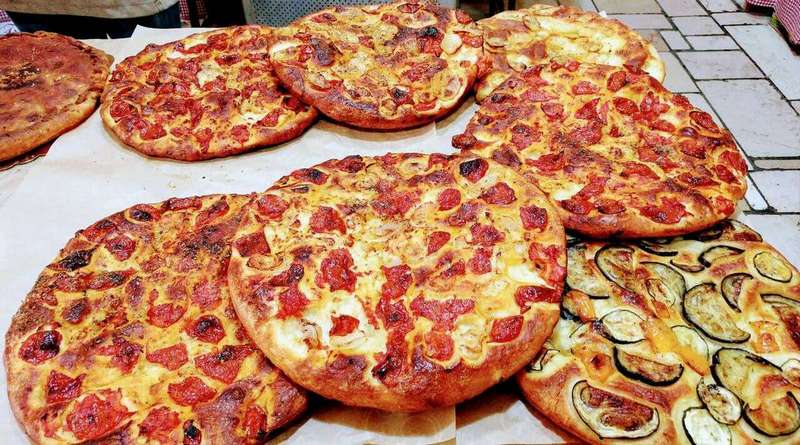 Altamura is a walled town with a great for its cathedral and Museum of Archaeology, but mostly known for its DOP bread tradition, made from 100% durum wheat grown in the Bari province. In 37 BC the Latin poet Horace told travellers that it was "far the best bread to be had" and its reputation is still the same nowadays. 
8. Matera, the 2019 European Capital Of Culture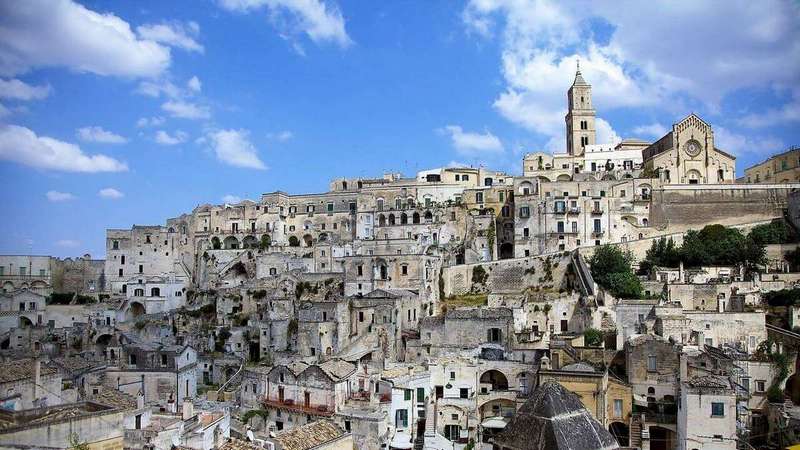 Matera is a magical city of stones located in the adjacent region of Basilicata, and you can easily reach it if you are based in Conversano while travelling in Puglia. It is an ancient city with a long history and walking around its streets looks like taking a step back in time. It was the European Capital of Culture for 2019.
 These eight cities and towns are the best picks if you want to combine a trip across both Abruzzo, Puglia and a little bit of Basilicata: our tour will give you the opportunity to discover and experience different cultures that have in common the warm hospitality of local people, great food and wine traditions. Moving from Abruzzo to Puglia you will cross the Apennines and see the beautiful coastline and villages. 
As we mentioned at the beginning, there are many other things to see in Puglia, that could be included in a tailor-made tour. 
9. Tremiti islands, a natural paradise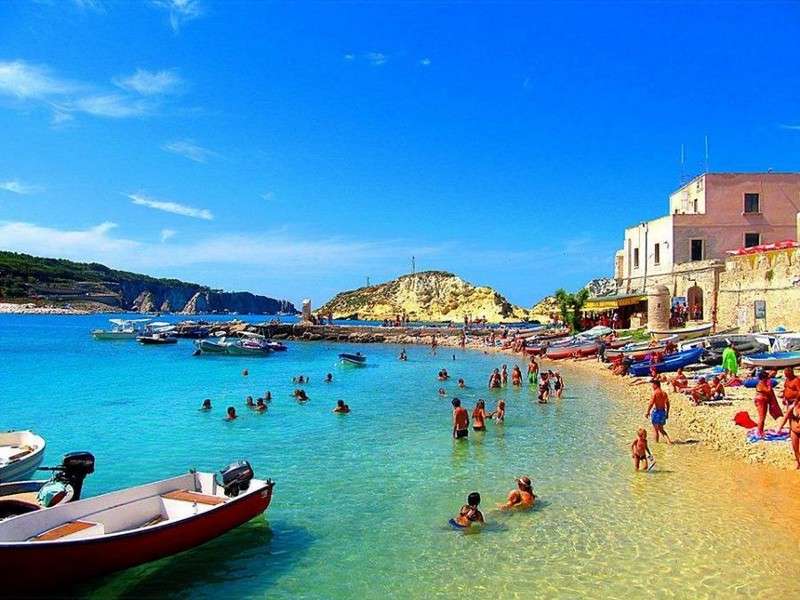 The Isole Tremiti are an archipelago in the Adriatic Sea, north of the Gargano Peninsula. They are an important tourist attraction for the area: the coasts of the three main islands are full of coves and grottoes, and their beaches descend towards the sea. You can also spot (and reach) them from our base in Vasto.
10. Gargano, the spur of the boot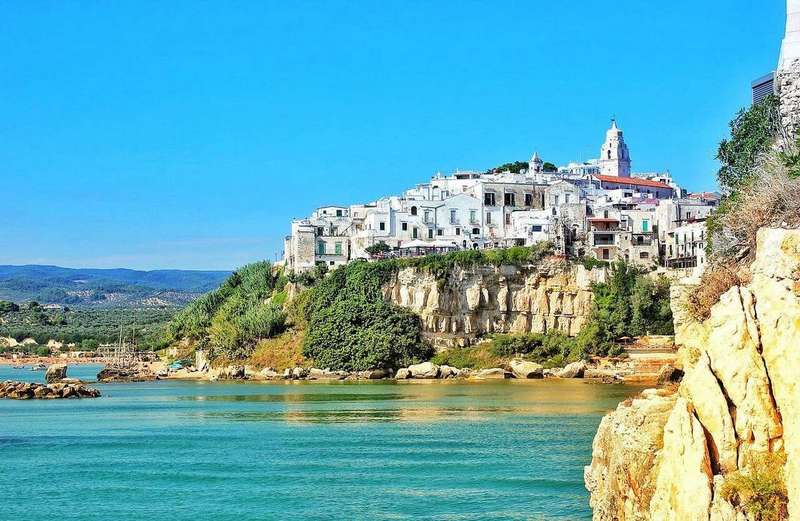 The Gargano peninsula, which is also visible from Vasto, consists of a diverse environment with a variety of interesting places to visit: beautiful beaches on the coastline, medieval towns and the Gargano national park inland, where you can enjoy hikes through the forests, especially in the Foresta Umbra.
Not to be missed: Vieste, a small town located on a white cliffed peninsula, Peschici, a seaside town settled on rocks, and Monte Sant'Angelo, UNESCO World Heritage site, the highest point on the promontory – 840 meters above sea level – and a town with a picturesque historic center and a pilgrimage destination: the Saint Michael Sanctuary. 
11. Salento and its jewels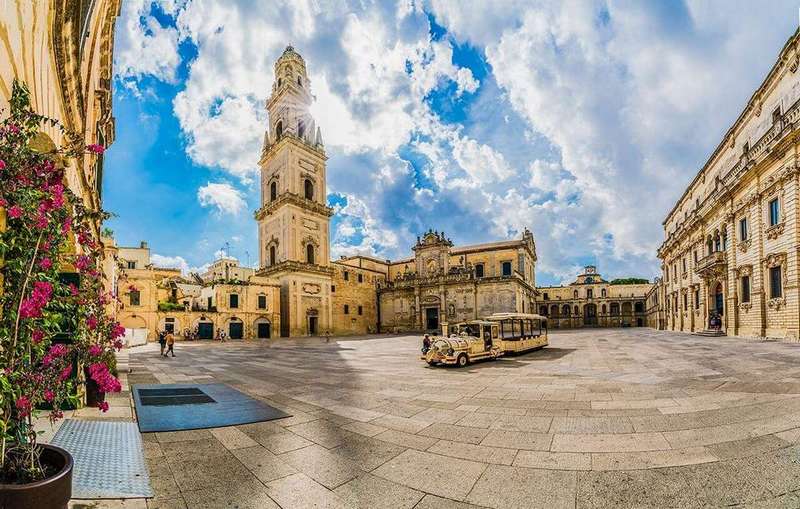 Salento, a sub-peninsula of the Italy, is a beautiful land in the bottom of the "heel" of Italy with a unique history and traditions. It is mostly known for its rural-chic masserie and white sand beaches with blue waters. 
Some of the best beaches can be found in the South of the region, at (or near) Torre dell'Orso/Sant'Andrea, Otranto, Maldive del Salento and Porto Cesareo.
Generally speaking, in Salento you will be spoilt for choice when it comes to deciding where to go: Lecce, one of the most important cities of Puglia, was the center of the ornate architecture called barocco leccese (Lecce Baroque): the city is filled with Baroque monuments, and it is sometimes called "The Florence of the South". 
Gallipoli is a charming town on the sea located on the east coast. The peculiarity of this place is that the old town used to stand on an island that is now connected to the mainland by a bridge and it still has some of the medieval walls.
Another beautiful town is Otranto with its whitewashed buildings reminiscent of Greece, while Santa Maria di Leuca is a village rich in history and legends. It is a paradise land on a promontory between two seas.
12. Other beautiful towns and landscapes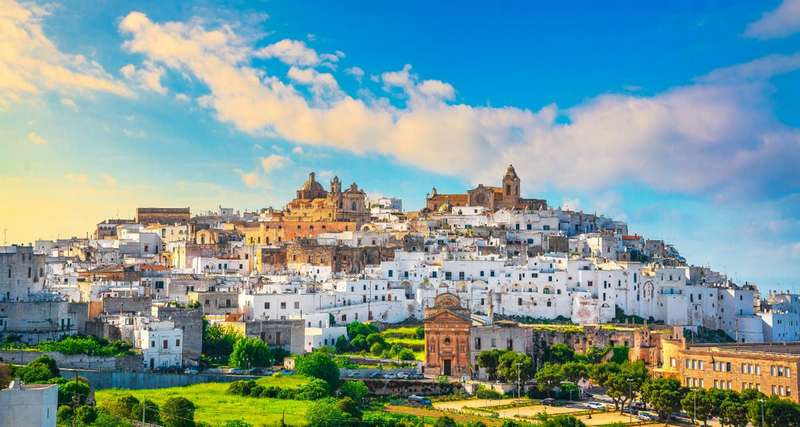 There are many other things to see in the Puglia region, such as Locorotondo, that takes its name from its circular structure ("Round place", where round means rotondo) which is now a historical center; Ostuni, "the White Town", for its white walls and white-painted architecture, Monopoli, a charming port town to relax and reset the pace; Parco Nazionale Alta Murgia, that is home to Italy's last example of Mediterranean steppe, and many other beautiful spots. 
 Ready to experience Puglia with us?
So if you're tired of the same-old same-old city tours of Rome or Venice, why not experience the authentic Italy of Abruzzo and Puglia together?
Get in touch today to help bring your dream tour into focus – wouldn't you love to see the Adriatic sea from the mountains or to have a lunch suspended over the sea? If you are ready to discover Puglia, Italy with us, here you can find all the details of our most popular tour: The Abruzzo, Puglia & Matera experience.
And if you're not quite ready to make an enquiry, sign up for our free email course to learn everything you need to know about planning a tour of Abruzzo and Puglia.