If you think of Italy, food is probably the first thing that comes into your mind, and Abruzzo is definitely one of the greatest examples of how this proud national tradition is kept up.
The Abruzzese cuisine is deeply influenced by the region's location and multifaceted soul, that stretches from the heart of the Apennines to the Adriatic Sea and embraces an amazing coastline, beautiful lakes, breathtaking mountains, and three national parks.
The food perfectly mirrors this variety of landscapes and it's heterogeneous in nature: mainly made of simple ingredients turned into glorious feasts, it draws on traditions from pastoral and rocky inland areas as well as from coastal areas.
Our delicious culinary tour vacations will let you discover (and taste!) the best recipes this territory offers, and in most cases you will also learn how to prepare some of them.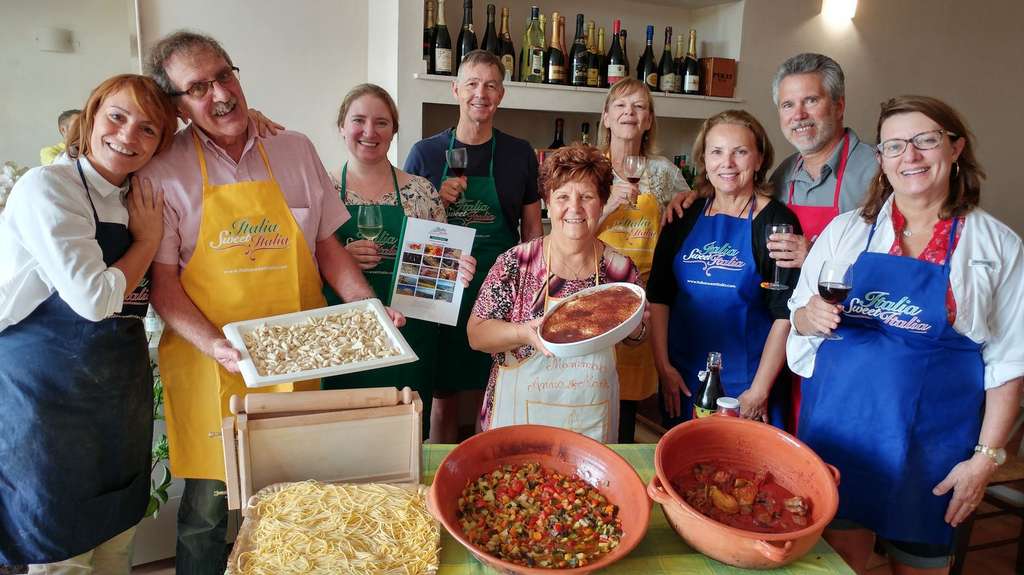 Now get ready to take notes while we guide you through what we consider to be best typical foods you must try if you are traveling across Abruzzo: as a general rule, you should skip the dishes you already know the names of and opt for something local and traditional.
Antipasti / Appetizers
Antipasti (Appetizers) will give you an initial but quite complete picture of regional traditions, as they usually bring to the table the best local products. Here is a list of what you can't miss.
Ventricina salami

: probably one of the most widely known products of the area, "celebrated" in many local food festivals, and

often rewarded as the best Italian salami

, it is a cured sausage of leg, loin and shoulder pork mixed with sweet and piquant red pepper, fennel seeds, black pepper and salt. Deep red in color, it will surprise you with a delightful chilli kick.



Other salami

: also, make sure you don't miss the

Salsicciotto frentano (Frentani sausage)

, a

pork sausage made essentially with high-quality lean cuts and simply flavored with salt and pepper, thus considered

one of the lowest-fat national salami;

Mortadella di Campotosto

: Abruzzo's personal spin on the popular Italian cold cut, mortadella, prepared from lean cuts of pork, with a small addition of bacon;

Salsiccia di fegato (Liver sausage), a pork-based product made with its liver, heart and tongue and a mix of some lean and fat meat.
Our tours will give you the opportunity to taste these products and also learn how to make them in a specific class.

Cozze ripiene (Stuffed mussels)

: typical of the

Trabocchi coast

, we are talking about mussels stuffed with a mixture of breadcrumbs, garlic, parsley, extra-virgin olive oil, parmesan cheese, eggs and finished with and a splash of tomato sauce.

Follow this link

to watch the full recipe!
Pizza scima (Stupid pizza)

: you might think it's the bad version of a pizza, but in this case the adjective

"scima"

, literally

stupid

,

is definitely not an offense

: it is a dialectal expression that comes from "ascime" and stands for "

azzimo

", that means

unleavened

.
It's simply made of flour, water, salt, extra-virgin olive oil and Trebbiano d'Abruzzo white wine, and just like bread – it actually looks like a thin focaccia – it's traditionally used to accompany meals.

Pecorino di Farindola

: it's a sheep cheese made in a small mountainous area, located in the heart of the

Gran Sasso and Monti della Laga National Park

. The "secret" ingredient, that makes it different from any other

pecorino

and gives it a sweet note, is the pig rennet. Its recipe is kept as a strong tradition of the area and

passed down through generations

.
Other cheeses

: any worthy of its name cheese board of the region, just to mention a few more products, might also include

Ricotta

, a creamy white, mild, fresh cheese with a soft texture and a slightly sweet flavor – our tours will teach you how to prepare it –

Caciocavallo

, a tear-drop shaped cheese made out of

cow

's milk

,

and

Canestrato di Casteldelmonte

, a special pecorino

produced with raw sheep's milk, salt and rennet.
Pallotte Cac e ove (Cheese and Egg balls): bits of cheese and breadcrumbs, bound together with egg, formed into balls – that you can fry, if you want – and simmered in tomato sauce. In the past they used to be served as a vegetarian main course and typically during Christmas dinner to replace costly meat, but they currently show up as an appetizer as well.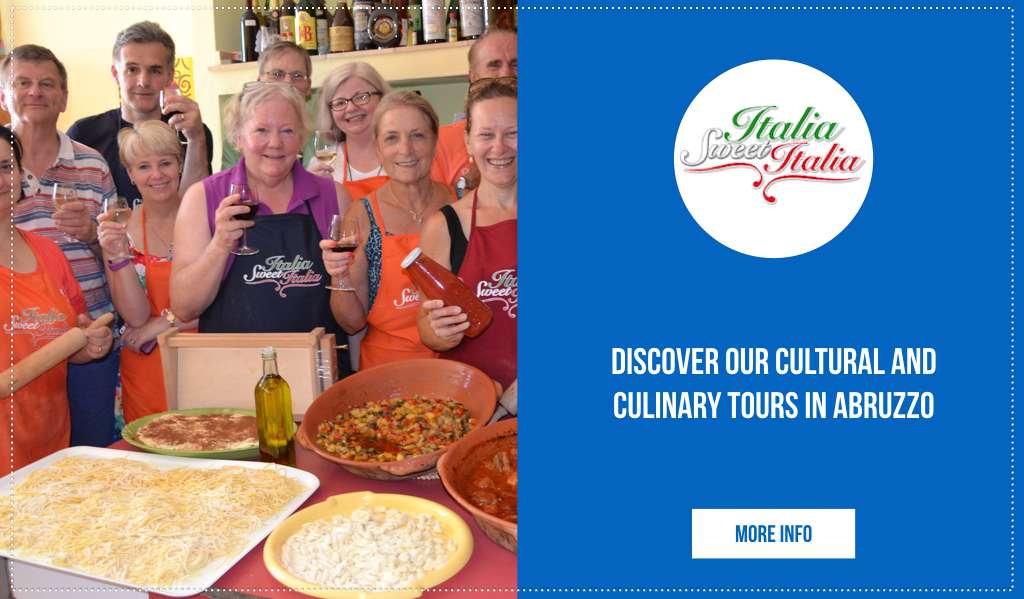 Primi piatti / First courses
Being home to the oldest Italian cookery school and arguably Italy's most famous pasta, De Cecco, Abruzzo has a very strong pasta – and, generally speaking – first courses tradition.
Maccheroni alla chitarra (Guitar maccheroni)

: fat maccheroni made by rolling out egg dough over thin wires stretched on a wooden frame like a guitar; the name "alla chitarra" – where

"chitarra"

means

guitar

–

comes from the sound this particular tool makes. Usually served with pork, goose, or lamb ragout, they are very tasty because of the squared shape, graininess and cut that absorb the sauce very well.


Ravioli dolci (Ravioli with sugar)

: a variation of the classic Ravioli you can eat anywhere in Italy, Ravioli with sugar are typical of Abruzzo and

usually prepared during Carnival time

. Larger than traditional ones and stuffed with ricotta, egg yolk, sugar, lemon and cinnamon, they are ideal for those who like rich and strong tastes.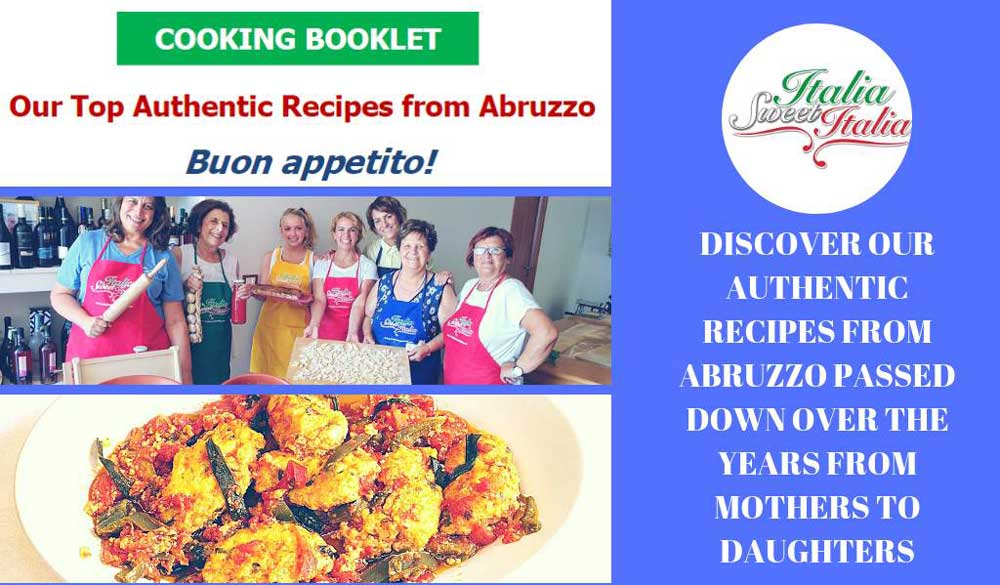 Scrippelle 'Mbusse (Crepes in broth)

: the scripelle are a kind of thin "crepe" made of flour, eggs and water. The "mbussa" version,

a traditional recipe of the Teramo territory

, is served with hot broth poured over them.


Le Virtù

(literally,

The Virtues

):

they come from Teramo too

with a very old and strong history. Usually eaten on May 1st as an event to celebrate the arrival of spring after the harsh winter, it's a dish made of seasonal legumes and vegetables, together with different types of pasta.



Secondi piatti / Second courses 
Arrosticini

: it's what we consider

one of the 14 experiences you should make when travelling in Abruzzo

, and we are sure you will love them. They are cubes of sheep impaled on wooden skewers and cooked on

fornacellas

, a special narrow grill that people use in Abruzzo. Don't be afraid to put the knife and fork to one side, as these authentic treats are traditionally eaten by hand with fresh bread, or 'pane bruschettato' and olive oil.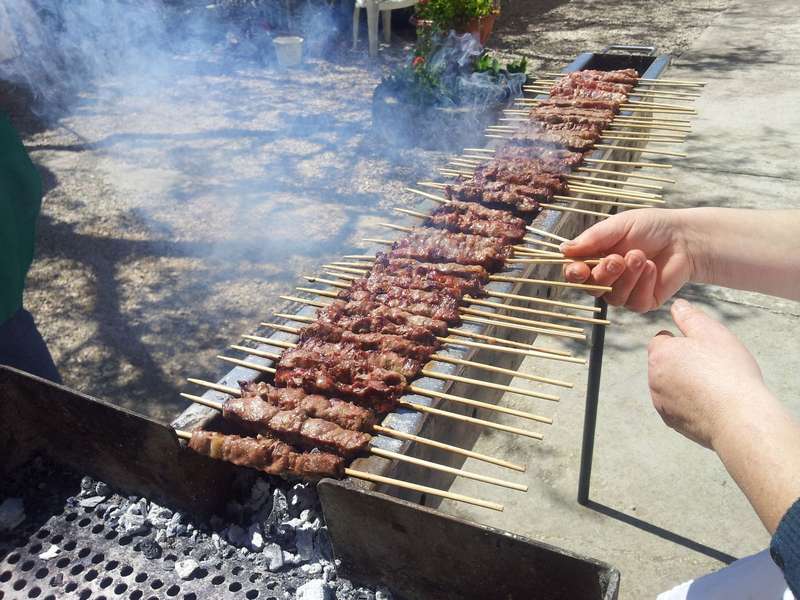 Dolci / Desserts  
Talking about desserts, let's start from those ones you can find anywhere all year round.
Ferratelle (also called Pizzelle) look like waffles but they are actually aniseed wafers cooked in a red-hot plier with large stepped teeth; Tarallucci olio e vino, also called "celli ripieni", are small flaky pastry shells, made with flour, EVO oil, and white wine, baked or sometimes fried, stuffed with almonds and grape jam; Bocconotti are rustic pastries with stuffings typically made of almonds and chocolate; Mostaccioli, hearty cookies sweetened with cooked grape must.
Cicerchiata is a typical dessert of the Carnival made of small balls of fried pastry, blended with honey, and forming a ring-shaped cake.
At Easter time, you can't leave the table without eating a slide of Fiadone, the Abruzzese version of the cheesecake, a sweet cheese-based dessert that can be sweet or salty, and La pupa e il cavallo, two big-sized decorated cookies.
When the Christmas season kicks off, you will see other delicatessen popping around: Parrozzo, a dome-shaped almond cake flavored with citrus zest and topped with a rich chocolate glaze; Caggionetti, paper-thin white wine fried ravioli typically filled with chickpeas, must, and honey; Scrippelle, that can make you think about crêpes or churros, but are unique both in their preparation and taste.
Our Christmas tour will show you how to make some of them.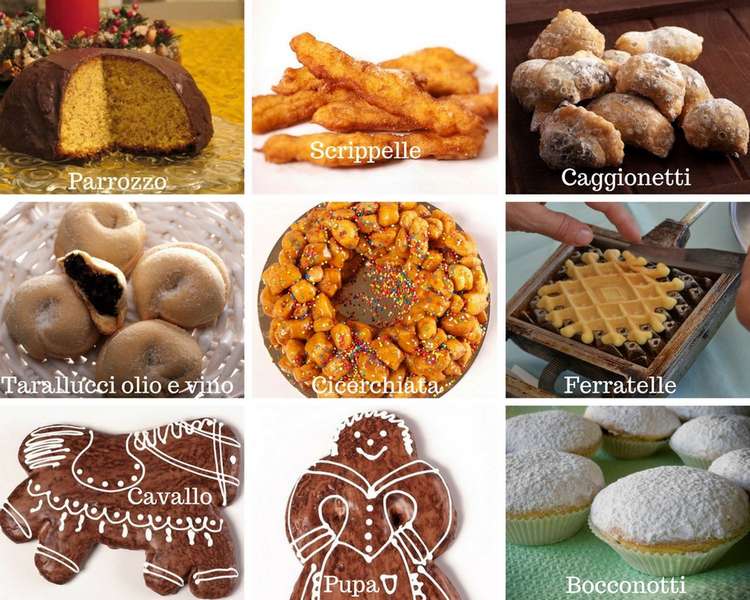 Ammazzacaffè / Liqueurs (literally, "coffee killer")
After – or while eating – desserts, Abruzzo offers a good variety of local liqueurs.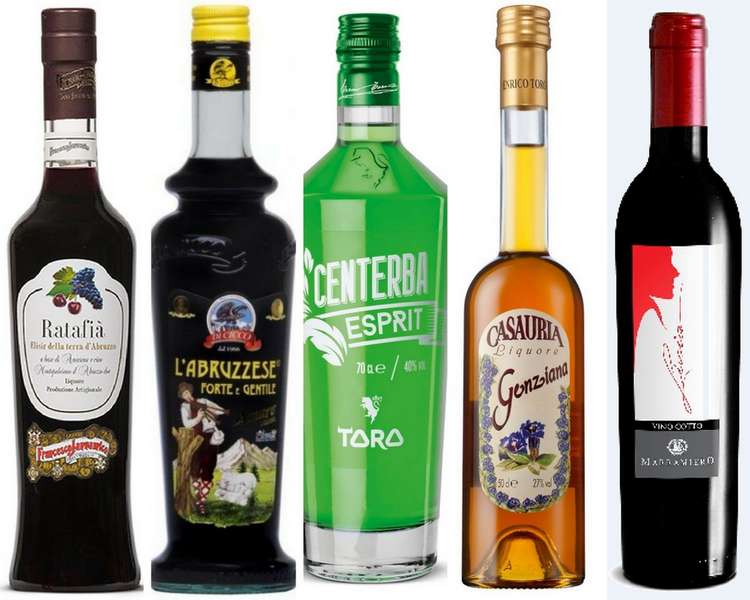 You can choose between Ratafia, a great mix of the organoleptic qualities of Montepulciano d'Abruzzo and cherries (fruits or leaves) locally known as "visciole"; Genziana, derived from the roots of the shrub; Amaro Abruzzese, made of herbs, roots, and an infusion of fresh citrus fruits; Vino Cotto, a strong ruby-colored wine, usually semi-sweet, heated in a copper vessel and then fermented; and finally, let's close this list with the up-to-70% alcohol concentration of Centerbe: the name means "one hundred herbs" and it's quite self explanatory.
Vini / Wines  
Abruzzo, with its rolling foothills, is also wonderfully suited for vineyards.

Montepulciano and Trebbiano are the two varieties that are the basis of the region's most recognized DOC: Montepulciano d'Abruzzo and Trebbiano d'Abruzzo.
The same grapes used to make Montepulciano contribute to the production of Cerasuolo, a rosè wine, another typical product of the region, that you can enjoy while eating fish dishes.
As for whites, don't miss the chance to taste a glass of Pecorino, Passerina and Coccociola.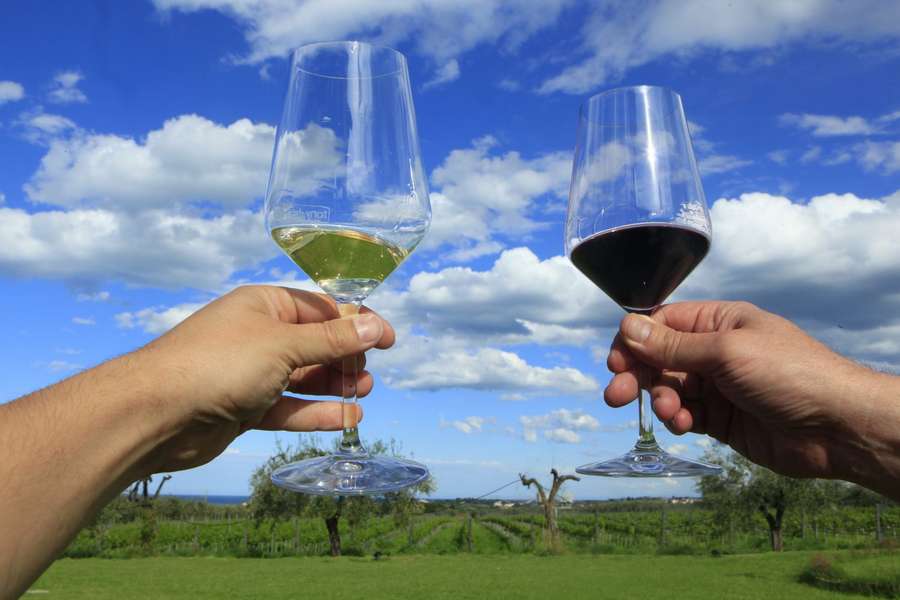 What you just read is a list of the most authentic dishes you can find in Abruzzo. The list might not be exhaustive and we know we might have forgotten some of them. If you're thinking about any dishes that should be included, leave a comment below this post!
Moreover, let's not forget that the region also offers a great variety of plantations and raw ingredients that you will find in many other recipes, such as tartufo (truffle), that you can try to find during this particular tour, zafferano (saffron) di Navelli, lenticchie (lentils) di Santo Stefano di Sessanio, that have a special quality – they are so permeable that they don't need to be soaked before cooking – carciofo (artichoke) di Cupello, and peperone dolce (sweet pepper) di Altino… just to name a few.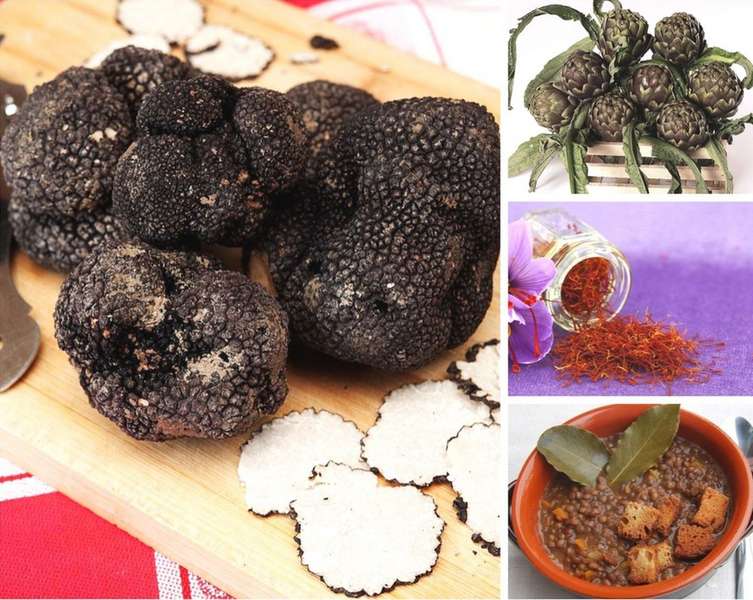 Did we manage to make you hungry and/or curious about the way these foods are prepared? Join our tours and take part into our culinary classes, or read our selection of recipes and challenge yourself in the kitchen!