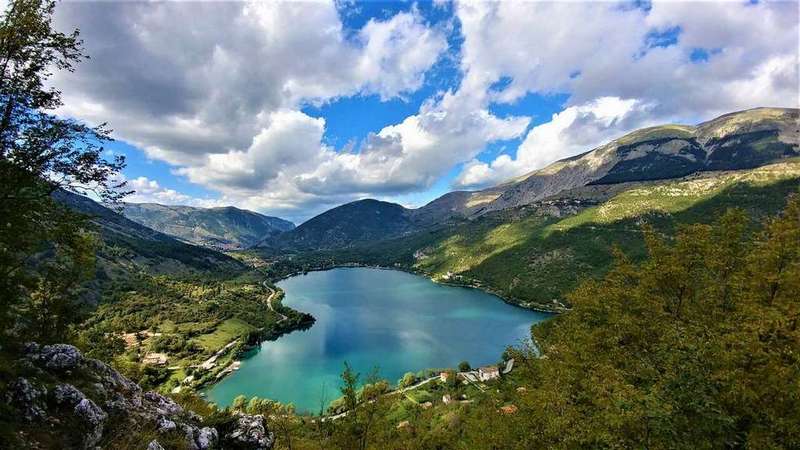 Have you ever heard of Abruzzo? It's a region in the center of Italy, nestled in the Apennines and the Adriatic coast, just a couple of hours away from Rome.
If you are thinking about planning an awesome vacation and discovering some authentic and lesser known destinations in Italy, we definitely have some tips for you.

It is known as "the green lung of Europe" due to its three National Parks, one Regional Park and several natural reserves.
In a few words, Abruzzo has it all. Wonderful lakes, the Adriatic coastline, uncontaminated parks, breathtaking mountain ranges, magical medieval towns, all varieties of nature, climate and landscapes: in springtime, you could be laying on a beach in the Trabocchi coast, then walking through the streets of one of the gems of this area, the town of Vasto, and within an hour finding yourself on the top of one of the ski resorts in the Majella National Park.  And if you are not into skiing or you are planning to visit Italy during the summer, you can always hike or take a walk into one of the regional parks and reach fabulous hamlets (such as Rocca Calascio and Santo Stefano di Sessanio) and panoramic views of Gran Sasso (Campo Imperatore).
You can immerse yourself in the local culture, taste the diverse cuisine that changes from the beach to the mountains and discover the capitals of Italian pasta (Fara San Martino), confetti (Sulmona) and ceramics (Castelli). Not to mention Scanno, Roccascalegna, Civitella del Tronto… 
We will now take you on a trip across this incredible region just to give you an idea of what you should expect… And fall in love with.

So what to see in Abruzzo? Here's a list of the 12 best places.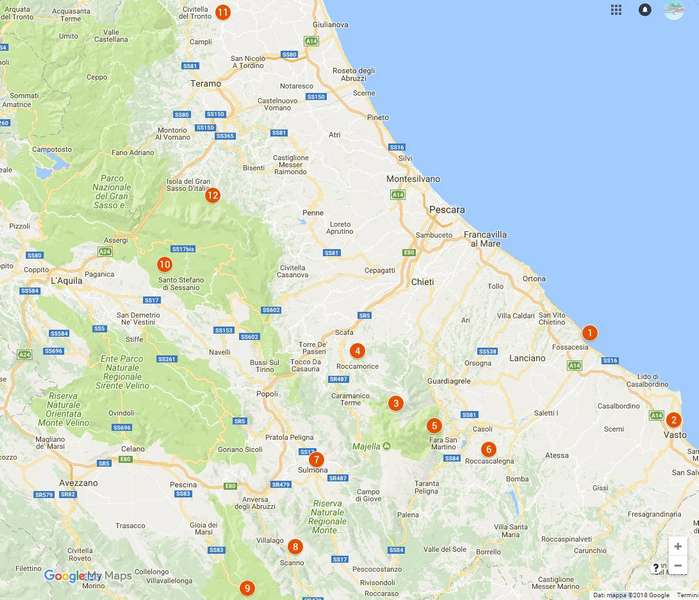 See the full map here.
1. The Trabocchi Coast with its unique fishing platforms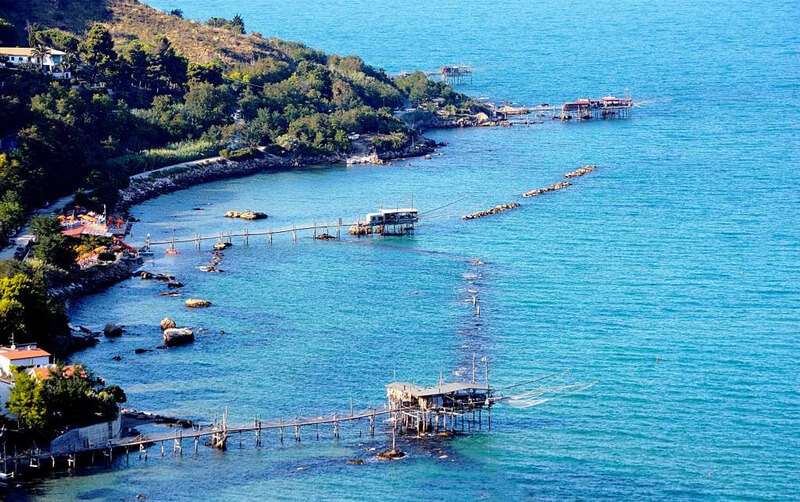 A blue sea caresses a 70-kilometer coast that stretches from Ortona to San Salvo in the province of Chieti, which is known as the Trabocchi Coast for its collection of centuries old fishing net structures known as trabocchi. These wooden platforms extend into the sea, allowing fisherman to safely reach deep waters were many varieties of fishes are more abundant.
Many of them have resisted to the tide of the sea, and some are still managed by generations of fisherman who converted them into restaurants.
So yes, you can also have lunch or dinner over there!
All our tours include a visit to this charming fishing houses, where you can take part into a fish cooking class and enjoy a wonderful meal.
Another enchanting and still well-preserved gift from the past is the Abbazia of San Giovanni in Venere. Sited on a hill near Fossacesia and built on the site of a Roman temple, it is a wonderful abbey and holy site of art, peace and prayer, a great example of romanic and Italian gothic style. Its privileged position offers an incredible view of the Adriatic sea from north to south.
2. Vasto, the ancient Roman town and its enchanting beaches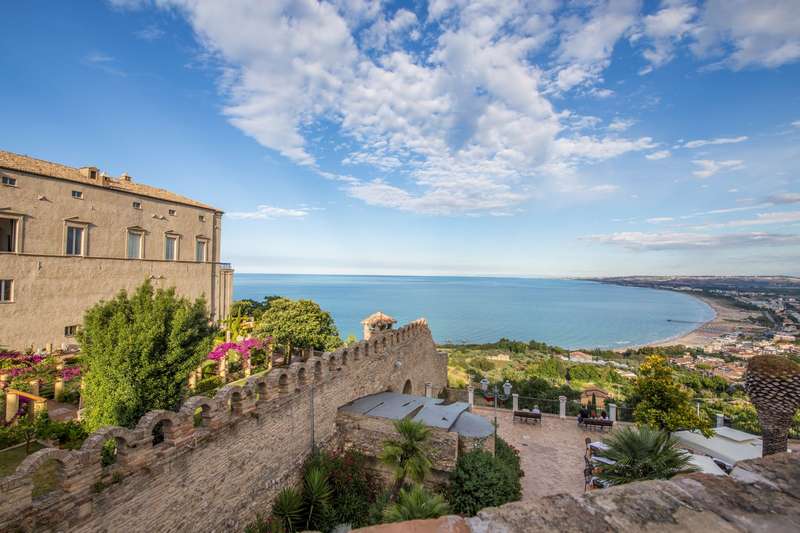 Vasto is a hilltop town overlooking the Adriatic sea in southern Abruzzo. The old centre is a lovely medieval spot with beautiful buildings dating from the 15th century.
Taking a walk from Piazza Rossetti, you will see the Caldoresco Castle, the San Giuseppe Cathedral with its Romanesque facade, and Palazzo d'Avalos: here you can visit its museums and Neapolitan-style gardens. If you keep wandering through the narrow alleyways you will find yourself speechless in front these ancient buildings and the view over the gulf.
Vasto is also well known for the variety of its beaches. Going downhill from the ancient centre you will reach Vasto Marina, a popular holiday destination full of many beach resorts. If you keep going north along the coast, nature will surprise you with a rocky spot and its crystal clear water: this is hidden gem of San Nicola.
Further along the coast, past the lighthouse at Punta Penna (the second tallest lighthouse in Italy) is another, even quieter, beach, by a nature reserve at Punta Aderci, which was listed as one of the 10 most beautiful Italian beaches for 2018 by the The Telegraph UK. Vasto is a stop-over of all our tours, and we will make sure you will leave it with the greatest memories.
3. Passolanciano-Majelletta, skiing and hiking with a sea view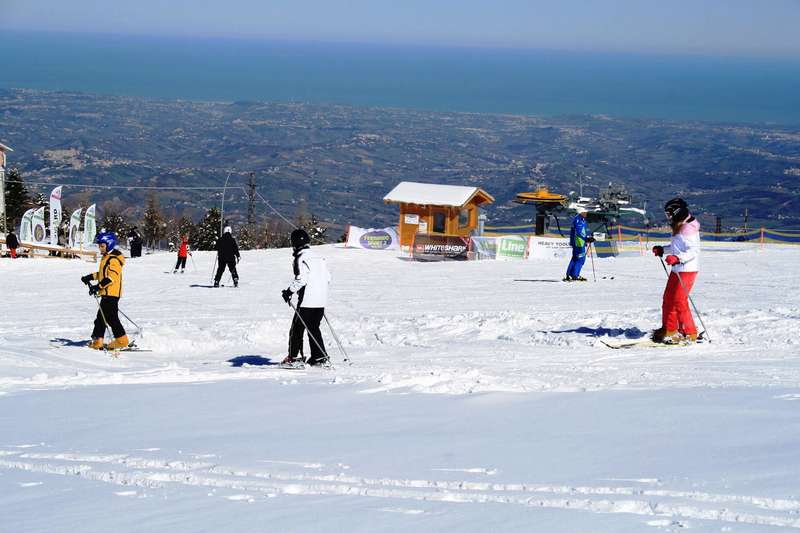 Have you ever skied with a sea view? Passolanciano–Majelletta is a ski resort that offers a unique scenery at almost 2000 meters above sea level, overlooking the Adriatic coast.
This area is also a great place for hiking, walking through incredible sceneries and discovering solitary and remote hermitages set in the rocky mountainside.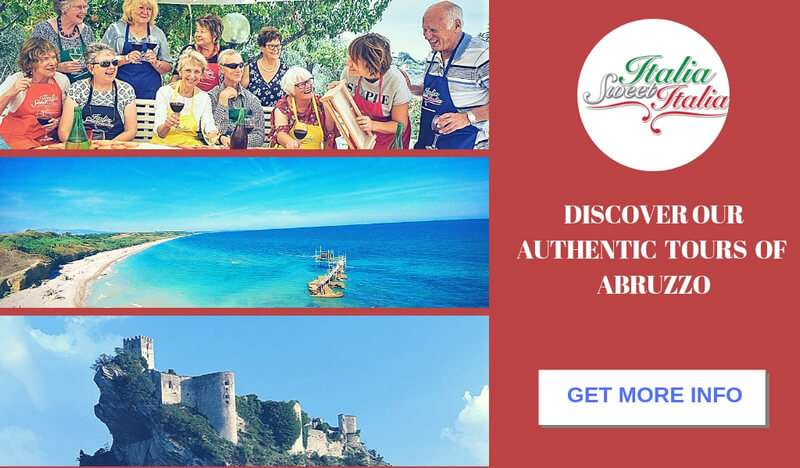 4. The stunning landscapes and treasures of Majella National Park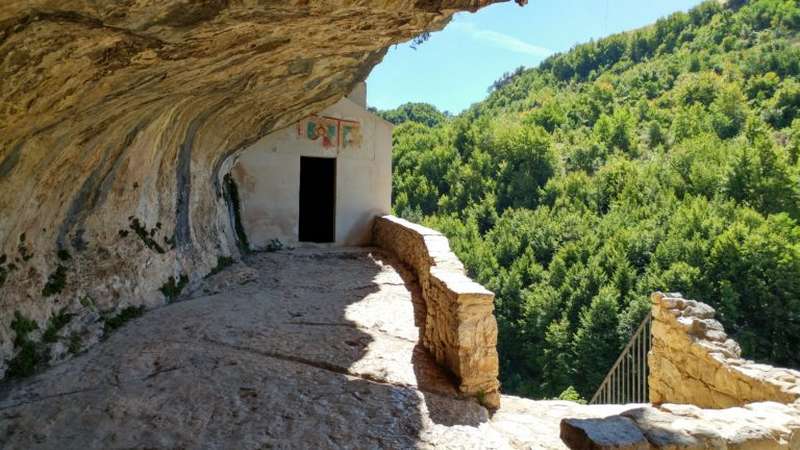 Majella National Park is one of three national parks of the region, together with National Park of Abruzzo, Lazio and Molise, and Gran Sasso and Monti della Laga National Park .
It is one of the best preserved apennine ecosystems, made of nearly 100 square miles of immaculate mountains and canyons to enjoy.
In the warmer months, its hiking trails are the ideal activity for those who love the great outdoors.
Our  Cultural, Culinary & Walking Experience Tour in Abruzzo will guide you through the beauty of this area: we will reach the Hermitage of San Bartolomeo in Legio, Abruzzo's most famous rock face retreat, just outside the town of Roccamorice, carved into the mountain and immersed in the silence of the surrounding woods, and the Hermitage of Santo Spirito, one of the most important monasteries of the Majella.
They are both so evocative that, around 800 years ago, the future pope Celestino V chose them as the places for his meditation and prayers.
5. Fara San Martino, the kingdom of Italian pasta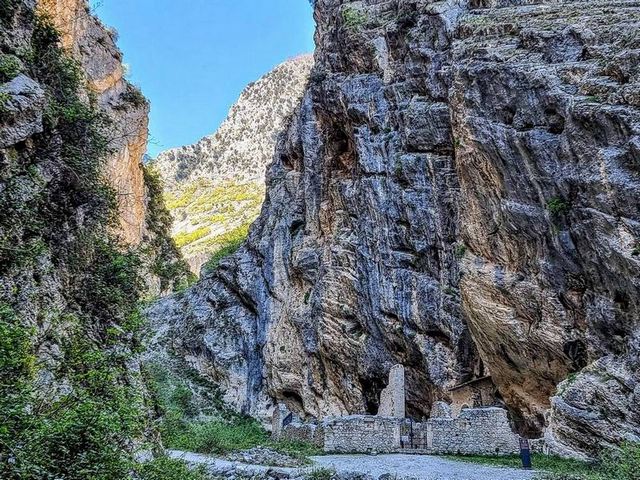 Abruzzo also has a long history of pasta-making. Located in the Majella National Park, the quaint village of Fara San Martino is known for the distinctive flavor and quality of its pasta. It is home to three of the most widely recognized high-end pasta brands, De Cecco, Delverde and Cocco.
We cannot share the secrets of how they make it (actually, nobody knows them!), but we will still be able to teach you the best techniques to make it on your own if you wish… You just have to take part into one of our cooking classes!
Fara San Martino is also known for its "gole", located a few minutes away from the town, one of the longest Italian canyons (9 miles), a wonderful path for walks and picnics.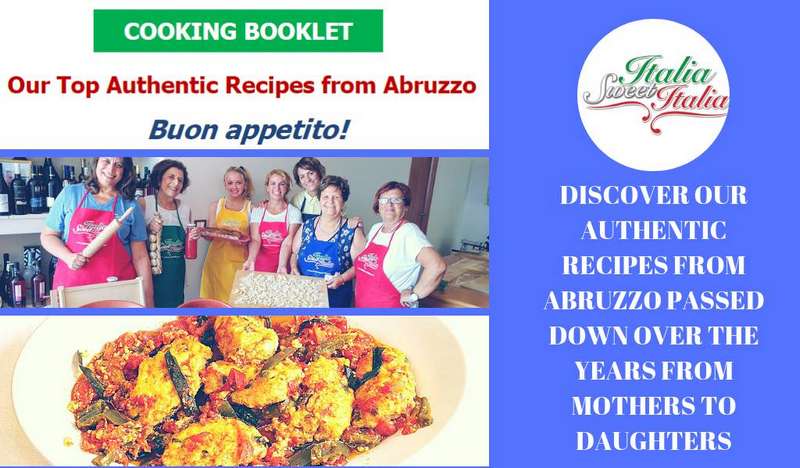 6. The medieval atmosphere of Roccascalegna and its castle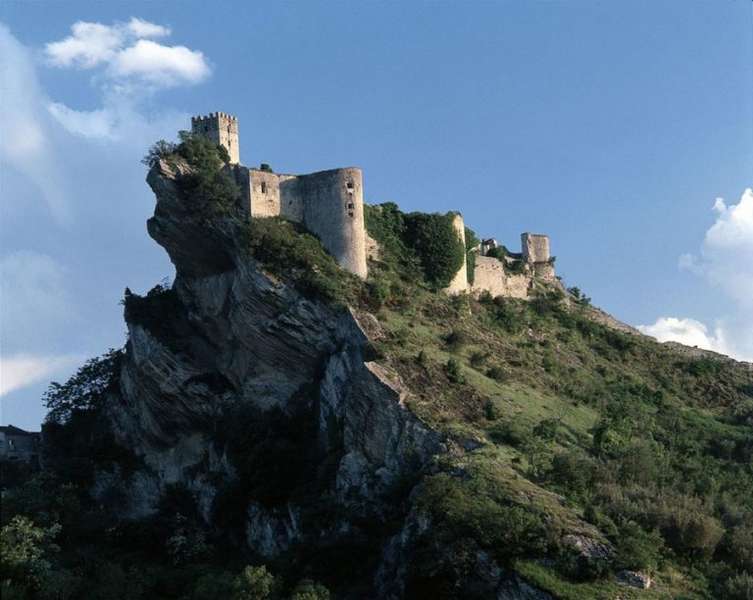 Roccascalegna is a perfectly preserved medieval village, lying on the spur of the mountain. It is mostly known for its 16th century castle, rising on a rock of limestone, which has to be seen to be believed.
There are more than fifty castles in Abruzzo alone, but this is definitely one of the most impressive.
It is a must see spot for anyone who visits Abruzzo.
7. Sulmona, the capital of "confetti"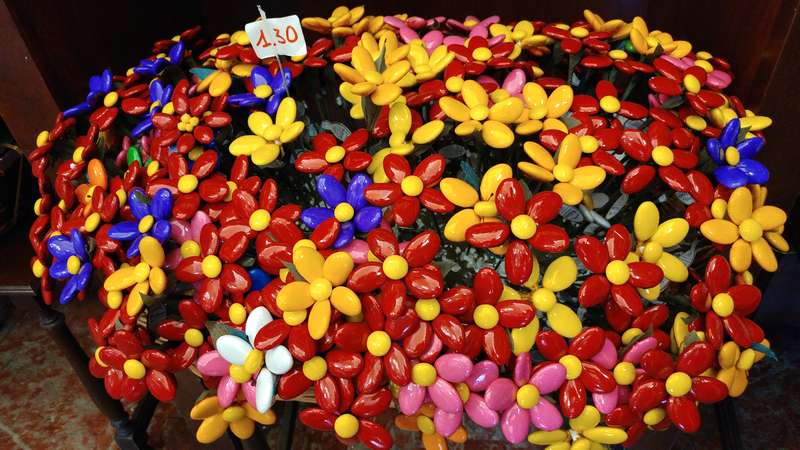 Sulmona is a charming town located at the foot of the Majella, surrounded by mountains, where ancient history and a strong tradition for colorful sweets live together making it one of the most famous villages in Abruzzo.
Originating as Sulmo, a town of the Peligni (an ancient Italic people), it was later a Roman possession and was the birthplace of the 1st-century Roman poet Ovid.
Nowadays, it is famous for being the capital of sugared-coated almonds, known as "confetti" in Italian. Its streets are adorned with colorful confetti bouquets, which you can buy in any imaginable flavor – Nutella, tiramisu, ricotta and pear, fruits of the forest, hazelnut, and anything you can think about.
8. The magical village and lake of Scanno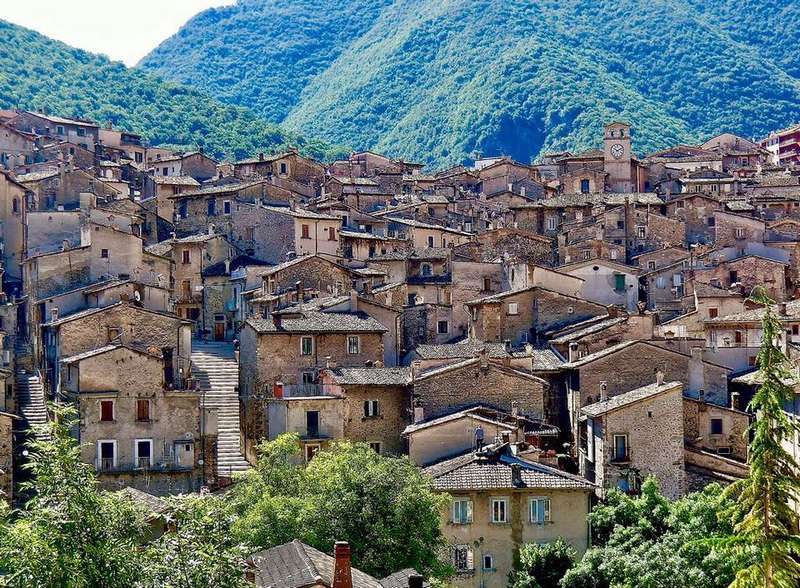 Scanno is considered one of the most beautiful villages of Italy. And we totally agree: it's a magical hill town in a very scenic location – surrounded by the forest, caressed by the lake that takes its name, and partially located within the boundaries of the Abruzzo National Park.
Its historic center is a twist of alleys, streets, and ancient houses to explore.
The same lake touches Villalago, a tiny village located 15 minutes away from Scanno, mostly known for the Hermitage of San Domenico, a small church surrounded by peace and the beauty of nature.
9. Abruzzo National Park, deep in the heart of nature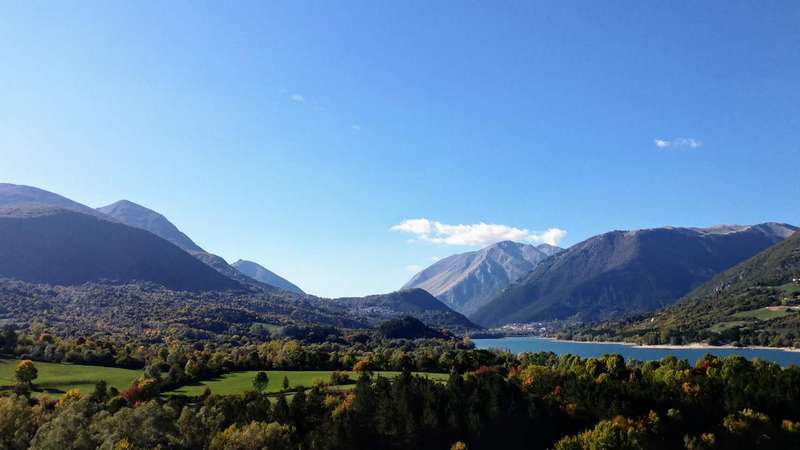 The Abruzzo, Lazio and Molise National Park is a 50,000 hectares land in the heart of the central Apennines between the regions of Abruzzo, Lazio and Molise.
It is home to 25 towns, of which two of the most widely known are Pescasseroli – a popular ski resort in winter an excellent base camp in warmer months to explore the plant and wildlife of the forest landscape – and Civitella Alfedena, located in an area inhabited by the Appennine wolf and lynx.
The Park is the ideal destination for anybody who wants to experience a break from crowded cities and get immersed in the heart of nature, taking a walk or a drive through the fascinating paths from where it's quite common to see the local fauna.
10. The fabulous hamlets and panoramic views of Gran Sasso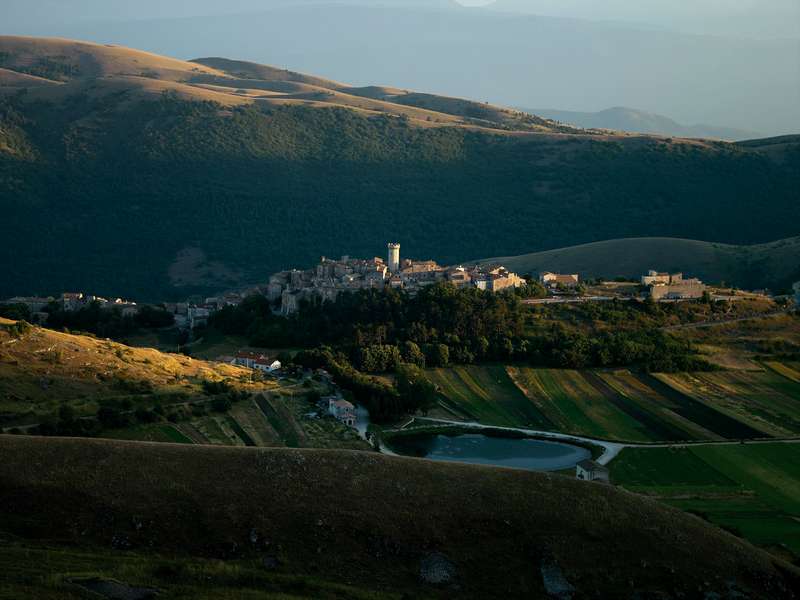 Gran Sasso d'Italia is a mountain massif located in Abruzzo. Its chief peak, the Big Horn, is the highest mountain of central Italy. It is located in the Gran Sasso and Monti della Laga National Park, another great spot for excursions and "hamlet-hunting": we will now introduce you to three gems that are definitely worth a visit.
Have you heard of "extended hotel"? In Italian we call it "albergo diffuso" and Santo Stefano di Sessanio is one of the greatest example of this peculiar way of being a tourist and a local resident at the same time.
In order to protect the ancient architecture of the village that was mainly left in abandonment, in the last 15 years many houses and structures have been restored and converted into vacation homes. This means you will basically breathe the medieval atmosphere just like it was in old times.
A few minutes away from Santo Stefano di Sessanio there is another not-to-be-missed stop in the area: it is the 12th Century military fortress of Rocca Calascio, proudly standing in the middle of nowhere, and offering the most glorious views of the surrounding countryside and mountains. No wonder why, among others, it was chosen as the set for The Name of the Rose, with Sean Connery, and Lady Hawke, with Michelle Pfeiffer.
Talking about panoramic sceneries, Campo Imperatore ("Emperor's Field"), the largest and highest Alpine meadow of the region, is another must for visitors to Abruzzo. The magic, history, colors and harmony of the surroundings will leave you speechless all year round.
11. Civitella del Tronto and its impressive fortress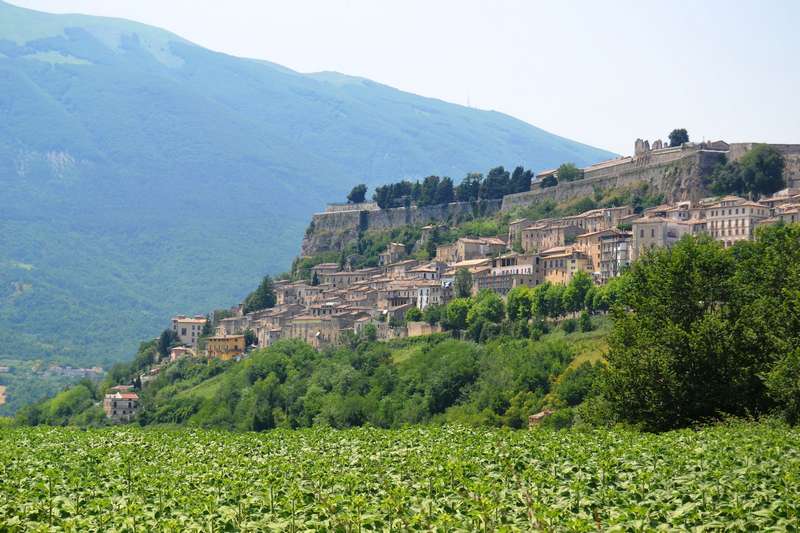 Civitella del Tronto is another enchanting town in the Gran Sasso e Monti della Laga National Park. It is home to the largest fortress in Italy and the second largest in Europe, that offers 360° views over three different mountain ranges, the village below and the Adriatic sea: absolutely stunning.
After admiring this incredible military architecture, you can wander down the hill and explore all the streets and alleys of the small village and try to fit into the smallest street of Italy, that is called "ruetta"… We will be happy to teach you how to pronounce it!
12. Castelli, the home of world famous hand-painted ceramics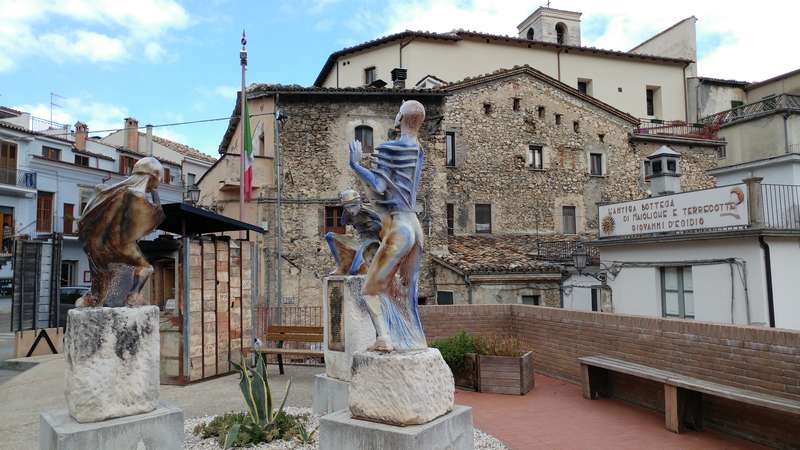 Castelli (located within the Gran Sasso e Monti della Laga National Park) is the capital of Abruzzo's version of decorative ceramics, which were collected by the nobility of Europe for centuries.
Majolica is the name given to pottery with clear colored glazes and these brightly colored hand-painted pieces are famous for their characteristic "pentacromia," a five-color palette of yellow, green, blue, orange, and brown.
There are plenty of shops and factories to visit, and if you would like to make your own Castelli masterpiece, you just need to take part into one of the culture and art tours of Abruzzo.
Ready to Go?
So if you're tired of the same-old same-old city tours of Rome or Venice, why not experience the authentic Italy of Abruzzo?
Get in touch today to help bring your dream tour into focus – wouldn't you love to see the Adriatic sea from the mountains or to have a lunch suspended over the sea? And if you're not quite ready to make an enquiry, sign up for our free email course to learn everything you need to know about planning a tour of Abruzzo.