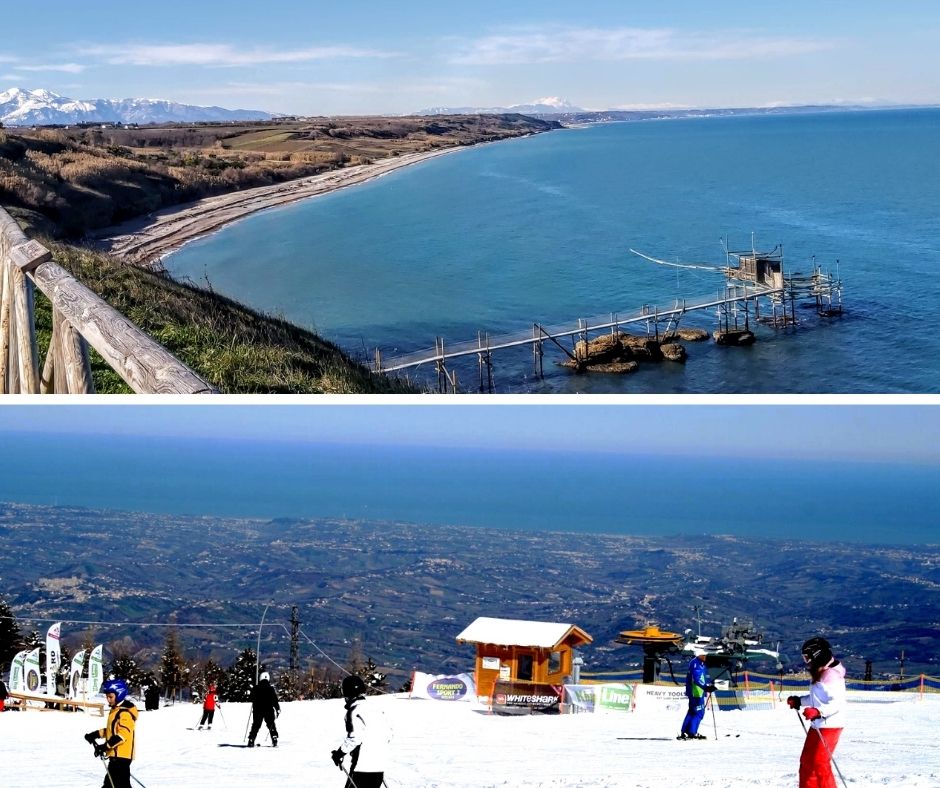 Abruzzo is a region located in the center of Italy, nestled between the Apennines and the Adriatic coast, just a couple of hours away from Rome.
If you are thinking about planning an awesome vacation and discovering some authentic and lesser known destinations in Italy, this is a complete guide to "Italy's best kept secret".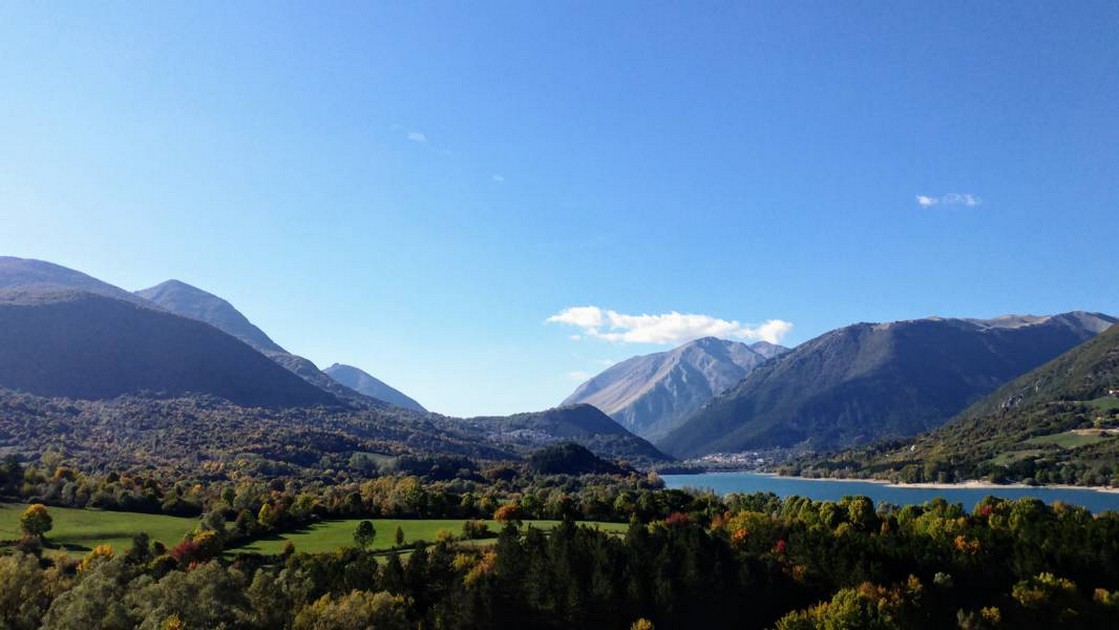 Abruzzo Italy is known as "the green lung of Europe" for its three National Parks, one Regional Park and several natural reserves, making it the largest natural area in Europe.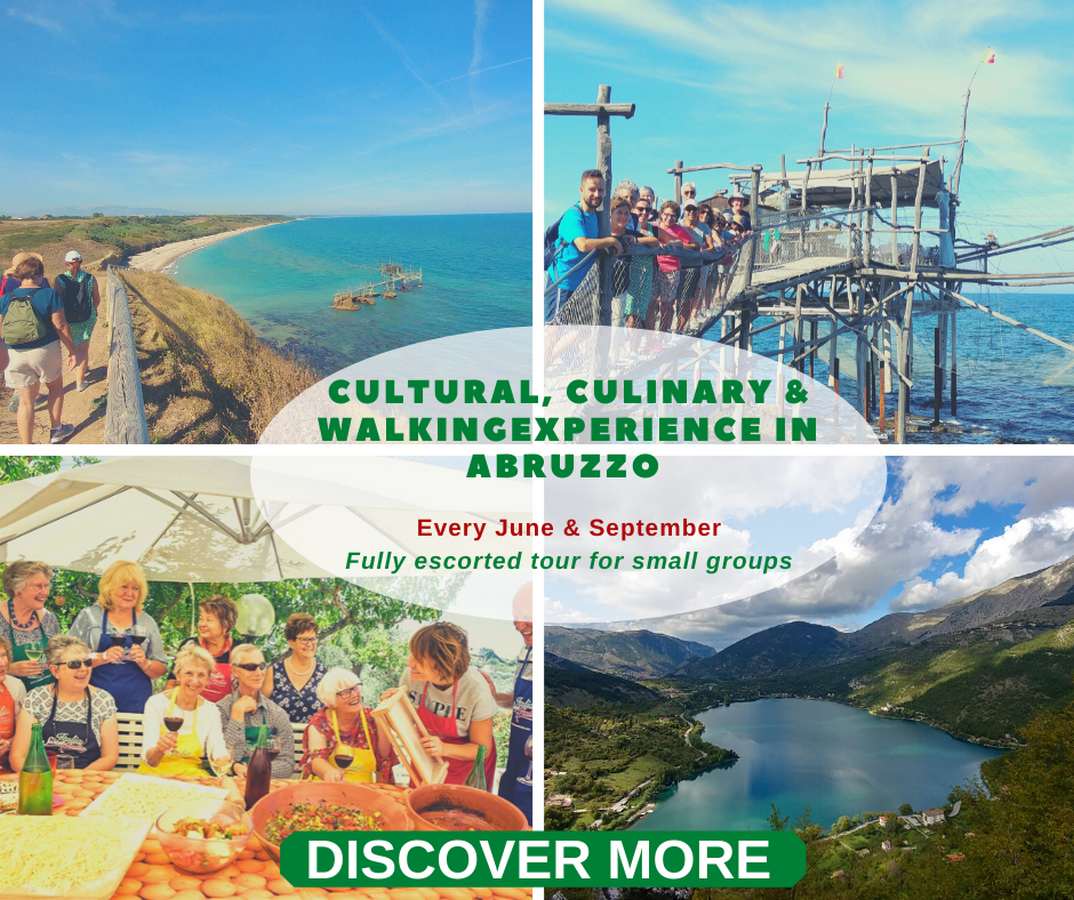 It is a beautiful land with unspoiled nature, the Adriatic coastline, uncontaminated parks, breathtaking mountain ranges, magical medieval towns, all varieties of landscapes, culture and spirituality, very strong traditions, and food and wine delights.
Abruzzo Italy has recently been listed among the 50 best places to travel in 2022 by Travel + Leisure. It is the only Italian destination, together with Sardinia, included on the list.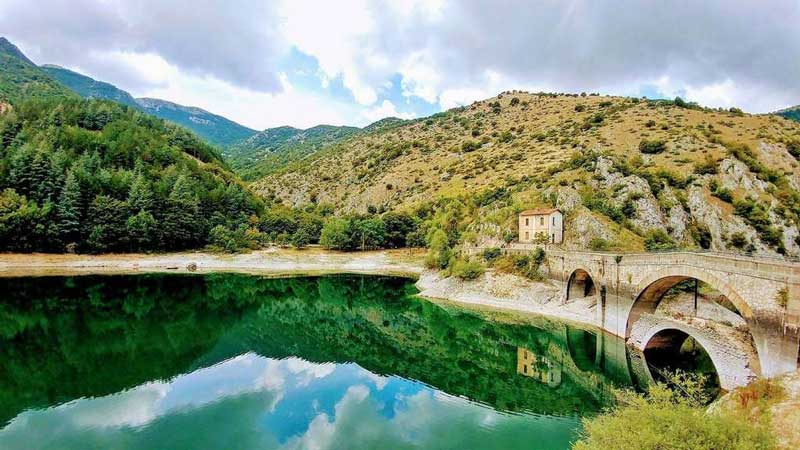 There are many activities that will let you fully experience the region. We offer many different tours to enjoy a cultural, culinary and active vacation in Abruzzo Italy escorted by an experienced and fully licensed local tour guide. You will be spoiled withchoices!
A year-round destination
Our region is a truly year-round destination, with temperatures averaging between 54 and 61 degrees F, with the hottest temperature around 75 degrees F in the summer.
If you are on a budget, you can definitely travel during low season when it's less crowded and accommodations are less expensive.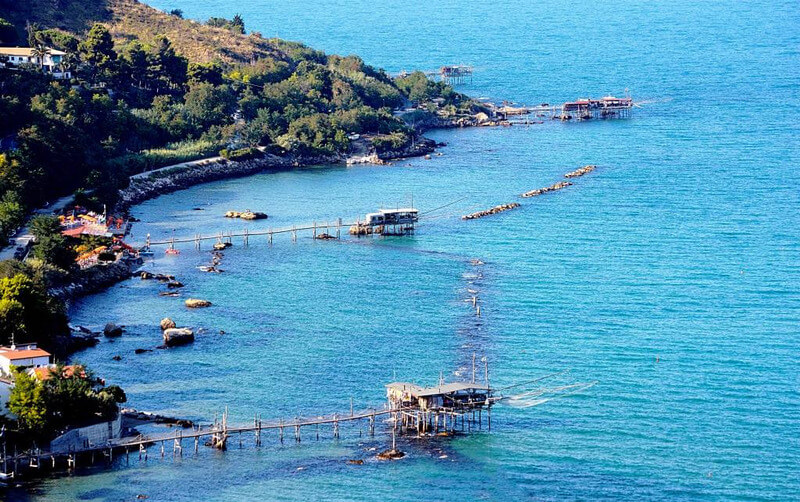 Life in Abruzzo Italy
You can lay on one of the most beautiful beaches of the Trabocchi coast, a 54-kilometer (33 miles) coast that stretches from Ortona to Vasto area, in the province of Chieti, named this way for its collection of old fishing net structures known as trabocchi; walk along the ancient and noble cities and the thousand-year-old villages perched on the peaks, visit the beautiful town of Vasto, and within an hour find yourself on the top of one of the ski resorts in the Majella National Park.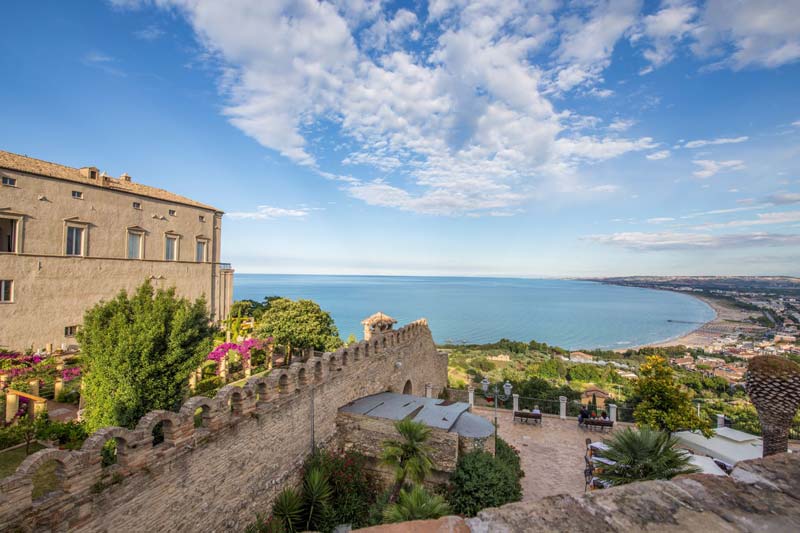 The region has breathtaking mountain ranges, enriched by a great variety of flora and fauna, fascinating hilltops, and hermitages. And if you are not into skiing or you are planning to visit Italy during the summer, you can always hike or take a walk in one of the regional parks and reach fabulous hamlets (such as Rocca Calascio and Santo Stefano di Sessanio) and panoramic views of Gran Sasso (Campo Imperatore).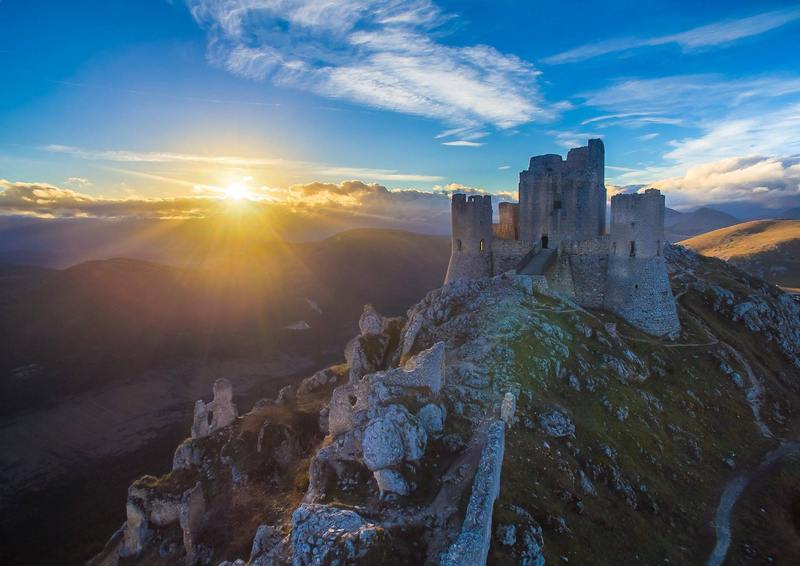 You can immerse yourself in the local culture, taste the diverse cuisine that changes from the beach to the mountains, discover the best local foods and the source of Italian pasta (Fara San Martino), confetti (Sulmona) and ceramics (Castelli). This is a list of what we consider the 12 best places to visit.
A Sunday passeggiata (leisurely stroll) at the marina or an evening walk and an aperitif before lunch or dinner are some of the must dos, while religious celebrations (like the ones for Easter) are truly unforgettable experiences.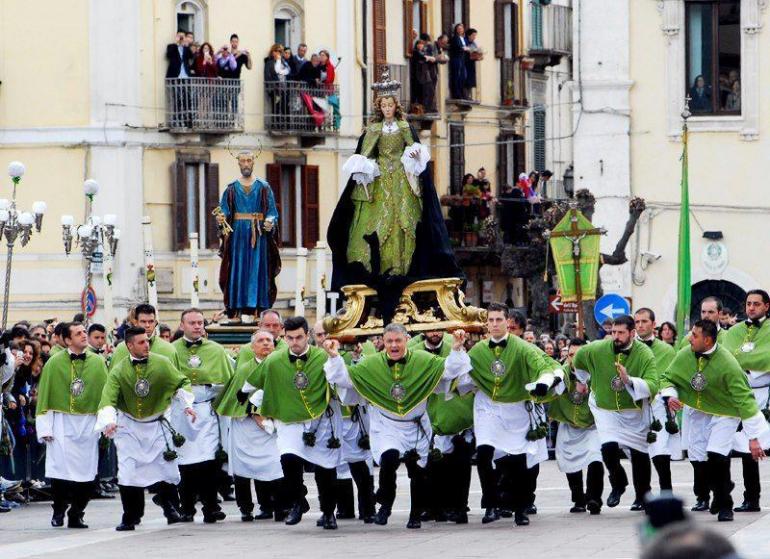 There are also food festivals that let you enjoy the area's specialties and a lot of seasonal activities, like olive harvest, grape harvest, truffle hunting, mushroom foraging, and passata (tomato sauce) making.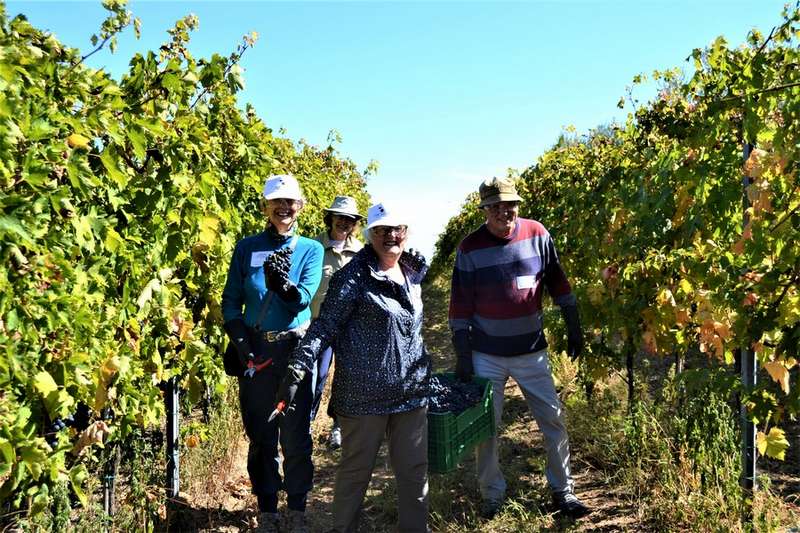 A journey through the flavors
Abruzzese cuisine has many tastes because of the variety of the territory and the cultures that coexist in it. 
It is rated in Italy's Top 3 regional cuisines, home to the oldest Italian cookery school, one of Italy's most famous pasta, De Cecco, and land of great wines.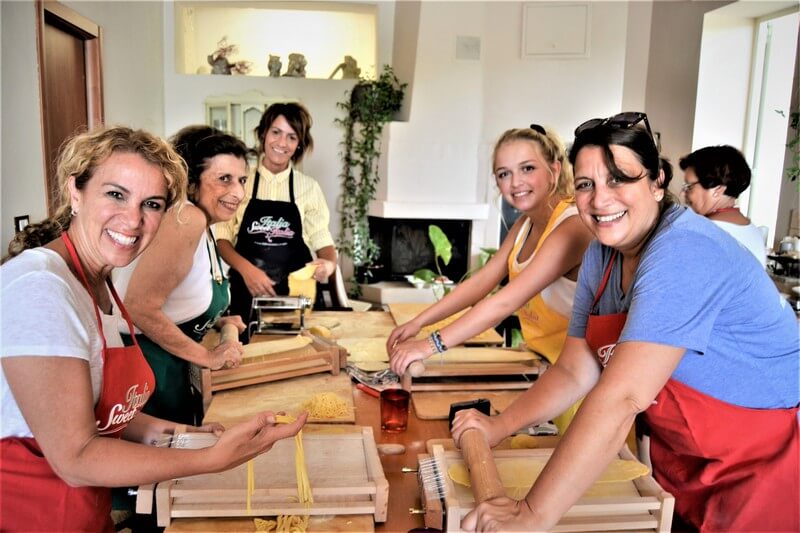 If you are in the hinterland or the mountains (like in Sulmona, for example), you will find simple and tasty dishes, born from the evolution of the old agro-pastoral cuisine: arrosticini, cubes of lamb meat on wooden skewers and cooked on fornacellas, a special narrow grill, soups, cheeses and aromatic herbs.
Along the coastline, you will taste sea-based food, like Brodetto alla Vastese, one of the most famous Italian fish soups, which was mentioned in the "1,000 foods to eat before you die" book written by the American chef and cookbook writer Mimi Sheraton. This is the list of our favorite local food.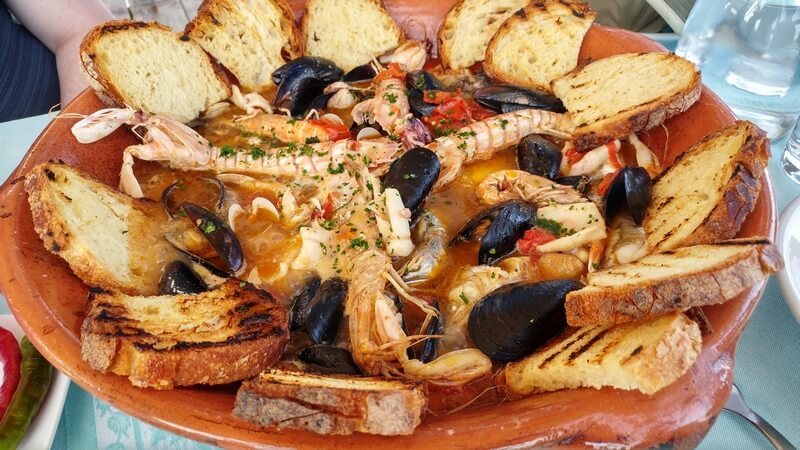 Abruzzo Italy holds a strong wine tradition too (see a dedicated article here), easily comparable to the one of much more famous places such as Tuscany or other wine regions in the country. Its landscape, dominated by rolling foothills, is perfectly suited for vineyards: these vine-striped hills extend from the mountains towards the Adriatic Sea and create the best scenarios…and best grapes.
Montepulciano d'Abruzzo (DOC) has been defined as the ambassador of the region abroad, especially in the US and in Germany, where it is the most famous wine of central and southern Italy and perceived as a product of excellence.
There are also many wineries where you can have a memorable wine tasting experience. We selected some of them and designed a dedicated tour.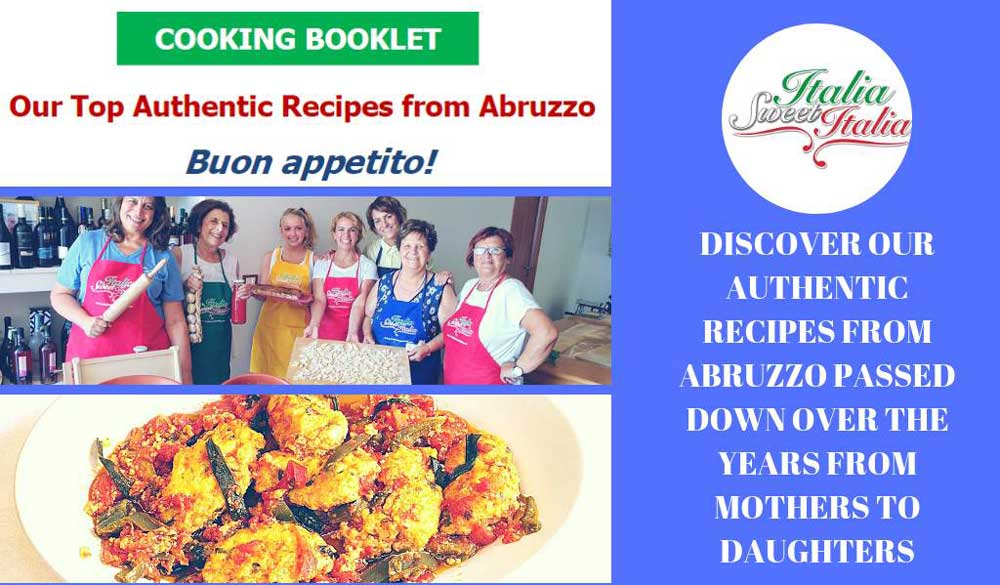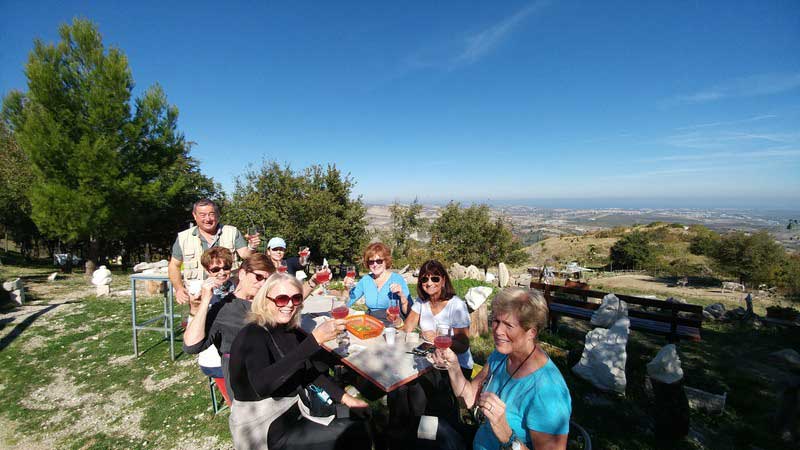 The true essence of Abruzzo Italy

If traveling for you means visiting some authentic and off-the-beaten track venues, finding an escape from the daily stressful routine, getting in touch with the locals and tasting delicious slow food products, Abruzzo might be the perfect destination.
We listed some "secrets" to live like an Abruzzese: in a few words, people here tend to slow down and "take it easy", enjoy the little things, such as admiring the landscape, getting together and spending quality time with loved ones.
According to those of us who live here, this is Abruzzo's true soul and that's why we are ambassadors of slow travel and sustainable tourism as a way to preserve it.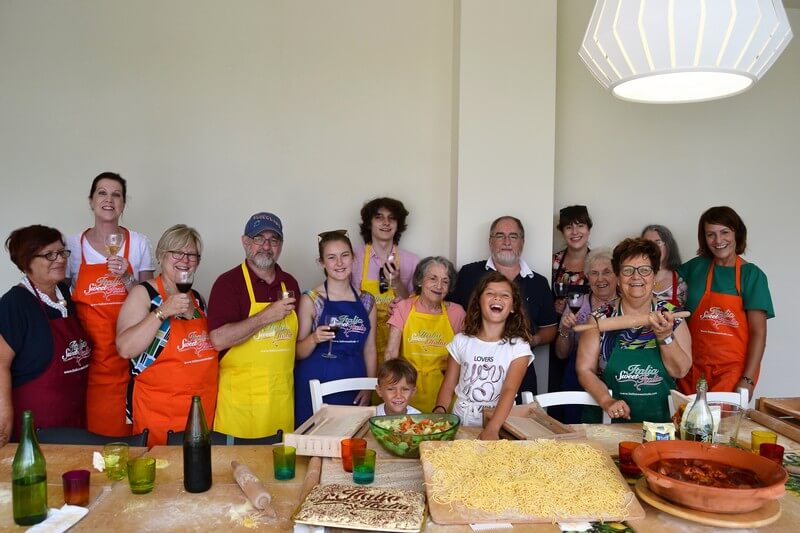 In Abruzzo Italy you can learn the most authentic recipes, how to use more genuine ingredients, visit local markets and small producers and make guided excursions immersed in nature, medieval villages and castles, with an eye towards the Adriatic sea and the other one towards the snow-capped mountains.

You will feel spoiled, safe, and surprised by the warm welcome of its landscapes and people.
Ready to experience Abruzzo Italy with us?
Get in touch today for more information about our region. I am ready to help you choose the best options for your dream vacation!  And if you're not quite ready to make an inquiry, sign up for our free email course to learn everything you need to know about planning a tour of Abruzzo.